Note: Caller is one of the many useful features of Pipedrive's Professional and Enterprise plans. Der Caller wird nicht auf Safari unterstützt. Für ein optimales Ergebnis empfehlen wir die Verwendung von Chrome oder Firefox als Standardbrowser, wenn Sie mit Pipedrive arbeiten.

Für Vertriebsmitarbeiter ist ein effizienter Anruf-Workflow wesentlich, um Zeit zu sparen und Ziele zu erreichen. With Pipedrive's built-in Caller feature, you will be able to directly click and make calls to your customers without leaving the Pipedrive web-app, as well as automatically log all of the calls as activities for effortless reporting.
---
Den Caller einrichten
Note: Caller can only be configured by admin users, but regular users can set up their personal calling settings.

To set up the Caller for your company account, you can go to Tools and apps > Calling. Here, you can set up Company, Users, and Personal calling settings.
Unternehmen— Verwalten Sie das Gesprächsguthaben und die Anrufeinstellungen für Ihren Pipedrive-Account Ihres Unternehmens.
Nutzer— Aktivieren Sie die Anrufer-Berechtigung für Nutzer in Ihrem Unternehmen.
Persönlich— Richten Sie Ihre persönlichen Anrufeinstellungen ein und verbinden Sie Ihre Nummer mit dem Caller. Sie werden gebeten, Ihre Telefonnummer durch einen Validierungsanruf zu verifizieren.
You can learn more about how to configure your Caller in this article.

Hinweis:
Nutzer in
Saudi-Arabien
haben einige Einschränkungen bei der Verwendung der Caller-Funktion, z. B. können sie innerhalb Saudi-Arabiens keine Anrufe tätigen. Für weitere Informationen zu diesen Einschränkungen lesen Sie bitte
diese Richtlinien
.
---
Vor dem Caller
Once your number has been connected to Caller and verified, you can begin calling. To initiate calling in your Pipedrive account, you can click on any phone number in any List view or Detail view.
Hinweis: Wenn Sie Ihre Telefonnummer noch nicht verbunden und validiert haben, werden Sie aufgefordert, dies zu tun.
---
Während des Anrufs
Once you've clicked on a listed phone number, you will see a window open that will allow you to adjust the country code, phone number, calling method and call from options of your phone call.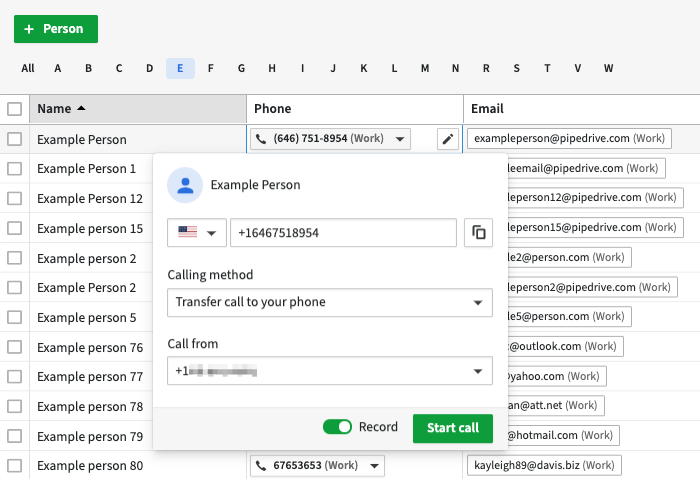 Calling method— You can choose to call with your computer if you have another calling integration set up or call with the Caller feature. If you choose to call with the Caller feature, you can either call directly from the Pipedrive web-app or transfer the call to your mobile device.
Anruf von— Wenn Sie mehr als eine Telefonnummer haben, die mit Ihrem persönlichen Account verknüpft ist, haben Sie die Möglichkeit, diejenige zu wählen, von der aus Sie anrufen möchten. Sie können mehrere Telefonnummern zu Ihrem Accountr hinzufügen, indem Sie zu Einstellungen > Anrufe > Persönlich > Verbundene Nummern gehen.

When the call settings have been adjusted accordingly, you can hit the Start call button to initiate the call.
Note: You will have to allow Pipedrive to use your device's microphone if you have not already done so.
When the call has connected a notes panel will appear for you to leave notes during your phone call.
---
Nach dem Anruf
After the call has ended, you will be prompted to choose from a list of call outcomes and what to log your call as.
Call outcome— The results of your call. The call outcome options can be set up by an Admin user under Settings > Calling > Calling outcomes.
Log call as— Assigns an activity subject to the logged call. Sie können Ihren Anruf entweder als neue Aktivität oder als bereits existierende Aktivität für diesen Kontakt protokollieren.

If you want to be prompted with a new activity window after logging the current call, you can check off Schedule a follow-up activity.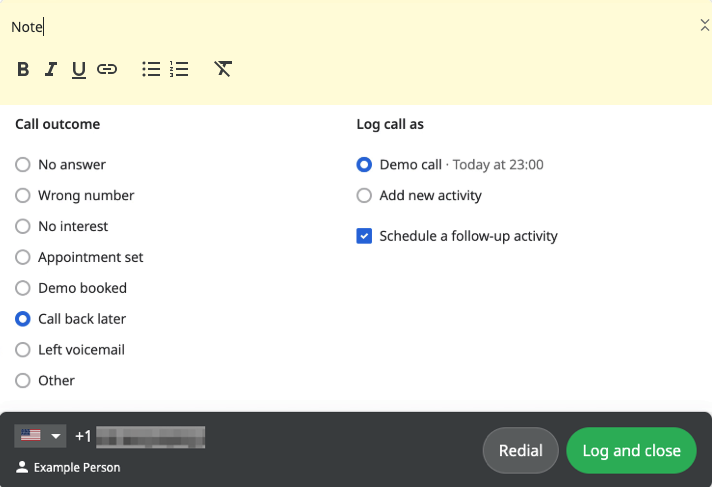 Where can I see my logged calls?
The saved call will be logged as an activity under the contact person and will always be marked as done. From the contact detail page, you can listen to the recording of the call if call recording was enabled, and also download the recording as an audio file by clicking on the '...' button next to the recording.
Note:
Call recording and downloading can be enabled by an Admin user under
Settings > Tools and Integrations > Caller > Company > Call Recording.
The calls made through the Caller will behave like normal activities for reporting purposes. You can read more about reporting with our Insights feature in this article.