A good CRM should not only be intuitive and easy to use, but also allow you to use your time in the most efficient way. Our new navigation experience is built around providing you with the tools you need, when you need them, so you can efficiently grow your business and sell with confidence.

What was changed?
The horizontal navigation consisting of the most commonly used Pipedrive features was moved to the left hand side to leave room for more products as Pipedrive continues to grow. We are also bringing forward tools that have been hidden in the settings page or sub-menus, so you can spend less time trying to find them and more time using them.
You can read more about why we updated the Pipedrive navigation in our blog article.

---
Primary navigation & additional tools
Your most used tools in Pipedrive are now on the left side of the screen in the primary navigation. Leads and Deals are at the top, so you can focus on nurturing leads and closing deals.
Under your Leads and Deals, you will see other useful tools such as your email inbox, calendar, contacts, and insights. Less commonly used tools can be found in an extension panel under "..." (More), and easily accessed whenever you need them.
Leads— Store and manage your leads in your Leads Inbox and other leads related features such as Leadbooster, Live chat, and Web Visitors (Beta)
Sales— Manage your Deals and sales processes
Mail— Correspond with your customers with our Email Sync and Smart Email BCC
Activities— Manage and schedule activities with your customers
Contacts— Manage your people contacts and organizations
Insights— View reports and dashboards of your sales performance
Products— Manage your product catalogue and link them to deals
More — Additional tools, features, and a place to learn more about Pipedrive



When you click on the "..."(More), your primary navigation will expand to show additional features and resources that will help you in your sales process.

User overview— See an overview of your own/other users' (if you are an admin) activity in Pipedrive
Workflow automation— Automate tasks in your day to day workflow
Webforms— Create embeddable forms to capture leads from your website
Import data— Easily import your data into Pipedrive through Spreadsheets or through another CRM
Export data— Export your data to a spreadsheet
Merge duplicates— Merge potential duplicate contacts in your account
Discover— Learn more about what Pipedrive has to offer, including the Marketplace, Academy, Knowledge Base, Community, and Mobile apps.
---
Secondary navigation
After clicking on an item in your primary navigation, a secondary navigation will expand, providing you with more tools related to the specific area you are in.
The secondary navigation can be collapsed to maximize your workspace, but you can access it easily even in the collapsed state by hovering your mouse over the edge of the collapsed secondary navigation.
---
Search and quick add
The search functionality is centered to make it easy for you to search for any deals, leads, contacts, products, and attachments in your Pipedrive account.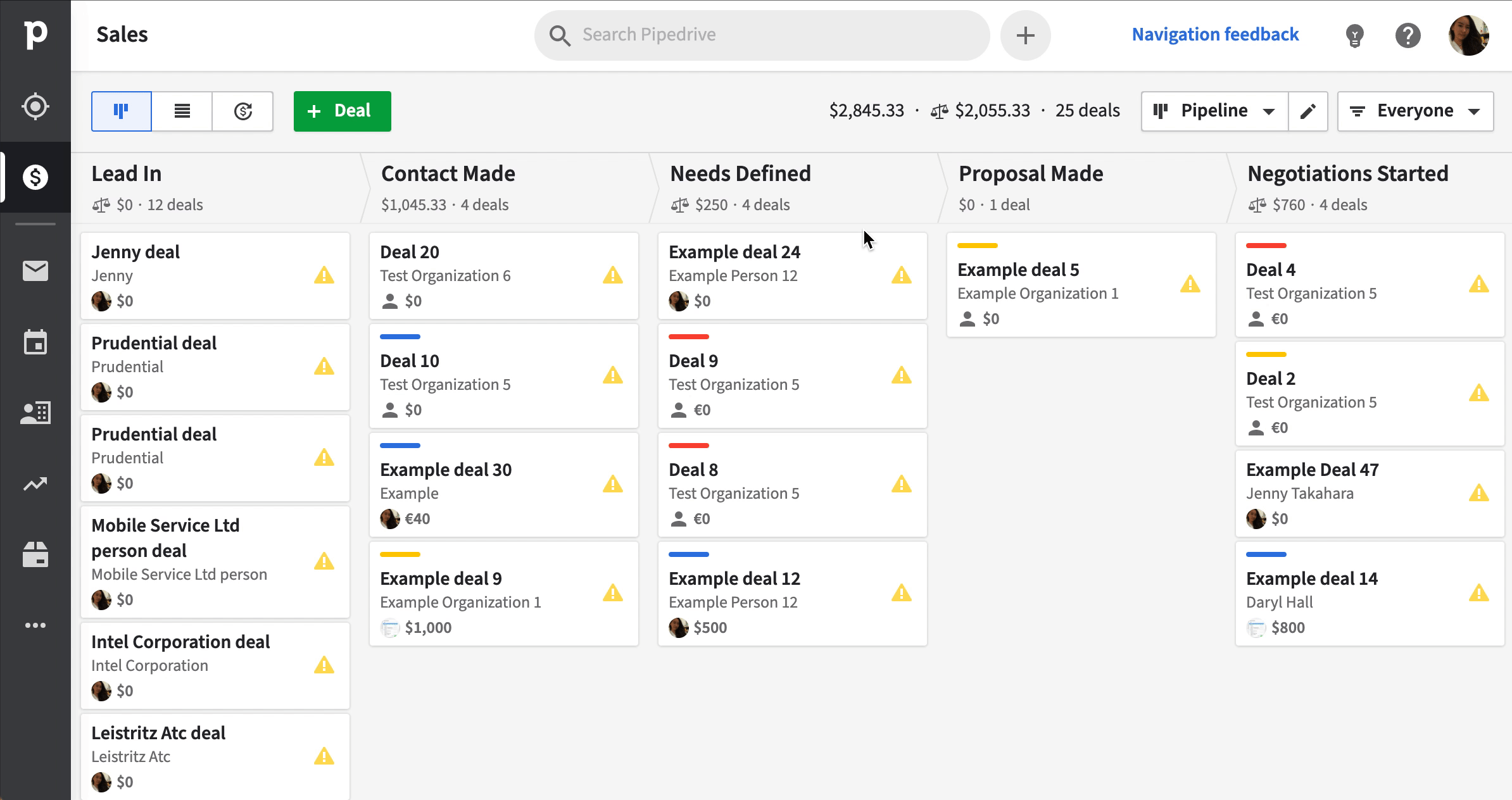 Next to the search, you will find our Quick add functionality, where you can easily add any deals, activities, contacts, and products wherever you are in the app.
---
Account menu
The account menu on the top right corner will bring you to your personal and company-wide settings.
Switch company— Switch between multiple Pipedrive company accounts
Personal Preferences— Set up personal preferences, such as setting up notifications or resetting your password
Invite friends & earn rewards— Invite other users to Pipedrive through our Referral Program to earn rewards
Switch back to old navigation— Note: as of December 2020 users will no longer be able to revert to the old navigation.
Log out— Log out of Pipedrive
Company settings (admin only)— Manage your company settings, such as company domain and user permissions
Tools and integrations— Set up tools and integrations in your account to maximize workflow efficiency
Billing (admin only)— Manage your billing details
Upgrade plan (admin only)— Upgrade to a higher plan
Add more users (admin only)— Add more users to your Pipedrive account