Adding leads to my Leads Inbox
Jenny Takahara
, May 12, 2023
There are numerous, convenient ways to add leads to your Leads Inbox. These range from manual additions to spreadsheet imports and even the Leadbooster add-on package, which offers its own variety of methods.
---
Manually adding leads
To manually create a lead, go to your Leads Inbox and click "+ Lead."

You'll need to include at least two fields, the lead title (mandatory) and one of the following:
Person name
Organization name
Note: If you don't enter a value in the lead title field, it'll automatically be filled with the value of the other field you select.
---
Importing leads from a spreadsheet
There are two ways to import leads with a spreadsheet. You can click the "..." on the left side navigation menu, then select "Import data."
Or click the "..." in the Leads Inbox and select "Import leads."

At the mapping step, select the leads icon in your Pipedrive data fields section and map the columns accordingly.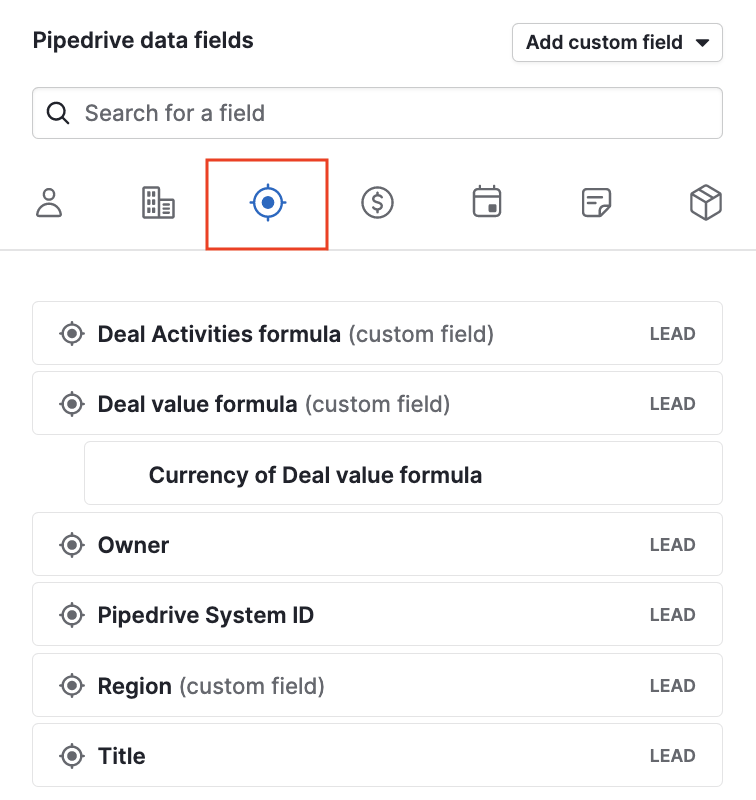 Mandatory fields to import leads
To import leads you'll need to include the Lead title, plus either the Person name or Organization name fields.
Lead Title field

Person/Organization name

---
Chatbot
If you have the Leadbooster add-on enabled in your Pipedrive account, you can create a playbook that will add a lead to your Leads Inbox whenever a visitor goes through your Chatbot flow.
To have your playbook create leads, select "Leads" under the Save location field when setting up your playbook.
---
Web Forms
If you use web forms to capture leads who visit your website, you can add each web form submission as a lead.
When setting up your web form, select Submit options > Saving preferences and choose "Lead." You can also add a Lead title prefix, so you know which leads came from this form.
---
Prospector
Prospector is an outbound lead generation tool that allows you to search for and gather high-quality leads based on set criteria without leaving your Pipedrive account.
Once you sort through the leads Prospector has found, you can select one or more and add them to your Leads Inbox.
---
Web Visitors
The Web Visitors feature allows you to track visitor activity on your website, so you can identify the companies that are most engaged and likely to turn into customers.
You can convert a web visitor into a lead by selecting the visitor in your Web Visitors inbox and clicking on "+ Lead."
Was this article helpful?