Contact labels
Breandan Flood
, November 2, 2023
To save time in sales, it is great to have an easy reference as to what sort of customer or prospect you're speaking to.
Using Pipedrive's contact labels, you are able to categorize your contacts as needed for your company and know immediately how to approach them based on that information.
---
Assigning and creating contact labels
Note:
Contacts can only have one label at a time. To apply additional labels, you can create a single-option
custom field
.
When adding a new person or organization to Pipedrive through the "Add person" or "Add organization" button, you will see a dropdown to easily assign one of the labels to your contact as it is being created.

You can assign contact labels for existing people or organizations directly in the list view after applying the labels column or detail view by clicking on the labels icon.

How can I add new contact labels?
Note: This action is only available to admin users.

Pipedrive provides a set of default contact labels, but you can add a custom label to this list by clicking on the label button in the list view or detail view of any contact and selecting "Add label". When prompted, provide a name and color for your new label and click "Save".

---
Editing or deleting contact labels
To edit or delete any default or custom contact labels, click on the label icon in the detail view of any contact and click the pencil icon next to the name of the label you wish to edit.
You can then provide a new name for that label or select a new label color from the options shown and click "Save". You can also delete the selected label by clicking the trash can icon.


You can also edit labels when in the list view of your Pipedrive account.
To do so, have the label column displayed within your list view, click on any cell under that column and select the pencil icon next to the name of the label you wish to edit.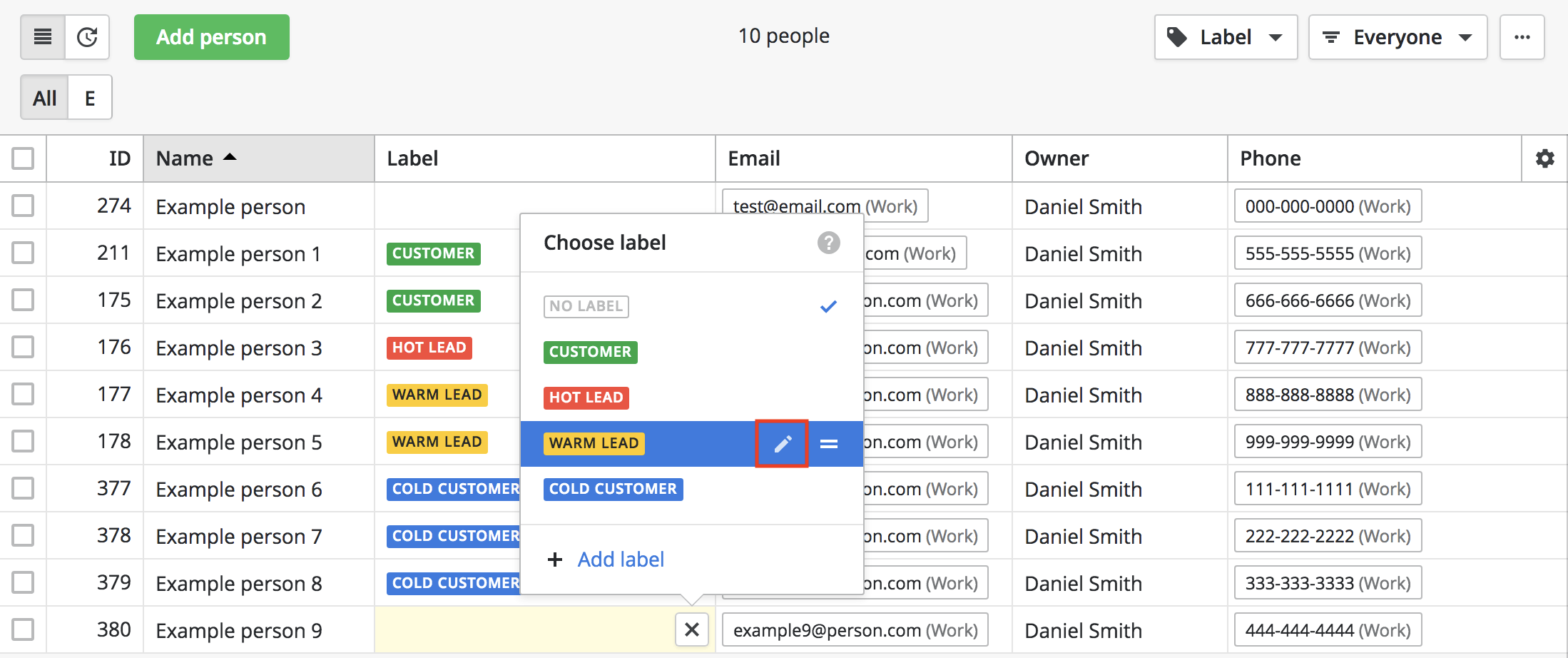 ---
Viewing contact labels
The label is visible in the contact detail view, next to the name of that contact.




You can also view a contact's label in the list view of your company Pipedrive account. To view the label column, click the gear icon on the right side of the list view table, select the label field to be displayed and click "Save".
That label column will then appear in the list view, and that column can be moved, sorted, or filtered as needed.

Was this article helpful?