Email signature
Jenny Takahara
, November 2, 2023
Note: Email signatures are one of the many useful features of Pipedrive's Advanced and higher plans.
When you're reaching out to the contacts of your Pipedrive account, it's valuable to provide them with the most information about you, your company and how best to contact you for more information.
To handle this efficiently, Pipedrive suggests creating a specific email signature in our email sync feature so that every customer receives the information necessary to help you close the sale.
---
Creating your signature
Note: Create signatures in Pipedrive to avoid errors. If you create a signature externally and copy it into Pipedrive, it will create HTML inconsistencies.

In order to create your email signature in Pipedrive:
Go to any "Compose email" prompt in Pipedrive. This can be done from the mail tab or from the "Send email" function of the detail view of a deal or contact.
Click on the "Signature" button.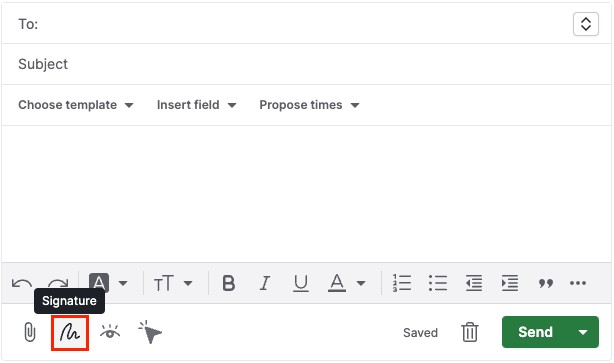 In the email signature prompt, design your email signature! This can include links and images, along with your name and contact information.
---
Using your signature
Note: Each user can create one signature.

When your signature has been successfully programmed, the signature will automatically appear in every Compose mail prompt in Pipedrive.
Any changes made to the signature will only be applied to that specific email unless those changes are made in the email signature box.

With your new email signature programmed, you only need to write out the body of your email and send it to your recipient. Pipedrive will make sure that the recipient sees all of your provided signature information.

Was this article helpful?