How can I update my leads?
Jenny Takahara
, June 13, 2022
When using the Leads Inbox, you can easily update your lead information individually or in bulk.
---
Updating leads individually
To update lead information individually, click on the lead to bring up the lead panel. You can update lead or contact details, as well as add notes and create and update activities directly from the panel.
Within the leads panel, you also have the possibility to add, edit, or delete the information in the lead custom fields.

---
Updating leads in bulk
To bulk update your leads, click on the checkbox next to one or more leads. You will see a panel appear on the right-hand side where you can update the lead title, labels, value and owner.
You will also see the options to archive or delete the selected leads in bulk in the upper left corner. For more information about bulk editing, you can read this article.
Note: Only default lead fields can be edited in bulk.
---
Deleting leads
If you want to delete leads, there are two methods you can use for this. The first is to open an individual lead and click the "..." to select the "Delete lead" option:
and the second is to select one or more leads in your list view, then click the trash can icon to delete: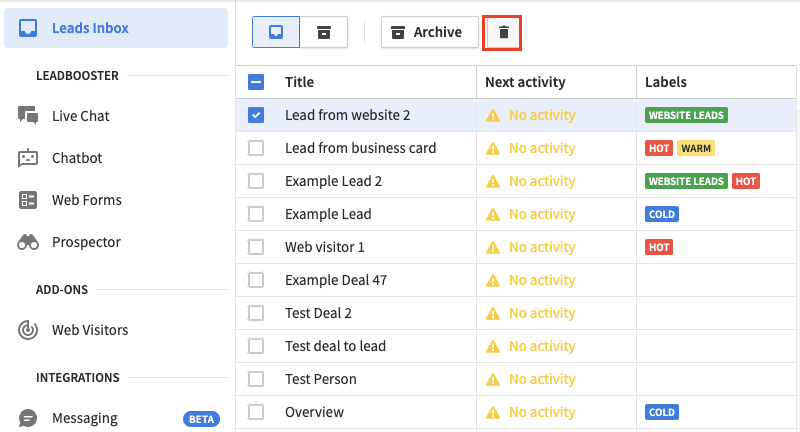 Was this article helpful?