Pipedrive interface
Jenny Takahara
, November 2, 2023
The interface is the place where you can interact with the Pipedrive software and keep track of your sales and data. As a busy salesperson, you may need to quickly move around in the Pipedrive app to find the information that is most relevant to you.
To aid you in your quick maneuvering, Pipedrive has different ways of navigating and making your experience more personalized.

---
Navigating Pipedrive
Pressing the number keys associated with each tab in the primary navigation will bring you right to that specific portion of Pipedrive.
Hover over the tab in the primary navigation sidebar to see what number you should press to be taken straight to that page.
---
Keyboard shortcuts
You can use shortcuts to perform quick actions in Pipedrive.
General shortcuts

| | |
| --- | --- |
| Action | Shortcut |
| Go to primary navigation item | 1 to 8 |
| Go to last primary menu item ("More" overflow menu) | 9 |
| Search Pipedrive | / |
| Toggle secondary navigation | [ or ] |
| Open quick add menu | . or + |
Add items shortcuts
To add a new item, you can click on the "+" sign at the top of the page, or else click your full stop button on your keyboard (.) or plus sign (+).
Every item in Pipedrive has its own shortcut. Pressing the keys associated in the Quick menu section will immediately open the "Add new ____" dialog for the intended item, which is useful for a large number of tasks, such as quickly adding a note to a contact that calls you unexpectedly.
| | |
| --- | --- |
| Item | Shortcut |
| Lead | L |
| Deal | D |
| Activity | A |
| Person | P |
| Organization | O |
| Note | N |
| Product | R |
| Project | E |
---
Customizing Pipedrive

To customize your Pipedrive interface, go to Personal preferences > Interface preferences.
Here you'll be able to:
Enable and disable the keyboard shortcuts
Set a default landing page
Choose up to ten icons to appear on the left navigation bar.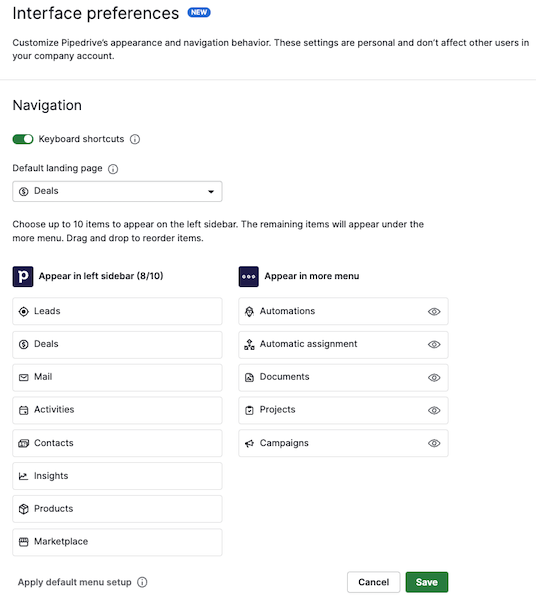 Note: Customization settings are user specific and not shared across the company.

Was this article helpful?