Contextual view
Breandan Flood
, November 2, 2023
Note:
All of the details available in the
detail view
are available in the contextual view.
Pipedrive's contextual view let's you see the details of a lead or activity without having to open a separate window, making it easier to move between tasks and see your data.
---
Activity contextual view
Click on any activity in your list view to open the contextual view.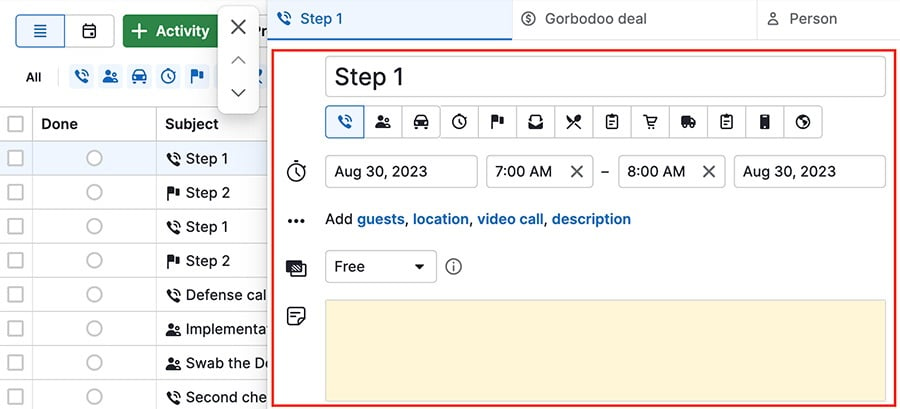 You can edit the activity's details, and view any linked deals, people or organizations by clicking on the tabs.
If there's no linked item to view, you can either select an existing item or create a new one to link.
You can also use the arrows on the left side of the contextual window to scroll through your activities, or click the "X" to close the window.
Note: You can use keyboard shortcuts in the contextual view. Click "K" or "J" to move up and down the list, or "Esc" to close the window.
Opening the detail view

While in the activity contextual view, hover over any tabs and click the arrow to open the detail view.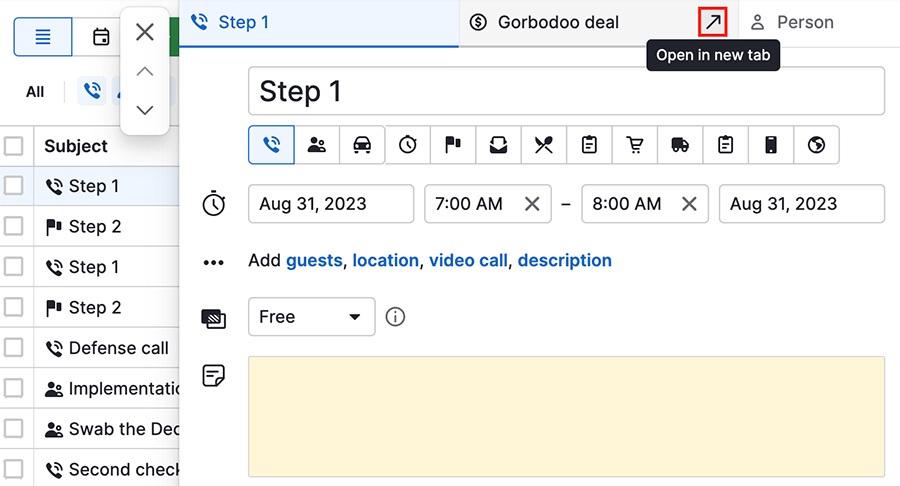 Toggling contextual view off

Note: When the icon is blue, the setting is turned on. When the icon is grey, the setting is turned off.
If you don't want to see the contextual view when you open activities, click the setting in the top right corner.
---
Lead contextual view
Leads in Pipedrive also have a contextual view that you can open by clicking on one in your Leads inbox.
You can create notes, activities and emails by clicking on the respective tab at the top of the window.

Note:
For more information about your Leads inbox and the data you can add to your leads, check out
this article.
Was this article helpful?