Followers
Jenny Takahara
, November 16, 2022
The Followers feature provides a Pipedrive user with access to view and be notified on specific items in Pipedrive.
Since each item in Pipedrive can only have one owner, this feature is useful when more than one user is working on a deal and needs visibility of the related data and any ongoing progress.
---
Following an item
Note: When following a deal and in order to see linked notes, activities, or files, you will need to follow the deal contact person as well.

If you follow an item in Pipedrive, you will have visibility access to this item and be notified whenever there is an update to that item.
Followers can be added for any deals, organizations, people, and products from the Followers panel of the item's detail view. Here, you can add yourself as a follower by clicking on the "Start following" button, or the "+" button to add another user as a follower of that item.
If you don't have visibility of the deal, contact, or product, the item's owner or a user with access to the item, can add you as a follower.
You can learn about how to add followers to items in bulk in this article.
---
Following another user
If you follow another user in Pipedrive, you will have both visibility of and receive notifications about all of the items (deals, organizations, people, products) that they are the owner of, regardless of visibility group settings or an individual item's visibility settings.
To make yourself a follower of another user, navigate to that user's Overview and click the follower drop down in the top right corner:

You can both add another user as a follower, or start following that user yourself.
---
Viewing follower information
Note: To see another user's overview, you must have Follow other users to see their items permission enabled within Global permissions.
To see a list of which Pipedrive items a user follows, go to that user's profile page.
The user profile can be accessed by clicking the dropdown menu and selecting User profile.

Once there, find the user you wish to view and select the Following tab. Select the category of information you wish to see, and you will be provided with a list of those items that the user is following.
---
Notifications
When you become a follower of an item or user in Pipedrive, you will be alerted in the Sales Assistant panel in live time when there is a notification.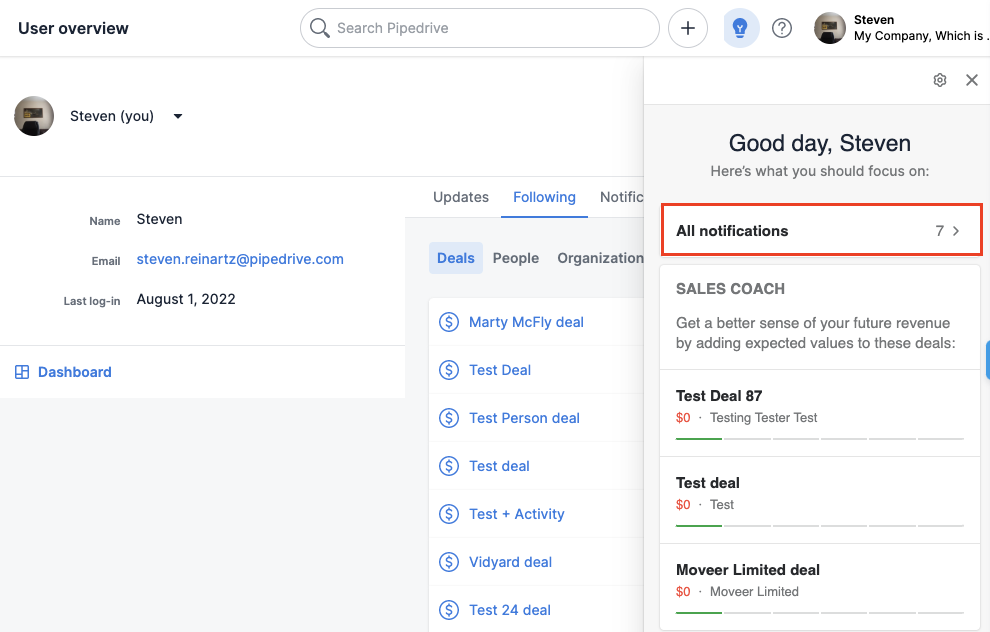 Note: Selecting All notifications will send you to the User Overview, where you can see the full list of recent updates.

To stay updated in-app in live time, activate the desktop notifications by going to Personal preferences > Account > In-app desktop notification.
Was this article helpful?