How can I add a user?
Jenny Takahara
, March 8, 2022
If you have started using Pipedrive and want to get your coworkers in on the action too, you can invite them to join you in working in your Pipedrive company account.
Note: This action is only available to users with account settings access.
---
To invite new users:
Go to Settings > Manage Users > Users.
From here, you can add other people to your account by clicking the + Add Users button, found on the right side of the screen. The Add users box will then open.
Enter the email address, of the person you wish to join you in your company Pipedrive account, and click Preview.
You will then see a breakdown of the cost of adding your new user. Click Send invites to send the invitation email to your new users.
To add multiple users you can add their email addresses separated by commas and then click Preview.
If you invite a user and they have not accepted your invitation yet, the invitation can be canceled. Under Users select Invited and you will then have the option to Cancel invite.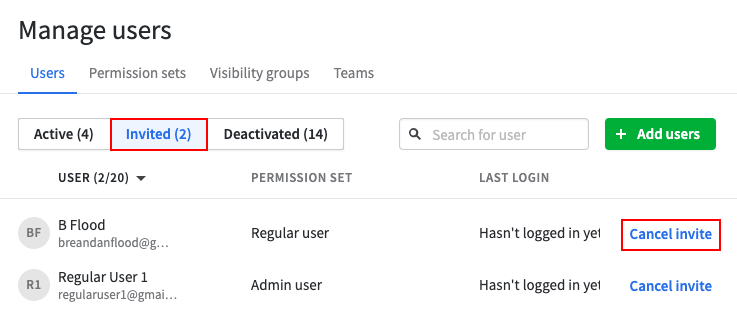 If your invited users have never signed up for Pipedrive before they will receive an invitation email from Pipedrive. This email link will allow them to set their own password, and sign into the company Pipedrive account that you have invited them to join.

If your invited users have signed up for Pipedrive before, and are still members of another Pipedrive account they will receive an email notification that they have been added to your account.
They will simply use the same login credentials they have already set and will be able to switch between the companies by simply using the Switch company option in the upper right corner of the app.


Note: Pipedrive is billed by the number of active seats in the company Pipedrive account. Adding a user will increase the cost of your Pipedrive subscription if doing so increases the number of seats in the account.
Was this article helpful?