How can I propose my specific times in the Scheduler?
Breandan Flood
, November 2, 2023
Note: The Scheduler feature is available to Advanced and higher plans. Pipedrive's Advanced plan users are limited to one General availability link, while higher plan users can create unlimited links.

Scheduling for a specific time using Pipedrive's Scheduler tool means picking slots for one-time meetings with customers.
To schedule for specific times, go to Activities > Meeting scheduler > Pick times.

From there, select a time slot from the Scheduler calendar view and submit your meeting details.
The meeting details you can add here are the same ones available in general availability.

Meeting name
Name you want the customer to see for the scheduled meeting. (Lunch to discuss new acquisitions)
Location
Location information, if relevant. (Ex. name and address of the restaurant for a lunch meeting)
Description
Information about the upcoming meeting. (Ex. topics of discussion)
Company name visible for the invitee
If your company name in Pipedrive is different from the company name you use to speak with customers.
Form fields
These fields appear in the meeting invitation so your customer can submit that information. Any required field is mandatory for the customer to confirm that meeting.
Note: To add a new field, click "Add field" in the fields for invitees to fill in section. Name and email are always required.
On the right, you can choose which activity type your new appointment is saved under and add any notes.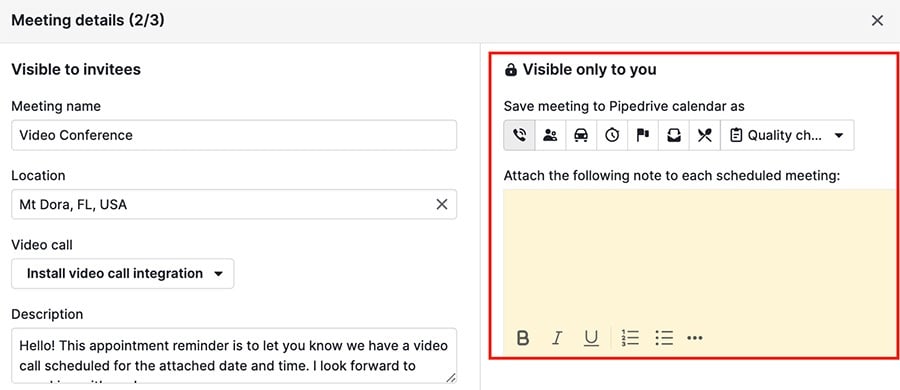 After you've created your appointment time you can make changes to it by hovering over Pick times and clicking the gear icon.
Was this article helpful?