How can I send emails with Projects?
Steven Reinartz
, November 2, 2023
With the new Projects feature, you can plan and execute your decisions better than ever before. This includes being able to send and receive emails from your project page, as well as link existing emails to your projects.
---
Sending emails from Projects
If you have email sync active on your account, you will be able to send emails directly from your projects in the same way you would from your deals or contacts.
To begin, select one of your projects, then navigate to the Emails tab:
From there, you can populate the recipient, subject and body of the email just as you would from a deal or contact. You will also have the option to send the email immediately or schedule it for later:
And once you have sent your email, it will appear under the Email tab, as well as any other emails within that conversation thread: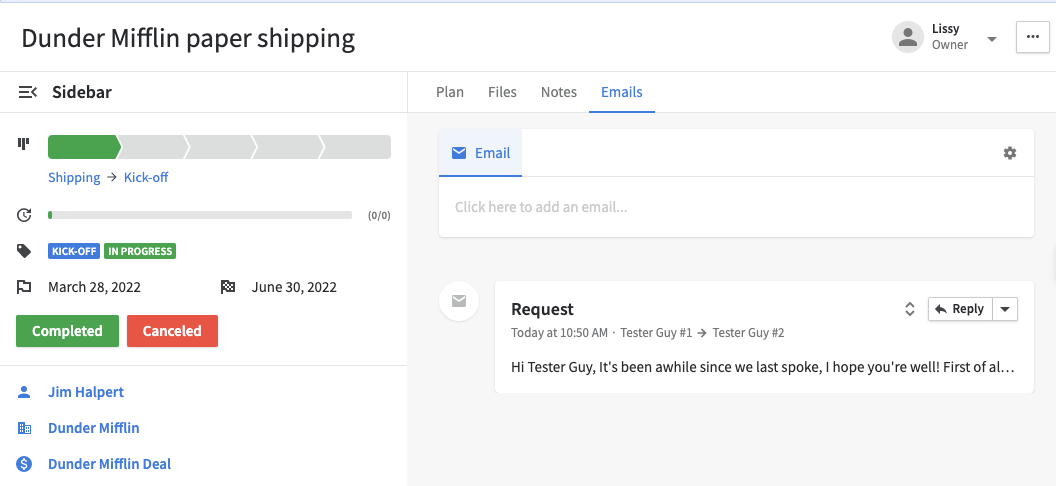 You can also link emails to your projects by finding an email in your inbox, then selecting the option on the right-side panel to link it:
---
Project-specific Bcc
Another way you can send emails and have them linked to your project is the Smart Bcc feature. Just like deals, each project has a Smart Bcc link specific to them, so you can add this link to the Bcc field of an email you're sending and link it to your project:
Note: If you delete a linked email from the Mail tab of your Pipedrive, it will no longer appear in the detail view of that associated project.
Was this article helpful?