How can I upload a file to a deal or a contact?
Breandan Flood
, September 22, 2023
To attach an important file to a deal or contact in Pipedrive, go to the detail view of the item and select the "Files" option.
You can drag and drop files into that section, or click "Select from your computer" to browse through your computer's files and select your intended file.
Files can also be uploaded using the Google Drive sync in Pipedrive.

Once uploaded, that file will be accessible only through the detail view of that deal, by any user who has the visibility permission to see that deal.
Adding a description to your file
When a file is uploaded in an item's detail view in Pipedrive, it may be helpful to provide a short description of the contents of that file. To add a description to a file, go to the uploaded file and click on the "..." button. You will also have the option here to delete or download your file.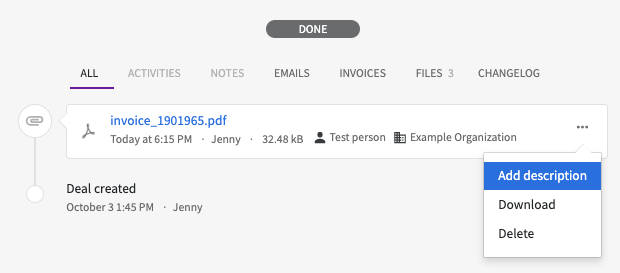 Once the description is saved, it will now show up under the file's name in the DONE section of your item's detail view.


Searching for the file
You will also be able to search for the note in the search bar, to be brought directly to the detail view of the item the file is uploaded under.
Note: Currently .heic files cannot be opened nor downloaded from Pipedrive.
Was this article helpful?