Importing: mapping your fields
Breandan Flood
, November 2, 2023
In order for you to import your data to Pipedrive correctly, you will need to map your spreadsheet columns to fields in Pipedrive. This way you can make sure that your contact people, organizations, deals, activities, notes, products, or leads are all imported correctly with their relevant data.
---
Item icons
In order to import your data to Pipedrive correctly, you will need to map each field with the relevant icons for your items to import. Each item type is represented by an item icon when importing.
For example, all of your people-related fields have to be mapped to fields under the "Person" item icon in order for them to show up properly linked to your people contacts.
Person type fields




Organization type fields




Deal type fields




Activity type fields




Note type fields




Product type fields




Lead type fields



Click on the icons to select the correct type of fields when mapping.
---
Mapping your fields
Note: Not all of your fields will be mapped automatically, so you will need to map some fields manually. It is always recommended to double-check your mapping before moving to the next step to prevent any incorrect mapping.

Once you have your spreadsheet set up and imported, you can then begin mapping your fields. Below you can see a sample from a spreadsheet.


When mapping, select the icon of the field type you wish to map. Then click and drag that field to the left-hand side of the page and match it to your spreadsheet columns. You will see the data from the first row of your import, so you can check that spreadsheet is read correctly by Pipedrive.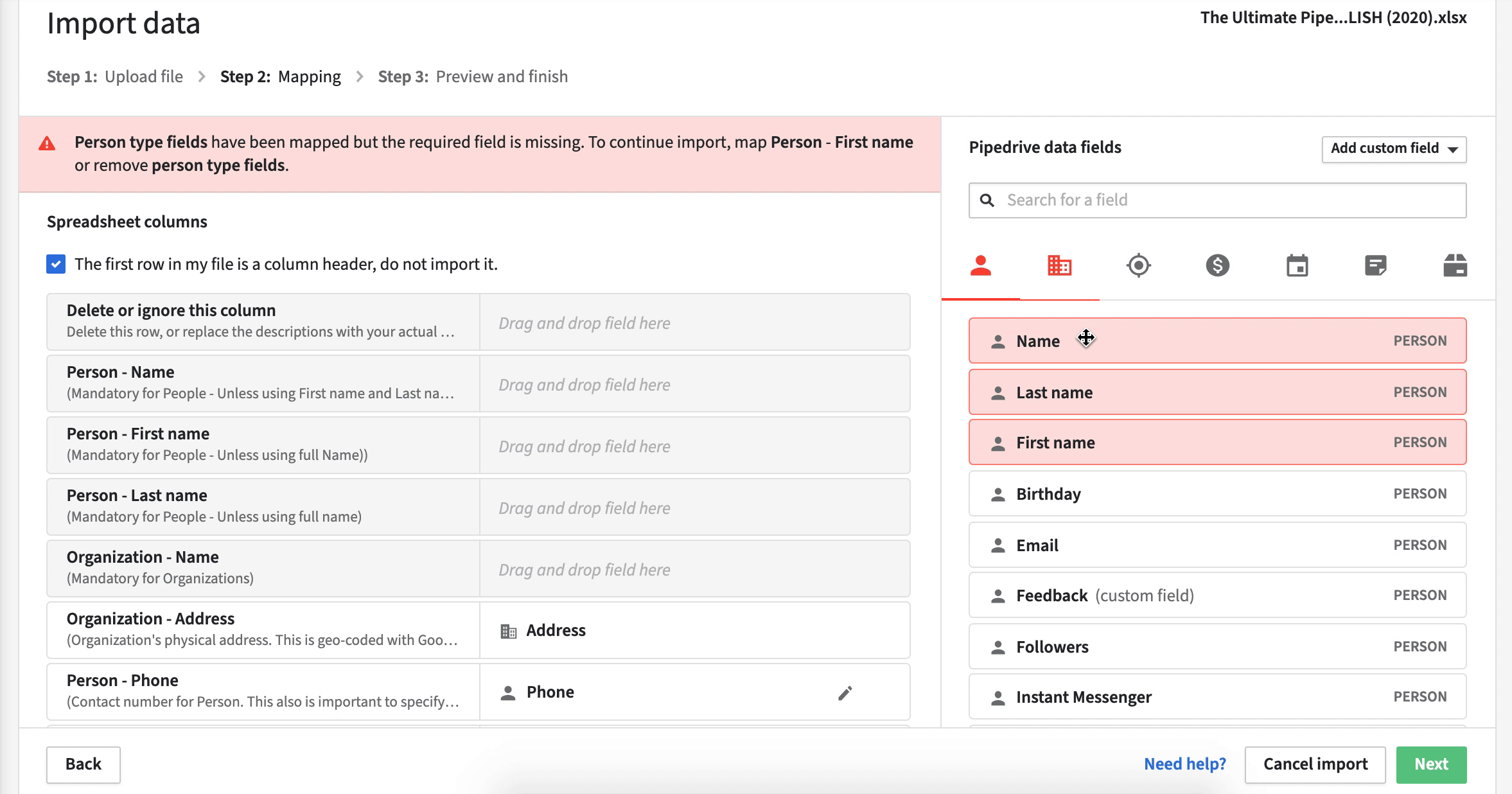 You can find more information on advanced mapping, such as mapping multiple option fields in this article.
Was this article helpful?