Note:
Prospector is part of the
Leadbooster add-on
. When you trial the Leadbooster add on, you will receive 20 free Prospector credits to try out the feature. Users who start their Leadbooster add-on trial during their Pipedrive trial will only receive 10 Prospector credits.

Prospector is an outbound lead generation tool that will allow you to search for and gather high quality leads based on set criteria.
After entering a search query, Prospector will display all organizations and contacts that match your requirements. You can then choose to add these potential leads to your Leads Inbox to start engaging with them right away.
All users can search for leads with Prospector, however, admin users will need to give permission for regular users to be able to add Prospector leads to the Leads Inbox. Only admin users can purchase more lead credits in the account.
Note:
The Prospector feature is designed to be fully in compliance with GDPR and other international data regulations. Learn more in
this article
.
---
Using Prospector
To open Prospector, go to your Leads > Prospector.
When you open Prospector from the leads section of your account, you will have a clear filter to add conditions in order to search for specific leads. You can search for both person or organization fields such as the organization industry, name, or country, as well as the person job title, seniority, or full name.

After specifying your desired search conditions, click Search in the top right-hand corner. A list of potential leads will appear for you to look through.
At the top of the page, you will see your selected search criteria with the option to Edit your filter conditions. To get more detailed information on your lead results, click on the organization name. The available contact people will appear once the organization's information is expanded.




After clicking on an organization, you will see the Organization details with a description of the organization, as well as extra details and clickable web links for you to gain more information on the potential lead.




Before choosing to add a specific lead to your Leads Inbox, you can see icons representing what contact information you will receive such as a phone number, email address, LinkedIn profile, or previous job positions.


Note:
The Prospector feature has access to a
unique database of 400 million profiles and 10 million companies gathered from high-quality public and private sources. You can learn more about how Prospector collects data in this article.
---
Adding leads to your account
Note: Every lead you add uses one lead credit. If you run out of credits, check the next section to see how you can purchase more credits.

To add a lead and reveal the person's name and detailed information, with the organization details expanded, click on + Lead on a contact person.





You will then see all of the data we have for this contact person and have the option to View lead.
Regular users will be able to view leads, but in order for them to be able to add leads, an admin user in the account will need to enable the Add Prospector leads permission to users in the given permission set.

Once you have clicked on the + Lead button, that contact will be added to your Leads Inbox. From there, you will see additional information on your lead. You can also add more details that you have gathered, and add notes to the lead profile.




At the bottom of the page, you can also create an activity with your lead, or convert your lead to a deal.



---
How does Prospector avoid duplicates?
In order for you to avoid adding leads that are duplicates of contacts in your Pipedrive account already, we have a duplicate checker.
Organizations
If you click on a lead, Prospector will check the organization name against your Pipedrive contact organizations displaying a warning sign if you have a contact in Pipedrive with the same name as the organization. In the organization details section, you will see a warning notifying you that Similar organizations exist in your contact base. This allows you to easily open up similar organizations to browse through your existing deals and contact persons.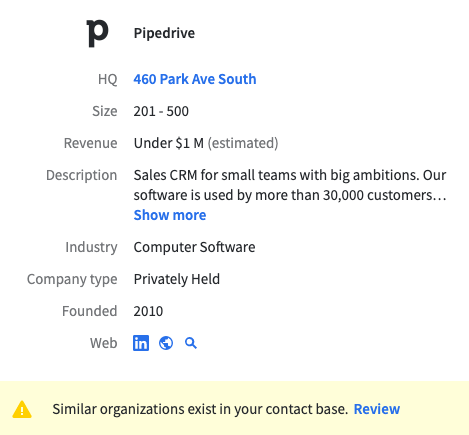 If you click Review, the possible duplicate organization name and address are displayed. You can decide whether or not you believe it is a duplicate, and choose to link the organizations together adding the information to your contact data in Pipedrive, or you can also choose not to link the organizations, keeping the contact and lead organizations separate.
Contact persons or leads
Prospector also runs a duplicate check once you click on + Lead. When checking for duplicate leads, we search for the lead title and the lead's person name in your Leads Inbox.
For contact persons in your Pipedrive account, the duplicate search is based on the contact person name.
When possible duplicates are found, there is a pop-up message notifying you to check the leads to make sure they are not duplicates.
When you click on the possible duplicate, their information is opened in a new tab for you to review the details and make sure it is not a duplicate. Then you can choose whether to Proceed with adding lead or click Cancel to stop the process.
---
How can I add more credits?
Note: Any purchased credits will be valid for 60 days. You will only be able to purchase top-ups if your current credit balance is 0.

If you use all of your credits and wish to add more, you can purchase these separately. Any admin user can click on the leads counter, followed by the information button (i).
You will then have the option to choose the number of credits wanted. Click Select package on the option you would like to purchase.
You will then be directed to a billing page where you can review the purchase, and confirm.

---
Reporting inaccurate leads
Note:
Inaccurate l

eads must be reported within ten days of being purchased.

If you happen to notice that you have an inaccurate lead, for example, if the phone number is disconnected or the email address is no longer active, you should report this to our team for investigation to get your lead credit back.
To do so, in the lead details click on the three dots (...) and select Report inaccurate lead.
You will be prompted to fill out a form describing the inaccuracies of the lead, as well as additional details if you would like to give some more information.
After sending your report, the information you have been provided will be sent for review by our team. Please be aware that this process can take a few days. As soon as our team has reviewed your lead, we will reach out to you directly with any feedback on your case, and whether or not the lead was deemed inaccurate.