Prospector
Breandan Flood
, November 2, 2023
Note:
Prospector is part of the
LeadBooster add-on
, and you'll receive ten free Prospector credits per month while trialing or paying for it.
Prospector is an outbound lead generation tool powered by Cognism that lets you search a unique database of 400 million profiles and 10 million companies gathered from high-quality public and private sources for new leads.
You can use personalized criteria to search the database for leads to add to your Leads Inbox.

---
Using Prospector
Note: Only global admin users can purchase more prospector credits; regular users must be given permission to add Prospector leads to the Leads Inbox.
To open Prospector, go to Leads > Prospector.
If you haven't set up the Prospector tool yet, you'll have to click "Continue to Prospector" and go through the setup flow.
If Prospector is already active but you haven't added any filters yet, you'll see the following options:
Edit – add filter criteria to narrow down your prospects
Save filter – save your current filter for future use, or create a new filter to save
The "i" button – check your credit balance, or click "Get more credits" to add more
The person and organization icons – switch between person or organization prospects
"+ Add prospects" – choose prospects to add to your account

My prospects – see people or organizations you've already added

After adding a filter, you'll see a list of relevant prospects. Click the "+" on the right to add a prospect to your account as a new lead.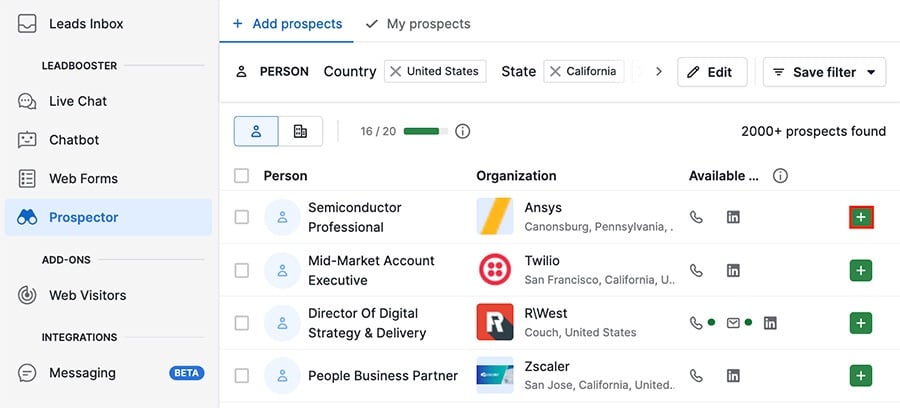 You can also hover your cursor over the icons in the available details column and click "View more details" to see the contact information that'll be available once the prospect is added to your account.
Note:
You can learn more about how Prospector collects data in
this article
.
---
Viewing your new leads
Note: A prospect added to your account as a lead can't be reverted back, and the token spent can't be returned unless the lead is reported and confirmed as inaccurate. Every prospect costs one credit.

You can navigate to your new lead's detail view from your prospects list using the arrow button:
Click the "..." to report an inaccurate prospect, or hover and select "View more details" to see the information that was previously blurred out.
In the lead's detail view, see publicly available information about the prospect, including their company, job title, phone number, email address and location.
In the notes section, you'll also be provided additional information that doesn't fit directly into Pipedrive fields, like secondary phone numbers or extended work history.
Note:
Regular users can view leads, but to add them they'll need the
"Add Prospector leads"
permission
enabled.
---
Reporting inaccurate leads
Note: Inaccurate leads must be reported within ten days of purchase, and leads converted to deals can't be reported.
If you notice inaccuracies within a prospector lead, like an out-of-service phone number or dead email address, you can report this to our team for an investigation to get your lead credit back.
You can do this in two ways:
Click "..." > Report inaccurate prospect in the prospects list

Click "..."> Report inaccurate prospect in the lead's detail view
Then fill out a form describing the inaccuracies of the lead, as well as additional details if you would like to give some more information.
As soon as our team has reviewed your lead, we'll contact you directly with any feedback on your case and whether or not the lead was deemed inaccurate.

Note:
The Prospector feature is designed to fully comply with GDPR and other international data regulations. Learn more in
this article
.
---
How does Prospector avoid duplicates?
Pipedrive has a duplicate checker to avoid adding leads that are duplicates of contacts in your account.
Duplicate conditions
In Pipedrive, the following fields are used to detect duplicates:
| | |
| --- | --- |
| Data type | Duplicate check field(s) |
| Organizations | Organization name |
| People | Person name |
| Leads | Lead title and lead person's name |
Organizations
If you have an organization in Pipedrive with the same name as a new prospect, you'll see a warning notifying you that Similar organizations exist in your contact base.

Click "Review" to see the possible duplicate organization.
You can link the organizations together and add the data from the new organization into the existing one, or keep them separate.
If you link the organizations, you can click the "..." next to the prospect and see the linked deal, or unlink the two.
Contact people or leads
If you add a lead with a contact person that matches an existing one, you'll be notified with this message:

You can either link the new lead to the existing contact or create a new contact for that lead.
Note:
For more information about merging duplicates in Pipedrive, check out
this article.
---
How can I add more credits?
Note:
Any LeadBooster subscription comes with
ten Prospector
credits monthly at no additional cost. Learn more about Prospector pricing
in this article
.
Any global admin user can purchase additional credits by clicking "i" > "Get more credits."
You can change your monthly allowance of credits, or make a one-time purchase of extra credits for that month.

After you click "Purchase credits," you'll be directed to a billing page where you can review and confirm the purchase. Learn more about adding credits in this guide.

Note: At your subscription renewal (or the end of your monthly credit allowance period if paying annually), all remaining Prospector credits in your account will expire and new credits will be added.
Was this article helpful?