Paying for the LeadBooster add-on and Prospector lead credits
Breandan Flood
, June 27, 2022
Note: This is a new method of billing and may appear differently in your account until it has been fully released.
LeadBooster add-on
LeadBooster is a paid Pipedrive add-on, focusing solely on lead acquisition, management, and conversion. It includes multiple features created to capture high-quality inbound and outbound leads before they drift elsewhere. You can read more about the LeadBooster and what is included in this article.


How much does LeadBooster cost?

Pricing for the LeadBooster add-on starts from $39 per month per company if on the monthly plan. If you are on an annual subscription, the LeadBooster starts from $390 per year. Learn more about Pipedrive pricing on our website.

This is a recurring charge that occurs at the same time as your Pipedrive subscription renewal.
The price of LeadBooster will increase if you add more Prospector lead credits to your LeadBooster subscription on a recurring basis.
With LeadBooster added to your account, you will always receive 10 Prospector lead credits monthly at no additional cost.
You can also add credits via one-time packages that will not increase your LeadBooster subscription. However, these credits will be more expensive.
You can add Prospector lead credits when using the Prospector feature or within Billing at any time.
Note: The exact price and currency of the subscription and packages for your company will be displayed on your Billing page.
---
Prospector lead credits
Note: At your subscription renewal (or the end of your monthly credit allowance period if paying annually), all remaining Prospector lead credits in your account will expire, and new credits will be added to your account.

Prospector is an outbound lead generation tool that will allow you to search for and gather high-quality leads based on set criteria and then use credits to reveal the leads' data.
To edit the number of Prospector credits added to your account each month, go to Billing > Manage add-ons (you will also be redirected here if you add more credits from within Prospector, and select "Subscription" instead of a one-time package). Once in Billing, under the LeadBooster header, click on the "Change number" option to select how many Prospector credits you would like added to your subscription.
Use the slider to select the number of Prospector lead credits you would like, between 10 and 1000 credits per month (increasing by 10 credits at a time). As you move the slider, the cost of that amount of credits will be shown on the right-hand side. The more credits you choose, the cheaper the cost per credit overall.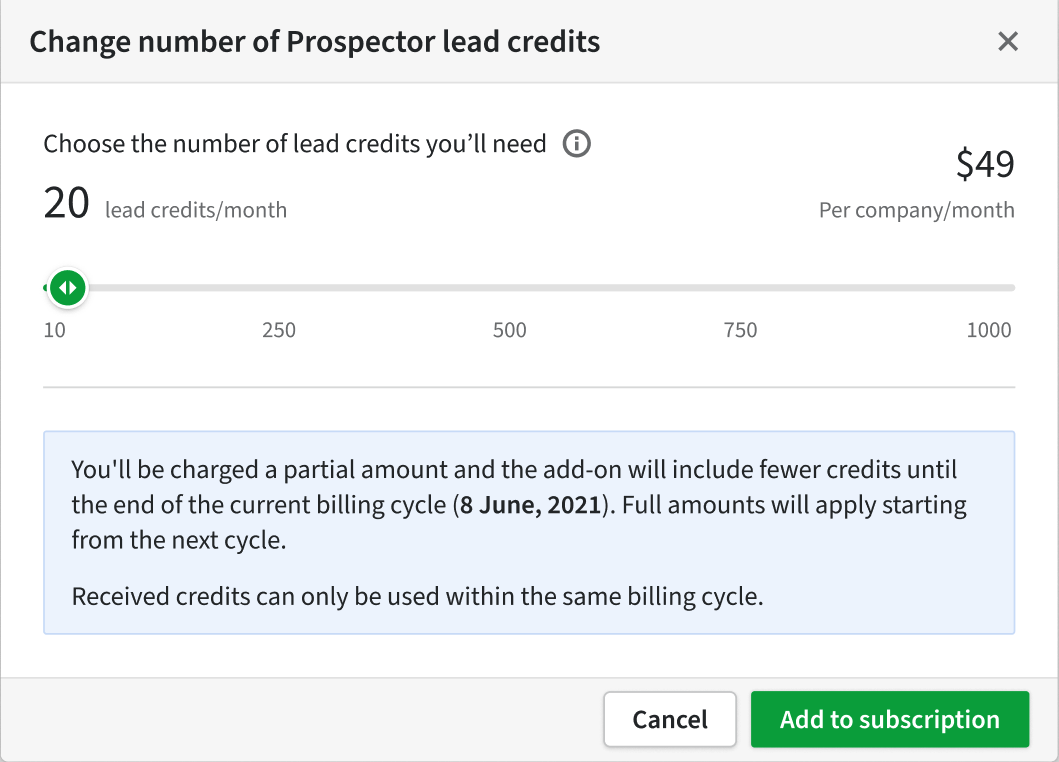 Note: If you add credits to your account in the middle of your billing period, you will receive fewer credits depending on how long it is until your next subscription renewal. You will be charged only for the credits added to your account, with the full amount of credits being applied starting from your next subscription renewal.
Annual subscription

If you are on an annual subscription, your Prospector lead credits will still be added to your account monthly on the corresponding day of the month on which your billing cycle started. These credits will also expire on the next monthly allocation date, this is known as your monthly credit allowance period. For example, if your annual billing cycle started on January 4th, you would receive credits on February 4th that could be used until March 3rd, and then you'd receive new credits on March 4th.
It is important that you remember that any downgrades you make to your add-on will be applied at the end of the current billing cycle. This means that if you downgrade the number of monthly Prospector lead credits in the middle of your annual subscription, the downgrade will only take effect at the end of your billing cycle.
Note: If admin users in your account make multiple changes to your monthly credit allowance, any previous changes are overwritten, with the most recent settings added to your subscription.
---
Reading your invoice
As your Prospector lead credits increase, you will notice that your Prospector credits are split into separate charges on your invoice. This is because the more credits you buy, the cheaper they will cost per unit. You can see how this works in the example below.

Here, you can see that the first 10 Prospector lead credits are included in the LeadBooster add-on at no extra cost, with the next 30 costing $1.00 per credit and the final 60 credits costing only $0.50 per credit.
Was this article helpful?