Note:
If you notice some differences between the sales assistant in your account and the examples in this
article
, you may have the updated Sales Assistant enabled. You can learn more about these updates in this
article.

Pipedrive's Sales Assistant feature is an AI notification system that presents insights and advice to help you win your deals and streamline your sales process.
---
Whether it's to prompt you to create the next activity that will bring you one step closer to closing the next high-value deal or to introduce a useful Pipedrive feature you haven't been using to improve your sales workflow, these proactive suggestion cards will appear in the most relevant situations- meaning at the right time and in the right context- and disappear when they are no longer relevant, in order to help you focus on what's most important.
To see your Sales Assistant Panel, you can click on the lightbulb icon in the top right corner. This will pull up the side panel that contains all of the relevant information cards for you to focus on for the day.
---
Card Options
You can read more about why you are seeing any particular card from clicking on the '...' button (card options) in the top right corner of the card. There you can dismiss the card from your feed by clicking on Hide this suggestion or let us know if the card is irrelevant to you by clicking on This is not relevant to me.
To read about the type of cards you will see in your Sales Assistant panel, click here.
---
Alerts
When you receive a Sales Assistant suggestion or notification about any information you follow, an alert will appear at the top right corner of your Pipedrive web-app.
---
Card Categories
The cards can fall under the following six (6) categories:

Sales coach
This category will provide personalized advice on how to improve your sales results.


Pro tip
This category will teach you how to get the most from Pipedrive's numerous features.


App recommendations
This category will recommend third-party tools from the Pipedrive Marketplace that integrate with Pipedrive to better streamline your sales process.



Know-how
This category will provide you information on how to enhance your own sales knowledge with Pipedrive's free ebooks and online tools.



Your results
This category will update you on your performance according to the activity in your Pipedrive account.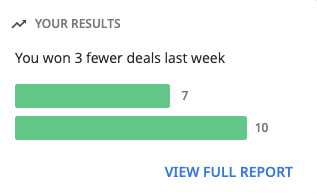 Your Account
This category will notify you of changes to your account settings.


Notifications
The Sales Assistant feature will also include a notifications card, including any notifications you have chosen to set up in your Pipedrive account. Here you will also see your email tracking updates in real-time.