Smart contact data
Breandan Flood
, November 10, 2023
Note: This feature is only available on Advanced and higher plans.
The Smart Contact Data feature finds publicly available information associated with a customer's email address or email domain and drops it right at your fingertips.

---
Where to find it

Note: This action is only available to users with account settings permission enabled.

Go to Tools and apps > Smart Contact Data in your Pipedrive account and turn the feature on.
Once enabled, opening the detail view of a person or organization in your Pipedrive account also displays a Smart Contact Data info section.
---
How it works
Note: A contact must have an email address in order to search for smart contact data.

To check for information associated with a person's email address or an organization's email domain, click the "Smart Data Search" button in the detail view sidebar.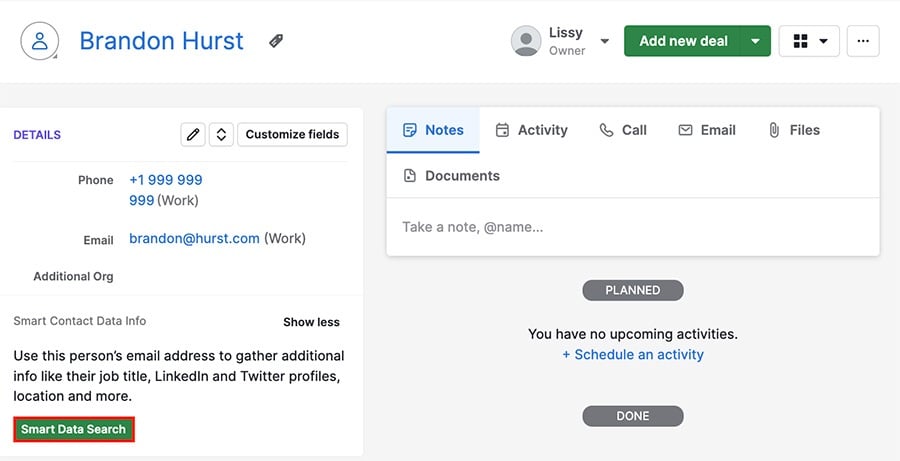 Once Pipedrive has pulled together all of that information, you can see it in the Smart Contact Data info section.
If you think the information is out-of-date, double-check the email address associated with a contact and click "Refresh data" to look for updated information.
Note: Retrieving smart contact data for an organization uses the domain of the first person linked to that organization.

---
Smart Contact Data and the GDPR
Note: Smart Contact Data is opt-in, and Pipedrive only automatically stores or uses smart contact data beyond what's necessary for performance purposes.
In terms of the GDPR, Pipedrive is the data processor, and you (the user) are the data controller responsible for how data is used and stored.
As the data controller, when it comes to the GDPR you must make sure that you're compliant with the GDPR and other data storage regulations.
Was this article helpful?