Campaigns: marketing contacts
Yssel Salas
, August 2, 2023
What is marketing status and why is it needed?
In email marketing, permission is the key. Contacts must have opted-in to start receiving any marketing communications from you.
Pipedrive tracks the subscribed status under a custom field called marketing status. Email campaigns will only be successfully sent to contacts with a subscribed status under this field.
---
Is marketing status applicable to leads and deals?
In Pipedrive, the marketing status is attached to an email, connected to a person and the first email in case of multiple ones. The marketing status is not applicable to leads and deals.
---
What are the various types of marketing statuses?

A contact's marketing status can be one of the following:
| | |
| --- | --- |
| | All contacts have this status by default. |
| | The contact has given their consent to receive emails. |
| | The contact has unsubscribed from your emails using the unsubscribe link in the footer. |
| | The contact had emails hard bounced or soft bounced 5 times. |
| | This status implies that you have exceeded your billing tier limit, i.e, you have added more subscribed contacts than is permissible according to your billing tier limit. After reaching 100% of your subscribers limit, the excess contacts will be marked as "Pending upgrade". When you upgrade to a higher billing tier, the subscribed contacts with "Pending upgrade" status are automatically converted to "Subscribed" status. |
| | Double opt-in contacts are those that have confirmed their subscription after clicking on a confirmation link sent to them via email. Once a double opt-in request is sent, the status will change to "Pending double opt-in". |
| | This status appears when you choose to archive some of the subscribed contacts. Archiving a certain number of subscribed contacts will free up space to add the same number of subscribed contacts. For example, if you have 500 contacts in "Pending upgrade" status and wish to clean up old contacts to make space for the new ones, you can select those old contacts and archive them. When you do so 500 of your oldest contacts with "Pending upgrade" status are automatically changed to active subscribers. |
---
Managing contact marketing statuses

Note: The marketing status will be linked to an email address and a contact person. If the contact person has more than one email address, it will be linked to the first email address.
To successfully send email campaigns to your contacts, they will need to have a marketing status of "Subscribed".
Contact marketing statuses can be managed in the bulk edit view of contacts, contact detail view, contact list view and in the "Add person" modal. You can change a contact's marketing status from "No Consent" to "Subscribed" to "Unsubscribe". The unsubscribed and bounced statuses will automatically be updated if a viewer unsubscribes or an email is bounced.
Once a contact's status is unsubscribed or bounced, it will not be editable.
Bulk edit view –
You can use the bulk edit functionality to update the marketing statuses of multiple contacts at once.
Detail view –
List view –
Add person modal –
---
Including marketing status during import
You can add a contact's marketing status when importing contacts into Pipedrive from a spreadsheet.

At the mapping step, click on the pencil icon to map the information in your spreadsheet to the marketing status options in Pipedrive.
---
Creating filters for your contacts
To send a campaign to your contacts, you will need to first create a filter for the group of people you want to send the campaign to.

Note: You won't need to explicitly filter for contacts with a marketing status of subscribed. If the contact is not subscribed, they will be left out when the campaign is sent out.
---
Creating filters for your campaigns
When creating a marketing campaign, both selection and creation of filters are available. You can select from favorite filters, pick them by owner name, recently used or search by filter name.
If you don't find what you need, you can start creating a new filter just for your marketing communications by clicking the "Add new filter" button or editing existing ones through the edit icon.
The "Add new filter" button will open a familiar filter creation block, where you can set up conditions for contacts with whom you want to communicate.
Note: If you create a private filter, other users will not be able to use it for Campaigns and send out email campaigns with it.

The "Subscribed" status is mandatory when sending out campaigns and this condition is already applied by default. In case your filter does not find any contacts with "Subscribed" status, we will warn you about it.
When it happens, you should change your filter conditions in order to find subscribers or update the marketing status of your contacts.
In "Preview", you will be able to review recipients and the list of excluded recipients. Exclusion can happen based on several reasons: there is no "Subscribed" status, the contact has no email address, etc.
If there are some visibility limitations set up by your company admin, you will not see and be able to send campaigns to those contacts for which you don't have visibility permission.

If you wish, you can look through the preview of the audience for the filter you have created and then save the filter or continue editing it.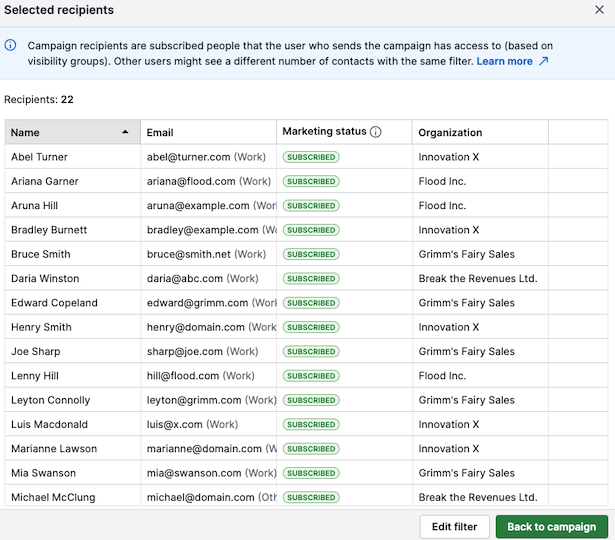 ---
FAQ
What if there are multiple persons with the same email?
The marketing status is attached to an email. If one person unsubscribes from the campaign, all persons with the same email get the status "Unsubscribed".
What if a user has added a contact with an email that has previously been unsubscribed?
We will mark that person's email as "Unsubscribed".
Was this article helpful?