Detail view
Jenny Takahara
, June 14, 2023
In Pipedrive, the detail view of a deal, person, or organization contains all of the information related to that item. Here you can add additional relevant information such as emails, files, activities, or notes.
If you would like to make updates to your deals or contacts, you have the ability to do so directly in the detail view as well. You can learn how to make updates to your items in this article.
If you are just getting started with Pipedrive, you can check out our
"Organize your sales data" Pipedrive Academy course.
---
Deal detail view
In the deal detail view, you will see any specific information regarding that deal, including deal status and any linked contacts.

In the detail view of a deal, you will see the deal progress bar, showing you what pipeline stage the deal is currently in as well as how many days it has spent in each stage.
The deal progress bar will allow you to understand the progress of your deal and provide insight into which of your stages may need more attention.

If you wish to track information for the overall progress of deals through the stages of your pipeline, we suggest utilizing the deal progress report in the reports section of your progress tab. In your progress section, you can also try out our more customizable reporting with our Insights feature.
Note:
The deal detail view is currently being revamped. If you don't see this version in your account, you might want to check the new deal detail view in
this article.
---
Contact detail view
The detail view of a person shows data about that person, such as that person's email address or phone number. It may also contain any contact label information provided about that customer.
The detail view of an organization displays information specific to that organization, like a street address, or any custom field information you have added to that item in your account. It will also display the assigned contact label.


---
Changelog
When in the detail view of an item in Pipedrive, you can click on the "CHANGELOG" function to view any change made to that item, sorted by date. These changes will also include updates made to any default or custom fields of that item.

People contacts – The changelog information will display when that contact was added to Pipedrive, what deals have been made in their name and what organization they may be linked to.
Organizations – You will see when people have been added to your organization or when deals have been linked to this organization.
---
Hovercards
When you hover over a deal title, contact name, organization name, or Pipedrive user in the detail view, you will see a popup card containing details related to that item.
Pipedrive user (as item owner, follower, or participant)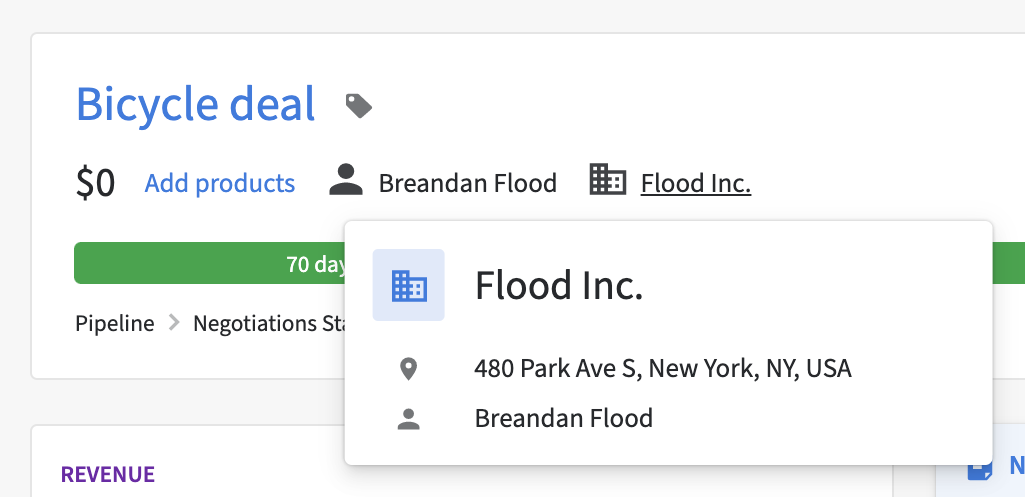 Was this article helpful?