App panels
Jenny Takahara
, July 28, 2023
Using Pipedrive's Marketplace, you can integrate Pipedrive with applications and plugins to enhance the power of your sales team.
Many of these apps can be accessed directly in the Pipedrive app using their app panels, so you to get the most out of your integrations.
---
Where to find it
In the detail view of a deal or contact, you can view and edit information from your integrations on the left side of the screen.
Click "..." > "Manage sidebar sections" to edit which app panels appear and in which order.
Note:
Check out
this guide
for more information about managing your detail view sidebar.
---
Integrations with app panels
Note:
You can check out a summary of how each type of app panel integration functions in
this article.
Pipedrive offers many integrations that can be used in different ways through the app panel. These include:
Link actions – redirect the user to the app's website to complete actions
App actions – take place within Pipedrive using pop-up windows
Custom UI actions – actions occur directly in the detail view panel or list view
You can view a full list of our apps with panel features by going to Marketplace > Apps > "Apps with interactive features."
Note: Users must install the app separately to see the panel in their accounts.
---
Managing your app panels
When you install a new integration, if it has an available sidebar panel you can activate it by going to "..." > "Manage sidebar sections" and then toggling the panel on.
The panel automatically refreshes available data, so the most recent date and time the panel's data has been refreshed is displayed. You can also manually refresh the data using the refresh button in the panel.
You can also collapse or expand the view of your app panel by clicking the arrow on the left of any panel.
---
App actions
Click the "..." on the right side of your app panel to open the available actions.
Most panels contain the manage sidebar and panel settings options, which let you edit which panels are visible in the detail view and how those panels appear.

Some apps have unique actions that can be accessed from the panel view. For example, the PandaDoc integration lets you view tokens and create documents via the app panel.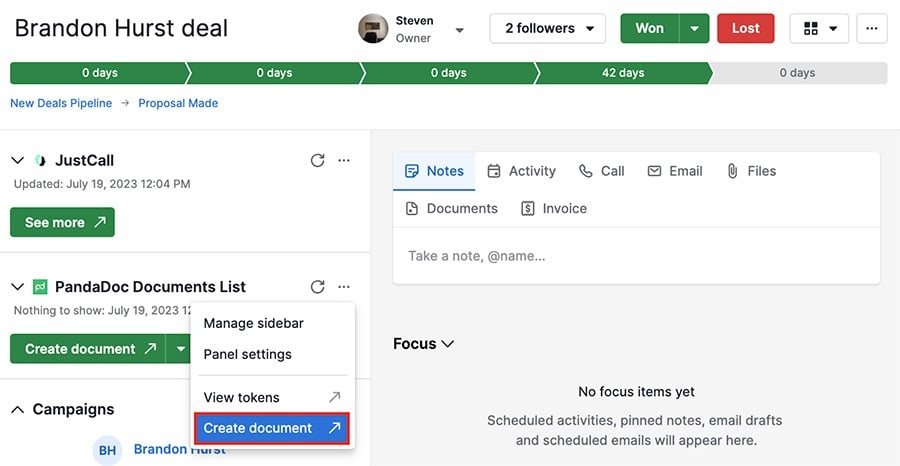 Was this article helpful?