How can I cancel my paid Pipedrive account?
Jenny Takahara
, November 2, 2023
Note:
This action is only available to users with
account settings
access. If you are looking to cancel a
trial
account, please see our
guide
.
Cancelling a paid account

You can cancel a paid account by going to your Billing tab and selecting "cancel my subscription" at the bottom of the page.
The first step let's you review the data in your account and the features it comes with.
Submit a reason for leaving, then select "continue to cancel."
After that, you can choose to speak to our team about alternatives to cancelling, or click "I'm not interested, continue to cancel."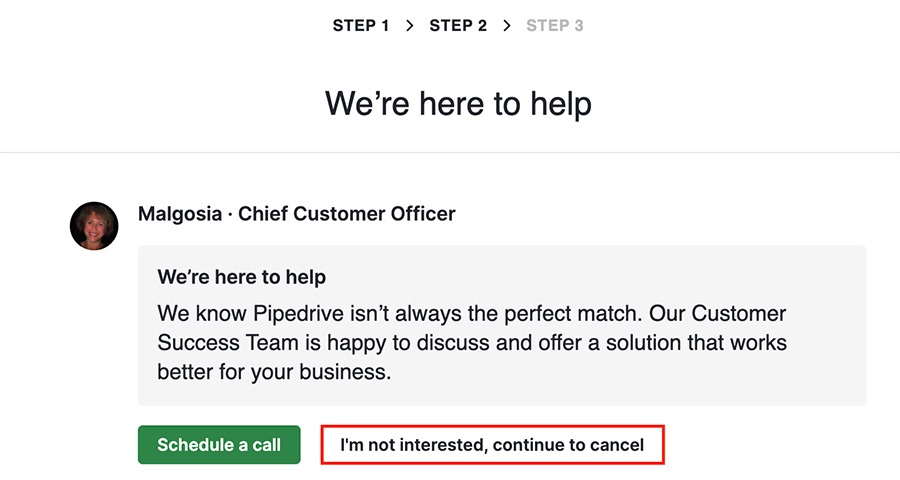 The last step in the process is to fill out a brief questionnaire, then click "cancel my plan."
Note: The option to click "cancel my account" won't appear unless all of the questions have been answered.

---
Cancelling an add-on

To cancel an add-on, click on "Manage add-ons".
Click "remove from plan" > "review purchase," then in the next window click "confirm purchase."
Note:
Chat
with our support team before canceling to discuss offers and solutions to keep your account open.
---
What happens after you cancel?

Note: After canceling, you can still access your data and account until the end of your billing cycle. After that, you won't have access to your Pipedrive account.
Once you have canceled, you'll receive an email confirming the cancellation of the subscription.
A yellow banner on top of the page in Pipedrive will confirm you canceled properly. Please follow the above steps and contact support if you don't receive an email.
We suggest exporting all of your Pipedrive data before closing your account. If you want to reopen your account again before it's permanently deleted, you can simply import your data back into Pipedrive.
Note:
Due to GDPR policies, we are obliged to permanently delete accounts that have been canceled for a period of six months. You can learn more about the permanent deletion of the accounts in section 9.2 of our
Terms of Service
.
Was this article helpful?