Leads Inbox
Jenny Takahara
, June 2, 2023
In the early stages of your lead generation process, you may find yourself with a lot of potential deals sitting in the early stages of your pipeline, not ready to move forward through the sales process but also not cold enough to be lost or deleted. This can cause a lot of clutter in your workspace and can distract you from focusing on the deals that need your immediate attention.
Pipedrive's Leads Inbox is a separate inbox to keep your prequalified leads in before they become deals. Once you decide which leads can be qualified, you can easily convert them to deals and add them directly into your pipeline to start your sales process.
---
Adding Leads

Note:
For information about adjusting leads visibility, check out
this article
.
To access the Leads Inbox, select the Leads tab > Leads Inbox.
Click "Add lead" to add a single lead or Import leads to add multiple leads from a spreadsheet. You can read more about how to import leads in this article.

When using the Add lead dialog, you can link your lead to an existing contact or add a new one. All fields are optional except either Organization or Contact person.
---
Sorting and filtering your leads
The Leads Inbox screen will display the title, activity status, label(s), source, creation date and owner of your existing leads. You can sort your leads in a column by clicking the field header.
You can read more about setting up lead labels in this article.

Click on the gear icon to customize the columns you see in your leads list. You can customize your columns and add information related to any linked deals, organizations and people.

On the top-right corner, you can filter your leads by source, label, and predefined or custom filters. When you click on each filter dropdown, you can search for the information you want.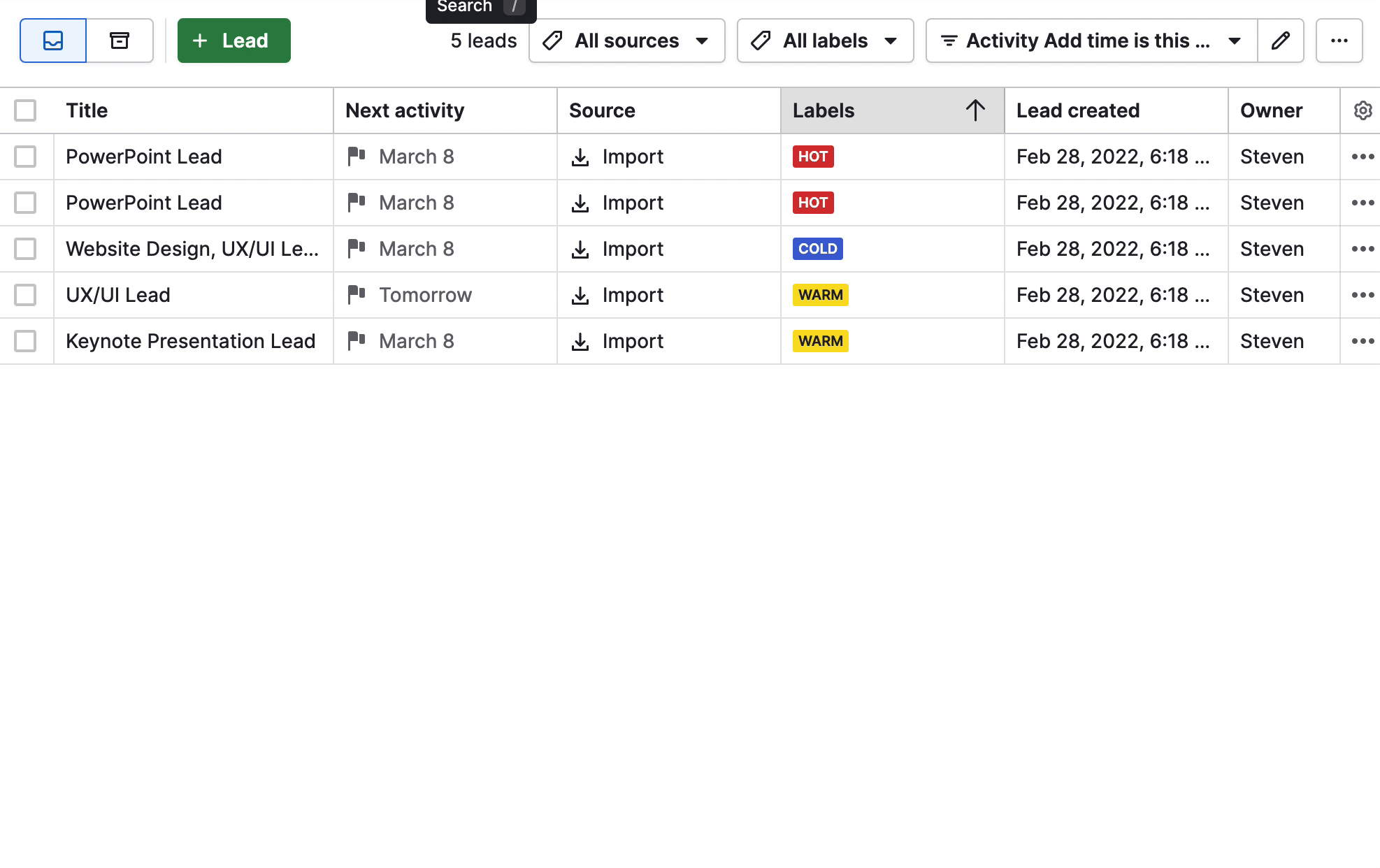 You will be able to filter your leads by source:

All sources

Manually created


Or by one of the predefined filters:

Custom filters can be created by selecting Filters > + Add new filter. Creating custom filters will give you better visibility of important information during the lead qualification process.
Filters can be added to favorites to be accessed more easily.
Filtered results can be exported to a spreadsheet by clicking on More '...' > Export filter results.
You can edit and delete your leads in bulk if you want to update more than one at a time. Learn more about bulk editing here.
Note: Currently, it's only possible to bulk edit the title, labels, value, owner and visibility fields.
---
Viewing lead details
The lead detail page contains all of the information relevant to that deal. Click on any lead to bring up a panel on the right-hand side of the screen to view your lead details or update your lead with the latest information. You will also have the option to Convert the lead to a deal or archive the lead in the bottom left corner of the panel.
The following details will be shown in each lead panel:
Lead details – Labels, value, owner and source
Person – Person name, email and phone number
Organization – Organization name and address. Clicking on the entered address will bring up the location geo-located on a map.
Notes – You can add as many notes to your lead as you wish
Planned activities – Any upcoming activities you have planned related to this lead
Email – Any emails linked to the lead
Changelog – When the lead was created and other updates made to the deal. This will also include any done activities.
Note: You will also be able to see phone numbers from both leads fields and linked contacts in the
detail view
and use those numbers to make calls from the lead view. For more information on that, you can check out
this article
.

If Pipedrive recognizes a potential duplicate contact, you will be prompted to review and select an existing contact if applicable. You can then link the lead directly to the existing person or organization.

Scheduling activities for your leads
You can schedule an activity directly from the lead panel by selecting a time interval and adding a title.
Archiving leads
If you want to keep a lead in your database but not listed amongst your active leads, you can archive it until you are ready to use it. To do so, click the "..." on the right side of any lead, and select archive:
And you can view your archived leads, as well as unarchive them, from here:
---
Converting leads to deals
When you've qualified a lead and are ready to pursue it as a deal in your pipeline, you can click "Convert to deal." This will bring you to a new dialog where you can define the pipeline, visibility and value of your new deal.
Any person and organization information from the lead will automatically be populated in the Convert to deal dialog, so you can easily add them to your contacts lists. If Pipedrive recognizes a potential duplicate contact, you will be prompted to review and select an existing contact if applicable.
Any notes added to leads will also be transferred to the deal detail view.
Once completed, hit "Save" to convert the lead into a new deal. The lead will be moved from your Leads Inbox and to the pipeline specified.
You can also convert multiple leads to deals at the same time by selecting the desired leads, then clicking Convert to deals:
---
Additional leads functions
Group emailing
Select the leads from your list and click the Send group email button to send an email to multiple leads.
Note
: For more information about the group emailing tool, check out
this article
.
To tag another user in your account, use the @ symbol in your detail view's notes.
Merge duplicates
To merge two separate leads into one, click the "..." in the bottom left corner of your lead's detail view, then select Merge.

Type the name of the lead you want to merge within the box.
Then select which lead's unique data you want to keep.
Afterward, you'll be able to preview your merged lead and confirm it by selecting Merge.
Note:
Once two leads are merged, the unpreserved lead will no longer exist in your account, but its unique data will be added to the other lead. Check out
this article
for more information about the merge duplicates tool.
Was this article helpful?