Pipedrive Gmail add-on
Jenny Takahara
, September 8, 2023
Adding the Pipedrive Gmail add-on to your workflow saves you time by allowing you to seamlessly track and update Pipedrive data directly in Gmail.
The add-on uses the side panel of your Gmail account, and you can:
see valuable sales context in your emails
access a quick overview of your ongoing deals and activities with an email's contact person.
add new contacts and deals
add and complete activities, and have them automatically populate into your Pipedrive account.
---
Installing the add-on
To get started, go to the Google Workplace Marketplace and search for the Pipedrive CRM add-on.
You can also click the "+" (Get Add-ons) button on the right side of your mailbox and search for the Pipedrive add-on from there.
Click "Install" and give Pipedrive permission to access your Google account.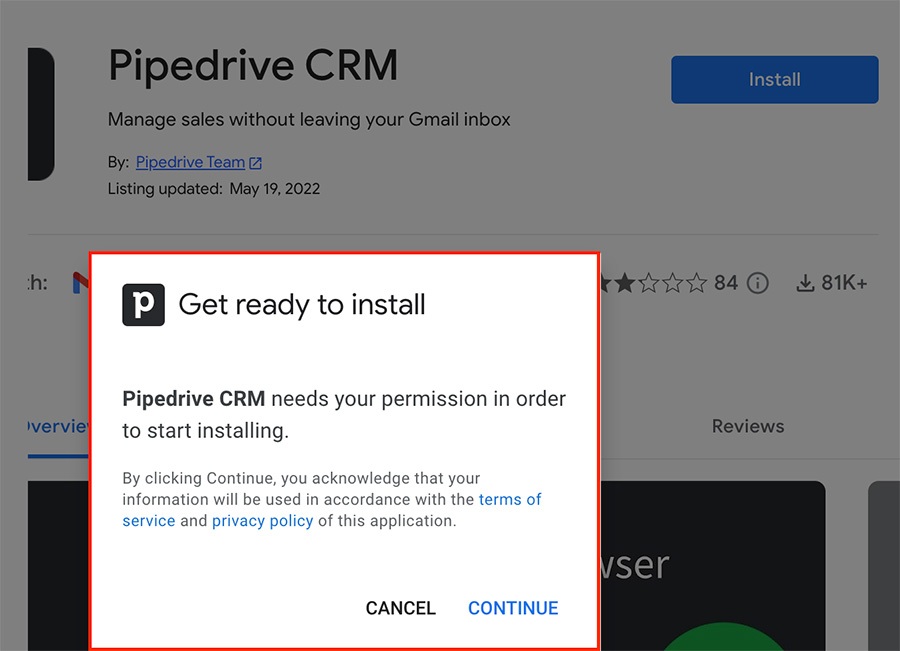 When the add-on has been installed, click "Log in" to connect your Pipedrive account.
If you've already downloaded the add-on, you may be asked to authorize it before you can log in.
---
Managing your contacts
With the add-on enabled, you can use the addresses from emails you receive in Gmail to create new people in Pipedrive.
If the email address is already linked to a person in Pipedrive, you'll see that person's linked items and notes in the sidebar.
If an email address is linked to more than one person in Pipedrive, you can select which person's info you'd like displayed.
---
Adding deals
Note: Deals, activities and notes created in the add-on will be populated into your Pipedrive account.
To add a new deal from the Gmail sidebar, click "add deal."
Then, fill in the available details and click "Save" in the bottom right corner.
You can select your deal and click "View in pipedrive" to open it in your Pipedrive account directly from the sidebar.
---
Adding and viewing activities
Just like deals, activities can also be added to your contacts from the add-on sidebar.
To add an activity, start by clicking "Add activity."
After that, fill in the requested details and select "Add" in the bottom right corner.
You'll be able to see your activity in the side view panel, as well as in your Pipedrive account.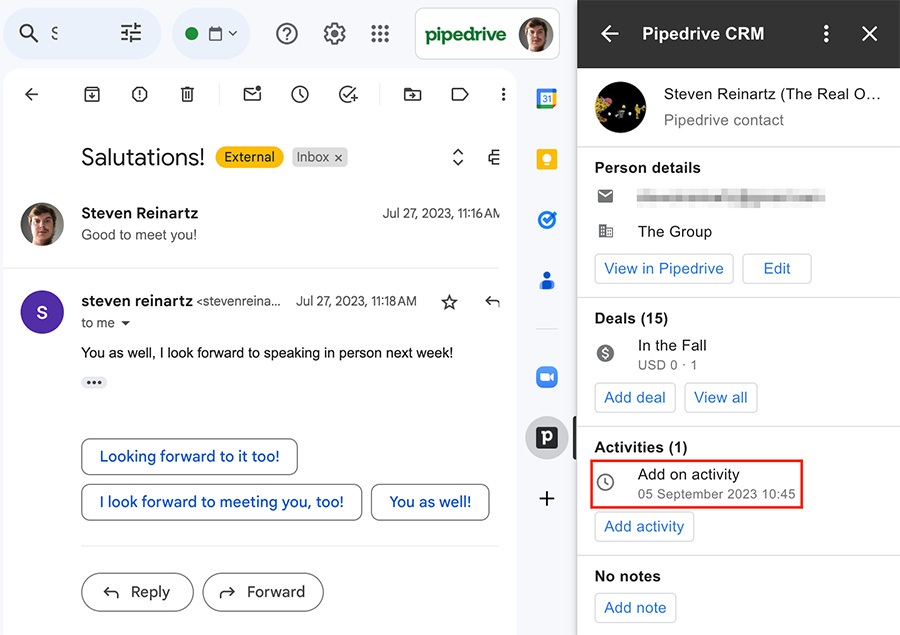 You can also click on the activity in your add-on panel to see its details, and even mark the activity as done using the toggle at the top.

If you mark an activity as done, you'll see a green checkmark next to it.
Where can I see all upcoming activities?
If you don't have an email open, the add-on sidebar will show all of your upcoming activities.
---
Schedule meetings
You can use the Scheduler feature to book meetings with your clients directly from your email composer.
To insert a Scheduler link to an email, compose a new email and click the Pipedrive logo.
This will open a window where you can select an availability to link in the email.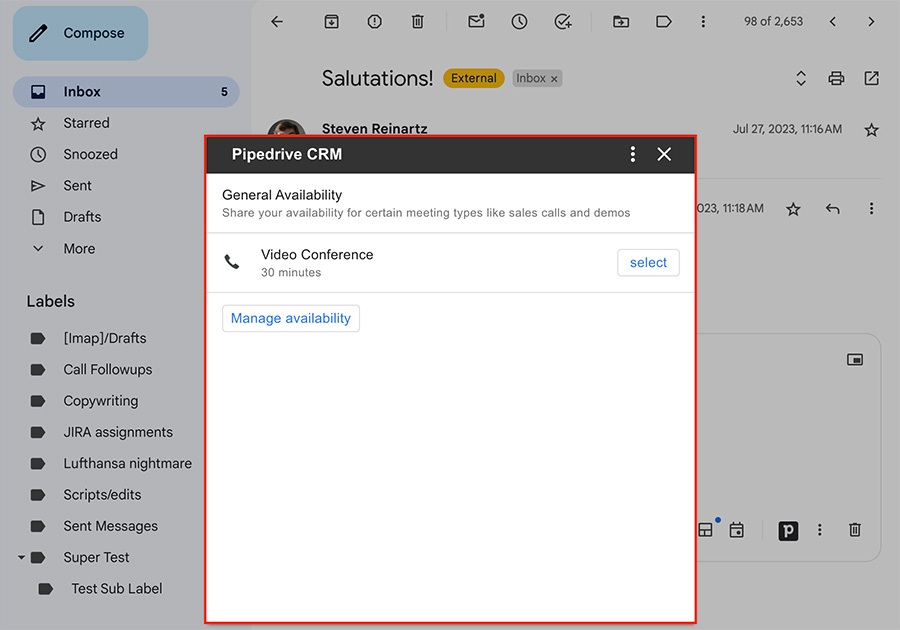 Note: Clicking "manage availability" redirects you to your Pipedrive account, where you can create new availabilities or edit your existing ones.
After you choose an availability, a link is added to your email that will let the recipient pick an appointment time from the available slots.
You can change the hyperlink text by clicking the link and selecting "change."
Note: Hyperlink text must be changed before the email is sent.
Was this article helpful?