Scheduler
Breandan Flood
, November 22, 2022
Note:
The
Scheduler
feature is available to Advanced, Professional, and Enterprise plans. Pipedrive's Advanced plan users are limited to one "
General availability
" link, while Professional and Enterprise plan users can create as many links as they need.

LeadBooster add-on
users receive full, unlimited access to Scheduler.
Half of the battle sales is finding the right time to have meaningful conversations with your customers. Pipedrive's Scheduler tool is a great way to keep in touch with your clients at a time that's convenient for you both. All of our plans include the Scheduler feature, but the feature's benefits work best when used alongside the email sync feature. You can learn more about our email sync feature in this article.
---
Start scheduling in Pipedrive
The Propose times tab appears next to the Activity tab in the Detail View of any deal, contact, or organization in your Pipedrive account.
When using the Advanced or Professional plan with the email sync feature enabled, the Propose times option can be accessed from the Email tab on any detail page or directly in your email inbox. Once you create your Scheduler links, you can enter them directly into the email composer to send to your customers.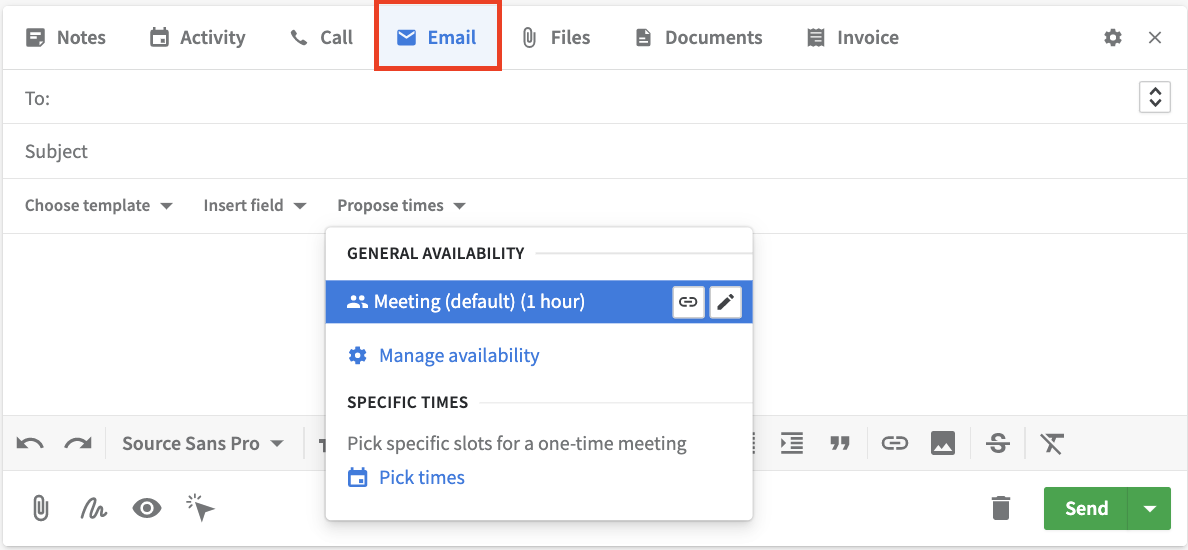 When proposing times to your customers in Pipedrive, you may wish to consider whether you'd like to provide a link with your general availability and let the customer choose a time for themselves or just select a specific time that you would like to propose.
---
General availability
When scheduling for general availability, you are selecting broader timeframes with a customer. This is designed for larger windows that customers can book for your time to speak on a regularly-scheduled concept, like providing a product demonstration or webinar.
If you have a more open schedule but want to allow your customers to book a window of their choice, select "Set availability" – or one of the availabilities you've already programmed – and provide your information.
To learn more about scheduling for your general availability in Pipedrive, click here.
Note: Advanced users have a limit of one active "General availability" link, while Professional and Enterprise users have an unlimited amount of active "General availability" links.
---
Specific times
When scheduling for a specific time, you are selecting specific slots for a one-time meeting with a customer. This is designed for ad hoc meetings, like lunch meetings or scheduled phone calls.
If you have a busy schedule and recognize that you need to schedule a quick meeting with your customer, select "Pick times" and choose any free spots in your schedule to suggest them to your customer via email.
To learn more about scheduling for your specific times in Pipedrive, check out this article.
---
Manage proposed times
To adjust the information for your specific times or general availability Scheduler links, simply select Propose times > Manage availability to manage your general availability, or the gear icon next to "Pick times" to manage your specific time slots.


When you get to the page where you see the general or specific Scheduler links, you can click on the following buttons to manage your links:
Expand
See the time slots available in the Scheduler link specified
Trash can icon
Delete this Scheduler link
Preview icon
Preview what the recipients of the link will see
Share
Share the Scheduler link
To delete specific appointments, just select the activity in your Pipedrive calendar and click the trash can icon on the bottom right of the activity details:
Any updates to the link will be dynamic, meaning once the appointment has been deleted, the previously occupied time slot will become available again.
---
Booking a time slot
Once you have selected your time from either of the above options, it will auto-generate a link in the body of the email you are composing. The associated text can be changed to whatever you feel fits the tone of your conversation.

When clicked, the customer will be able to see your set times, choose one that works best for them, and officially confirm booking that time on your calendar.
The customer will also receive a calendar invite at their provided email address, so they won't forget about your important time scheduled together.

By selecting a time slot and providing their relevant details, the meeting with that customer will be saved as an activity in your Pipedrive account at the time selected by your customer.
Any information provided by the customer – like their name, phone number and the response to any fields you've programmed in your meeting invitation – will be saved as a note associated with that activity, so you can easily reference it before you speak to your customer.
---
Adding footer text to the Scheduler form
A footer is a section of text added to the bottom of a meeting invitation, which can be used to add any additional information you might want to share: thank-you notes, data processing disclaimers, or various links (ex. terms of use, privacy policy.)
Once you save your Scheduler link, if you've added text to the footer section, it will appear as follows:
Was this article helpful?