Projects: templates
Steven Reinartz
, June 12, 2023
Saving time is the name of the game, and with project templates, you can make creating your projects faster and easier.
---
Where to find it
On the left panel, click Projects then the Templates tab. There, you will see your existing templates. Click the green + Template button in the top-right corner to create new templates:
You can also edit, duplicate, or delete your existing project templates by clicking the "..." on the right:
---
Adding a new template
Note: All changes made during the editing process are auto-saved. However, you can also manually save your template using the Save and close button.

Once you have clicked the + Template button, you will be asked to choose which board you want to add your projects to when using this template, as well as add the title and description:
Note: There is no way to transfer templates to different boards, or create projects from templates linked to completely different boards.

When you click Continue, you will be redirected to the project editing screen, where you can add tasks and activities to your chosen plans and phases:
When adding activities, they can even be assigned due dates in the negative due dates: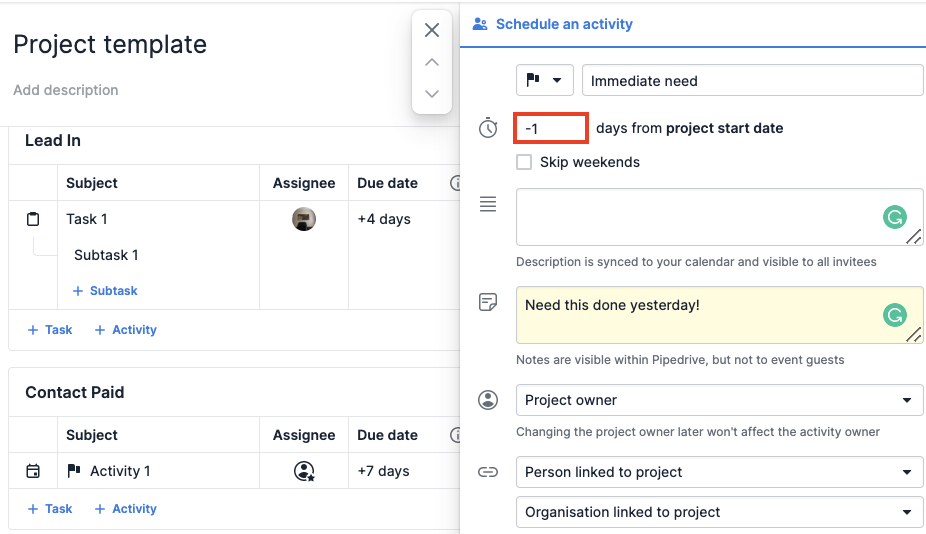 If you want to add a subtask to your template, click the + Task button, and you will see the + Subtask option in that window.

Once you have added your tasks and activities, click the Save and continue button to add the template to your list:
Adding a new template using an existing project
To use an existing project to create a new template, click the "..." in the top right corner of your project, and select "Convert to template."
You will then be asked whether or not you want to delete the existing project after converting. Once you have selected an option, click Convert to confirm the creation of your new template:
When your new template is complete, activities and tasks from the project will be duplicated into the template in the same phases, and due dates will be mirrored in the template.
Note: If the project doesn't have a start date, the template will calculate due dates based on the earliest plan item due date (i.e the earliest scheduled activity or task.)
---
Using your project templates
After creating your template, you will find it in your templates list. Click the Use button to create a project from it:
You can enter information related to your new project, link existing deals and contacts, and apply labels.
Note: The Start date field is required when creating a new project using a template, since the relative due dates of tasks and activities are calculated based on the project start date. However, start dates can be in the past or future.
Your templates can also be used when creating projects via automation.
If you have projects enabled, and you have created at least one template, you will see the option to use templates in your automation:
Note: This option is only appear when you select the project action step in the automation flow.
Was this article helpful?