Sales Assistant notifications
Breandan Flood
, November 2, 2023
Pipedrive's Sales Assistant feature is an AI notification system that presents insights and advice to help you win your deals and streamline your sales process. You can access your Sales Assistant by clicking on the lightbulb in the top right-hand corner of the page.
---
Managing notifications
To configure your Sales Assistant, click on the lightbulb and then the gear symbol to access the settings.
You will have two options: to pause notification alerts for today and manage notifications. Click on "Manage notifications" to open up your notification preferences within the side panel so that you can customize your Sales Assistant notifications.
Here you can choose what you will be notified about, as well as what notifications you would like included in your summary email. If you do not select to include any notification types in your summary email, you will not receive one.
By clicking "More (...)" on the Sales Assistant cards, you can choose to close that notification type or go to your Sales Assistant settings page.
---
Notification types
Sales Assistant updates you with different types of notifications depending on your preferences. Here are all of the different types you can choose from:
Community notifications
Stay up to date with your community activity.

Product updates
Stay up to date with new product releases and roadmap updates.

Email tracking
See whether your sent emails have been read or not and whether or not any links in the email have been clicked.




Activity reminders
Check what upcoming activities you have scheduled.




Updates on what I follow
Be notified when another user in your account updates a deal or contact you follow. You can also set hourly or daily email notifications for updates on what you follow.




Analytics and personalized tips
Personalized tips displaying what you should focus on, and how you can improve your sales process.



Comments
Be notified when a user comments on one of your notes.



Mentions
Get a notification as soon as you are mentioned in a note on an item.



Assigned to you
See when you are assigned a new deal or contact.



Note: A maximum of five notification types can be displayed in your Sales Assistant at any time.
---
Viewing all notifications
At the top of the Sales Assistant, you have the option to view all notifications. This will take you to the user overview where you will see a timeline of your notifications.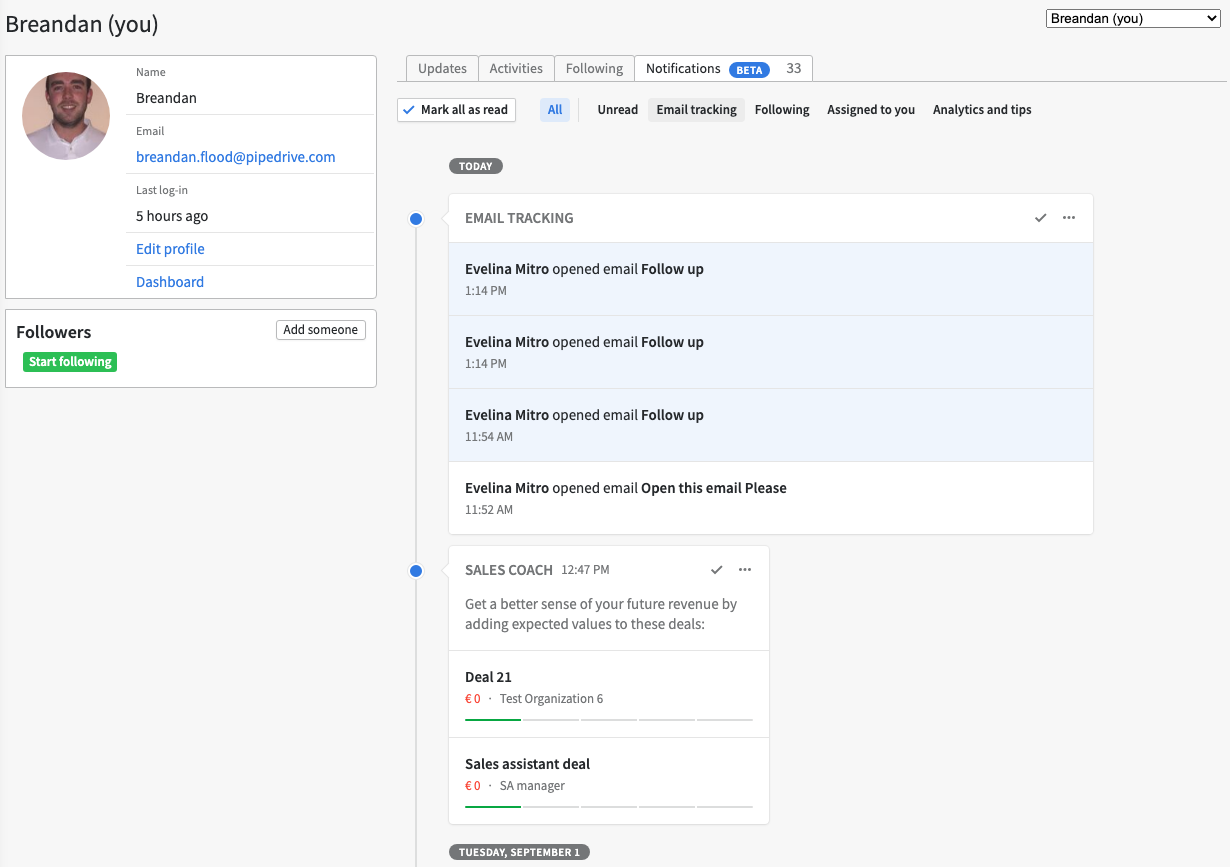 At the top of the page, you can filter for which types of notifications you would like to view.


Clicking on any of the notifications here will direct you to the item page automatically.
---
Email notifications
Updates on your followed items
One of your notification types is "Updates on what I follow". With this notification, you also have the option to have an email overview sent to your email address hourly or daily.
If you select "Send an email overview once a day", click on the question mark and you will be able to select what time you would like to receive the notification email.

Summary email
At the bottom of your Sales Assistant preferences, you have the option to select a time to receive your summary email. This email is sent daily and sends you a summary of the notifications you received in the past twenty-four hours as long as you have selected "Include in summary email" for that notification type.
You can click on the items in the summary email to be directed to the item page in your Pipedrive account.
Was this article helpful?