Converting deals to leads
Jenny Takahara
, November 2, 2023
Note: This action is only available to global admin users or users with the permission "Convert deals to leads" enabled. This permission is enabled for regular users by default.
If a deal isn't ready to move through your pipeline but also not ready to be marked as lost, you can convert it to a lead and add it to your Leads Inbox until it's ready to be pursued again.
---
Converting your deals to leads
Note: Invoices and deal history are not included in the converted lead.
A deal can be converted to a lead from a number of entry points in Pipedrive:
Pipeline view
Drag-and-drop your deal to the "Move to" option in the bottom right corner of your pipeline view, then select the location you want to move your deal to. Select "Leads" as the save location and click on "Save."

Deal detail view
Click on "..." > Convert to a lead in the top right corner of a deal's detail view.
Deals list view
Note: You can convert up to 100 deals at a time from the list view.

Filtered list – Click on "..." > Convert filter results to leads in the top right corner of your deals list view to convert a filtered list of deals to leads.
Converting in bulk – Select the deal or deals you want to convert in the deals list view and select "Convert to leads."
When converting deals in the deal list view, you'll see a window prompting you to confirm your changes and receive an email confirmation when the conversion is finished.

Note:
If you accidentally convert a deal to a lead, you can
filter for your deleted deals
and restore it and the converted lead will still remain in your Leads Inbox. You can learn how to do so in
this article
.
---
Viewing your leads
You can view your converted leads in your Leads Inbox.
The lead will show Deal as the source so you can easily sort or filter for the leads that have been converted from deals.
When you select a lead you'll see the deal, contacts and future activities that were linked to the deal.
Below your activities, you can see when the conversion occurred and click "Deal" to see the deleted deal's detail page.
---
What deal information will be included in my lead?
Note: The user who converts a lead becomes the owner of that lead.

When your deal is converted to a lead, deal data such as value and contact information is added to the lead so you can start right where you left off.
Deal fields – Custom and default deal fields
Contact information – The deal's linked person and organization information, including custom field data (but this can only be updated from the contact's detail page.)
Activities – Upcoming activities, those already marked as done will remain with the deal.
Emails – Emails linked to deals from email sync or using the Email Bcc feature
Notes – Notes created under the deal
If your converted deal includs formula field data, you'll see this message: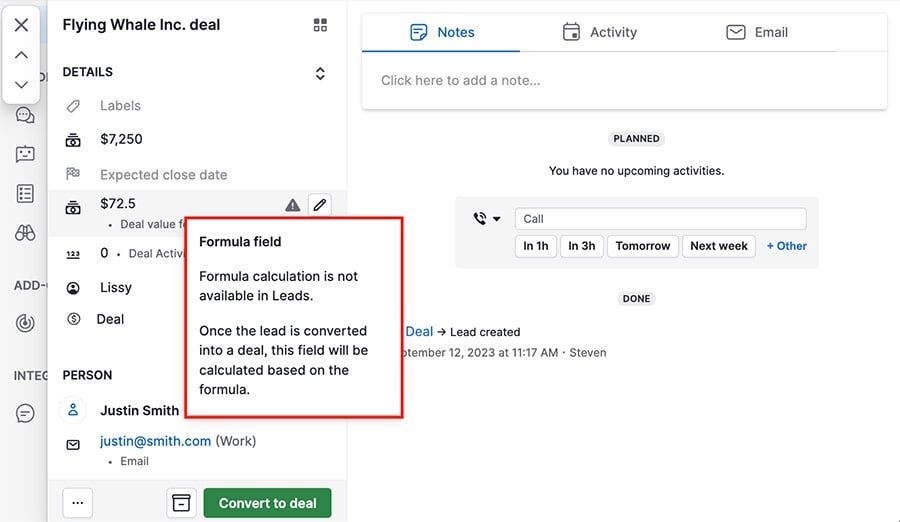 Was this article helpful?