Pipedrive integration: Mailchimp
Yssel Salas
, June 13, 2022
Note:
Integrating Mailchimp with your Pipedrive account requires a Mailchimp account. To create a Mailchimp account, click
here
.
Mailchimp is an email marketing service provider used to design and distribute email marketing campaigns. This impressive product can easily be integrated into Pipedrive, allowing you to export any desired list of contacts from Pipedrive into Mailchimp and begin your email campaigns.
Note:
This integration is not a full sync and simply allows for a seamless export of your contacts from Pipedrive to a list in your Mailchimp account. Only the contact person's name field and default email address field will be exported from Pipedrive into Mailchimp with the Mailchimp integration. Other integrations – like
Outfunnel
– may provide a sync between your Mailchimp and Pipedrive accounts.
---
Integrating Mailchimp with Pipedrive
In Pipedrive, go to Tools and apps > Integrations > Mailchimp >Connect now.
You will be prompted to log in using your Mailchimp login credentials and give Pipedrive access to your account.
---
Creating an audience in Mailchimp
Once you've connected Pipedrive with Mailchimp, you will have the option to export your people to a Mailchimp audience. If you do not have an audience in Mailchimp, you will first need to go to your Mailchimp account and create one.
To create an audience, go to Mailchimp and click on Audience > Audience Dashboard > Create Audience. You can learn more about creating audiences in this article.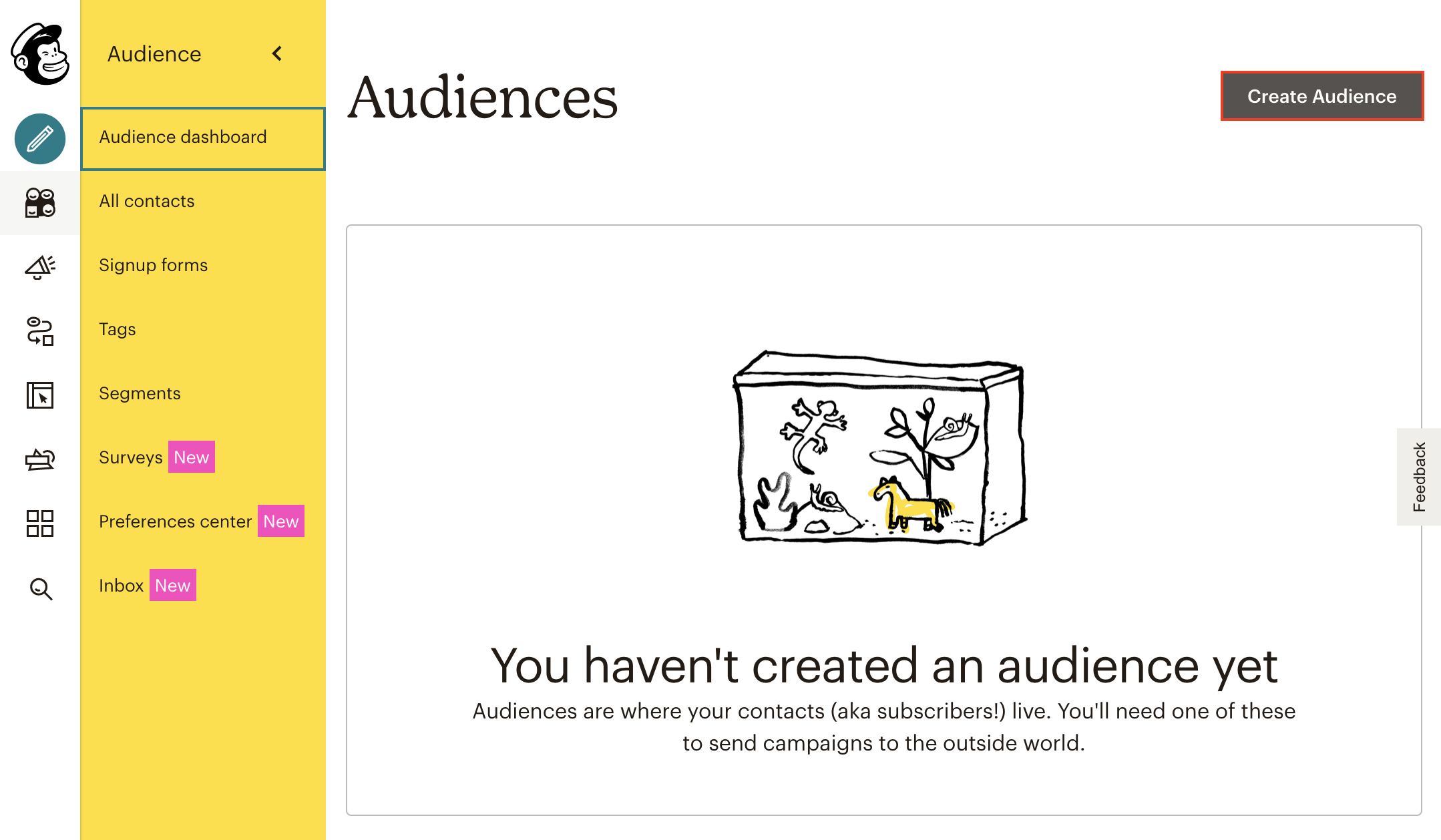 Your audience should be saved under the list once it has been created.

---
Exporting Pipedrive contacts to Mailchimp
Note:
This action is available to admin users and regular users with export
permissions
.
Once your audience has been created in Mailchimp, go back to your contact detail view in Pipedrive. Make sure you have applied a filter for the contacts you want to send to Mailchimp.
To export, click on "..." > Export to Mailchimp.
You will be prompted to select the audience in Mailchimp you want to export to.
Note: If you export the same list of contacts to Mailchimp on multiple occasions, you do not need to worry about creating duplicates in the Mailchimp list as Mailchimp recognizes duplicate entries and ignores duplicated entries.
You will receive a confirmation when the process is complete.

---
Viewing Pipedrive contacts in Mailchimp
Under Audience > Manage contacts in your Mailchimp account, you will see all of the contacts that were imported from Pipedrive.

Was this article helpful?