Caller
Jenny Takahara
, November 2, 2023
Note:
Starting October 6, 2022, the
Caller
feature is
no longer available for new customers
. For customers on the Professional, Power or Enterprise billing plan (who signed up or upgraded before October 6, 2022) the Caller feature is being removed in phases leading up to December 31, 2023. After this date, Caller will no longer be available.
Explore over 30 calling integrations on our
Marketplace
for alternative solutions to Caller.
For salespeople, an efficient calling workflow is essential for saving time and reaching targets. With Pipedrive's built-in Caller feature, you will be able to directly click and make calls to your customers without leaving the Pipedrive web app, as well as automatically log all of the calls as activities for effortless reporting.
---
Setting up the Caller
Note: Caller can only be configured by admin users, but regular users can set up their personal calling settings. Caller is not supported on Safari. For the best experience, we recommend using Chrome or Firefox as your default browser when using Pipedrive.
To set up the Caller for your company account, you can go to Tools and apps > Caller. Here, you can set up company, users and personal calling settings.
Company – Manage calling credit and calling settings for your company Pipedrive account.
Users – Enable Caller permission for users in your company.
Personal – Set up your personal calling settings and connect your number with Caller. You will be asked to verify your phone number through a validation call.
You can learn more about how to configure your Caller in this article.

Note:
Users in
Saudi Arabia
have some limitations using the Caller feature, such as not being able to make calls to Saudi Arabia from Saudi Arabia. For more information on these limitations, please read
these guidelines
. Users in the United Arab Emirates also have limitations with toll-free and geographic phone numbers, which can be found
here
. The countries that Caller is fully disabled in can be found
here.
---
Before the call
Once your number has been connected to Caller and verified, you can begin calling. To initiate calling in your Pipedrive account, you can click on any phone number in any list view or detail view, including leads.
Note: If you have not connected and validated your phone number yet, you will be prompted to do so.

---
During the Call
Once you have clicked on a listed phone number, you will see a window open that will allow you to adjust the country code, phone number, calling method and call from options of your phone call.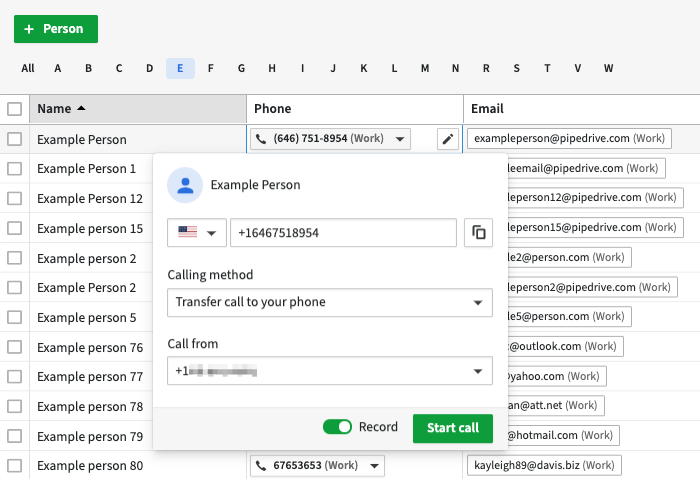 Calling method – You can choose to call with your computer if you have another calling integration set up or call with the Caller feature. If you choose to call with the Caller feature, you can either call directly from the Pipedrive web app or transfer the call to your mobile device.
Call from – If you have more than one phone number linked to your personal account, you will have the option to choose the one you want to call from. You can add multiple phone numbers to your account by going to Settings > Calling > Personal > Connected numbers.
When the call settings have been adjusted accordingly, you can hit the "Start call" button to initiate the call.
Note: You will have to allow Pipedrive to use your device's microphone if you have not already done so.

When the call has connected, a notes panel will appear for you to leave notes during your phone call.
---
After the call
After the call has ended, you will be prompted to choose from a list of call outcomes and what to log your call as.
Call outcome – The results of your call. The call outcome options can be set up by an Admin user under Settings > Tools and apps > Caller > Calling outcomes.
Log call as – Assigns an activity subject to the logged call. You will be able to log your call as either a new activity or as a preexisting activity planned for that contact person.
If you want to be prompted with a new activity window after logging the current call, you can check off "Schedule a follow-up activity".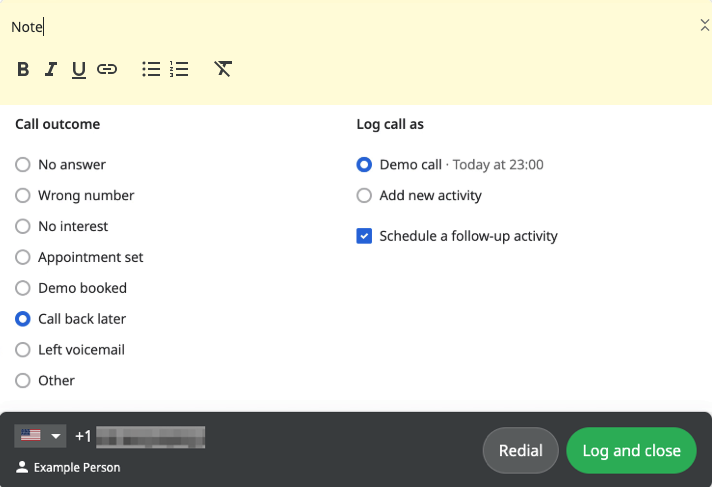 Where can I see my logged calls?
The saved call will be logged as an activity under the contact person and will always be marked as done. From the contact detail page, you can listen to the recording of the call if the call recording was enabled and also download the recording as an audio file by clicking on the "..." button next to the recording.
Note:
Call recording and downloading can be enabled by an admin user under
Settings > Tools and apps > Caller > Company > Call recording.
The calls made through the Caller will behave like normal activities for reporting purposes. You can read more about reporting with our Insights feature in this article.
Was this article helpful?