Deals: what they are and how to add them
Jenny Takahara
, June 16, 2022
Note:
The number of open deals you can have depends on which plan you are on. You can learn more about usage limits in
this article
.

In Pipedrive, the ongoing transaction you are pursuing with a person or organization is tracked as a deal, which is processed through the stages of your pipeline until it is either WON or LOST.
To better understand how this relationship between your contacts and deals, we suggest reading about how Pipedrive data is organized, which can be found here.
When clicking on a deal, you will be taken to that deal's detail view, which displays all of the relevant contact information, as well as all activities, emails, notes and actions in regards to the deal.
Deals can be associated with a person, an organization, or both!
Deals track all events and movements that take place throughout your sales process.
Since a deal is connected to a contact, any actions you perform on the deal will also be associated with the person/organization related to it.
Deals can be imported from a previous CRM or imported from a CSV or XLS file.
The progress of the deals in your account is tracked as reports in your account.


---
How do I add a deal?
There are many different ways to add deals to your Pipedrive account, based on your various needs.
From the pipeline view, list view, or forecast view of your deals tab:
This allows you to create one deal at a time, and note the specific information – like person contact, deal value and expected close date – that should live in that deal.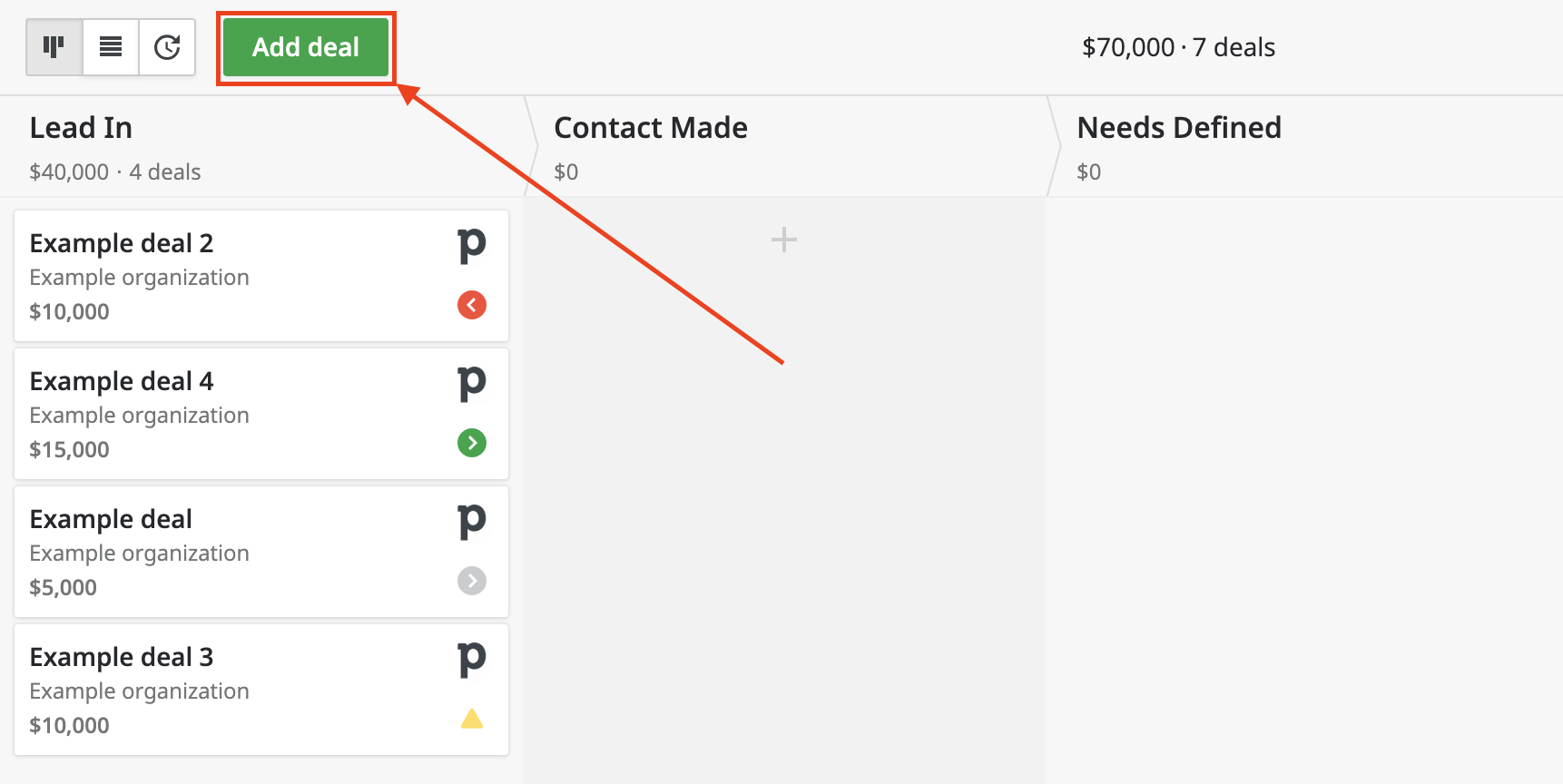 From the detail view of any person or organization contact:
When in the detail view of one of your contacts, you can choose to create a new deal with that contact easily, which will carry over that contact's information.

From within the contacts timeline of the contacts tab:
When viewing the timeline of activities for specific contacts in your Pipedrive account, you can choose to add a new deal for that contact and hit the ground running.

From within an email in your mail tab:
When an email is not associated with a deal in your Pipedrive account, you can choose to associate it with an already-existing deal or create a new deal to connect to it.

Through the mapping of deal-type fields in the import data process:
Whenever deal-type fields are mapped, deals are created for their associated contacts. To learn more about the import process, click here.

Was this article helpful?