Email sync
Breandan Flood
, November 24, 2022
Note:
The
email sync
feature is one of the many useful features of Pipedrive's Advanced, Professional and Enterprise plans. Attend our webinar
How Email Sync works in Pipedrive
for a live demonstration and Q&A from our support team.
Pipedrive features two methods of managing your email conversations with your customers: email sync and Smart Bcc.

Whichever method you use, Pipedrive will intuitively calculate which contacts, leads and deals your email conversations belong to, based on the email address you are sending the message to.
This means you will always have a clear picture of all conversations from the detail view of both the person and deal.

You will also get your own dedicated Pipedrive inbox, which will contain all of your emails and give you control over the linking and sharing of those emails.

In addition, you will also be able to compose new email messages from within the Email tab of your synced Pipedrive account. Doing so saves you time in switching between email systems and allows you to concentrate on the important task at hand: pushing your business forward.
Note:
If you are using a keyboard for right-to-left languages – like Persian, Urdu, Hebrew and Arabic – Pipedrive will recognize this and format your typed content appropriately. Learn more in
this article
.
When composing an email within Pipedrive, you will be able to customize it to fit your needs, including text formatting, inline images and smart fields that can pull information from your Pipedrive deals and contacts.
Note:
The file size limit per email will depend on your provider. i.e., The limit in
Gmail
is 25MB, while the limit in
Outlook
is 20MB.
For further customization, learn more about the email templates and email signature functions within the email sync feature.

---
Setting up your email sync
This feature allows you to sync your email inbox to your Pipedrive account, allowing you to access your email without having to leave Pipedrive.
To enable the email sync feature, go to Personal preferences > Email sync and click the "Add new account" button.
Provide the login information for the email account you wish to sync to Pipedrive and start sending those emails.

Note: If you change the login information for the email account you have synced to Pipedrive, you will need to re-authenticate those new email credentials in Pipedrive in order to continue using the email sync without interruption.
The email sync feature is compatible with all major email providers, including:
Gmail and Google Apps
Yahoo! Mail
Microsoft Exchange (ActiveSync)
Outlook.com (a.k.a. Hotmail)
iCloud (a.k.a. MobileMe or DotMac)
AOL Mail
FastMail
GandiMail
GMX
Mail.ru
Yandex.Mail
GoDaddy Mail
Hover.com
Namecheap
Bluehost
Soverin
Zimbra
123-reg
126
QQ Mail
Aliyun (Alibaba Group)
Netease 163 (China)
Yeah.net
139.com (China)
Any custom account syncing through generic IMAP via an SSL connection
All incoming and outgoing mail is synced to your Pipedrive account and is associated with the corresponding contacts and deals.
You can adjust the settings of your email functions to best suit the needs of your company. To make any adjustments, go to Personal preferences > Email sync.
Learn further details on how to set up the email sync feature in this article.
---
Email labels
When establishing a sync to your native email provider, you can choose whether you would like to sync over all of the emails in your inbox going forward, or only the emails that exist in specific folders or labels.
If you would like to sync all incoming emails into your Pipedrive account, select "All emails will be synced with Pipedrive".
To choose which folders or labels you would like to have been synced to your Pipedrive account, choose "Sync emails with specific labels", and select the labels you would like to have synced to your Pipedrive account.
---
Archive and delete
You may adjust whether the archival and deletion functions in the Pipedrive Mail tab are also reflected in your synced email account.
This option allows you to have a selected email be archived or deleted in your synced email account when that email is archived or deleted in Pipedrive.
---
Email tracking
The email sync also allows for access to Pipedrive's email tracking functions, which allow users to see when the recipient has opened your sent email or any of its included links.
Learn more about our email tracking feature in this article.
---
Email links
You can also choose which email application you would like to use to compose new email messages.
If you select "Open email links in Pipedrive", clicking on an email address link in Pipedrive will take you to the Mail tab of your Pipedrive account to compose that email.
If you select "Use the default email app on my computer to open email links", clicking on email address links in Pipedrive will open the program (like Outlook) that you have set as the default email composition client to send that email.

---
Blocked addresses
If you find that the email address you have synced receives emails that you do not wish to arrive in Pipedrive, you can register a specific email address ([email protected]) or a broad domain (@domain.com) as emails that should be ignored in Pipedrive.
Any address or domain that is ignored will no longer appear in the Mail tab of your Pipedrive account.
---
Alternative email address for Smart Bcc
By default in Pipedrive, only the email address used to log in to Pipedrive will be authorized to use the Smart Bcc address associated with your account. However, if you send your emails from a different email than the one used to log in to Pipedrive, you should add that email address as an alternative email address.
Adding an email as an alternative email address will send a confirmation email to the added email address, which will need to be validated before that address can be used successfully as an alternative email in Pipedrive.

---
Email sharing
This setting configures the default sharing setting of all future emails in Pipedrive. Note that altering this function will not overwrite the current email sharing settings of your existing emails and will only apply to emails received after the setting has been updated.

Keep all my email conversations private – Emails will not be visible to any other users in the account – even admin users – under any circumstances.
Share all my linked email conversations with others in my company – Other users in your Pipedrive account can see emails associated with any contacts or deals that they have the ability to see.
Note: To share specific emails to other users in your company Pipedrive account, you can adjust the visibility settings for each email.
---
Automatic linking feature
Pipedrive will automatically associate emails with the appropriate person contact by recognizing the email address associated with that received email.
The Automatic linking to leads and deals section will also allow for Pipedrive to associate that email with an open deal with that email's recipient if an open deal exists in the Pipedrive account.
If you feel that you may have many open deals with the same email recipient in Pipedrive, it may be more efficient to choose "Link emails manually only", to prevent any confusion.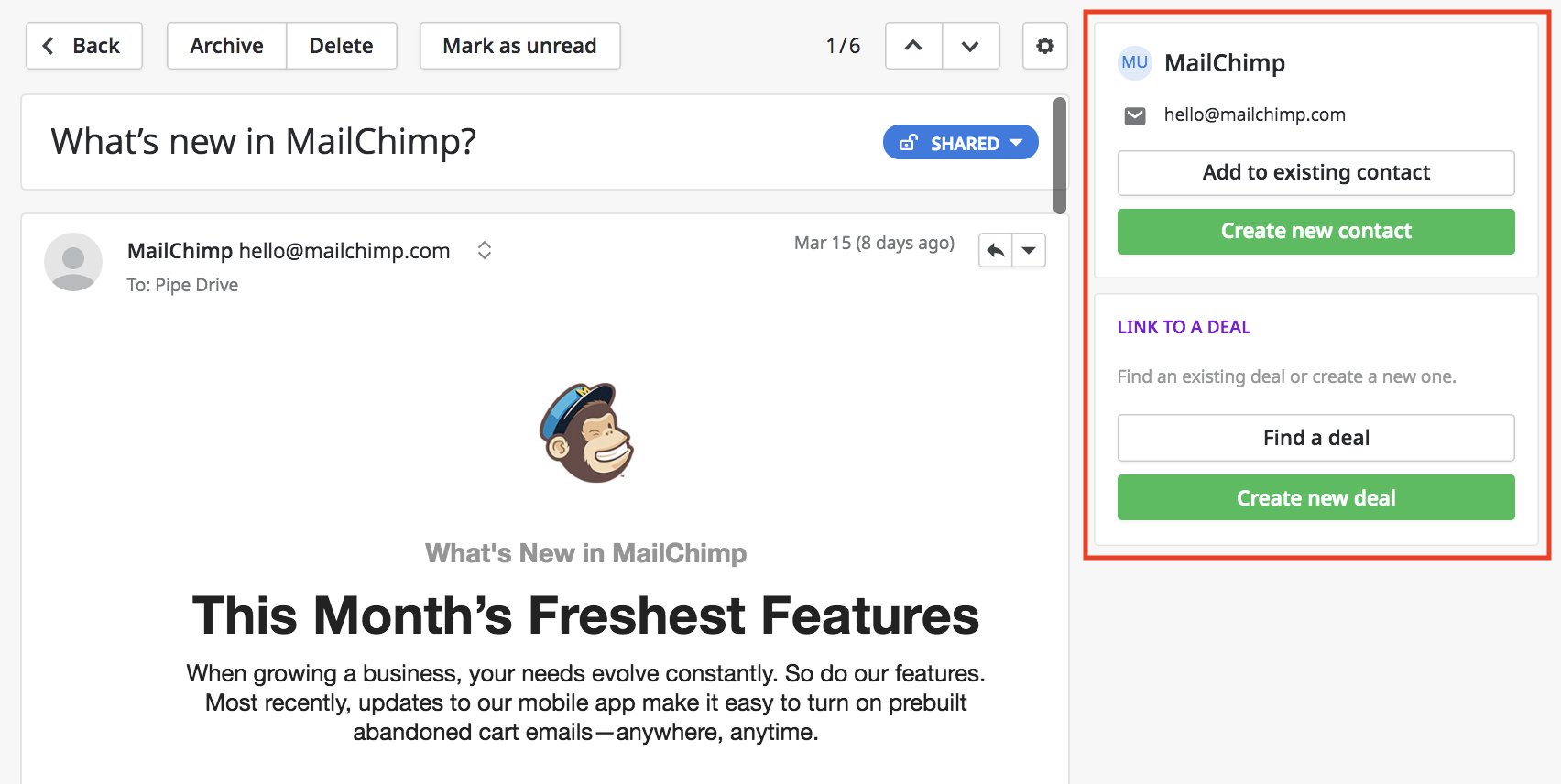 It is also possible for you to link leads from your Leads Inbox to your emails using Pipedrive's email sync. Learn more about emailing your leads in this article.

Note: If you delete a linked email from the Mail tab of your Pipedrive, it will no longer appear in the detail view of that associated deal.
If you are having issues with your email sync connection, follow our email sync troubleshooting guide for some tips on how to troubleshoot the most common issues.
Was this article helpful?