Pipedrive Integration: Microsoft Teams
Breandan Flood
, November 2, 2023
Note: This feature is only available on Advanced and higher plans.
Pipedrive's integration with Microsoft Teams will allow you to send real-time updates from Pipedrive to Microsoft Teams using the workflow automations feature, so your team can stay informed even if they are not Pipedrive users.
With the integration, you can send either personal or channel messages based on updates to your deals, contact organizations, or contact people.
The integration will also allow you to schedule video meetings right from your activity view.
---
Setting up the integration
You can install the integration by going to Tools and integrations > Microsoft Teams > Connect now or from any activity view.
You can also install the integration directly from our Marketplace page.
You will be prompted to open the Microsoft Teams app on your device, but you can also connect directly from the web app.
You will then have to add Pipedrive as an app in your Microsoft Teams account. The integration will allow you to send notifications to direct messages or to team channels. If you want to send notifications to a specific team's channel, you will need to select the team by clicking on "Add to a team".
You will then see a message from the Pipedrive bot, displaying the option to Connect Pipedrive. Once you select this, you will be prompted to Allow and Install the Pipedrive app.
Once you have clicked Allow and Install, a unique code will be generated for you. You should copy this code, and enter it to the Pipedrive channel in Microsoft Teams to complete your setup.


Your setup is now complete, and you can begin using Pipedrive's Microsoft Teams integration.
---
Sending notifications to Microsoft Teams
Note: Real-time updates are only available to users on the Advanced, Professional and Enterprise plans.
To start creating a workflow automation that will send notifications to team channels, you will need to first go to the channel you wish to send your message, and follow these steps:

Type @pipedrive
Click on "What can I do?"
Click on "link"
Send the message
A message should appear informing that the app was successfully linked
This will link your Pipedrive account to that particular channel.
You can then set up the notification in workflow automation. You can send the notification as a direct message or to a channel. In your workflow automation, select Microsoft Teams > Send channel a message or "Send direct message".
Notifications sent as a direct message will appear in the Pipedrive bot window.
You can learn more about the workflow automation feature in this article.
---
Schedule video meetings
Note: For Microsoft Teams free plans, Microsoft will generate a Skype meeting instead of a Teams one.
You can also schedule Microsoft Teams video meetings directly from your activity view in Pipedrive. To make an activity, create an activity and click on "Make it a Teams meeting" next to the video icon.
The activity's location and description will automatically be populated to include the meeting link and invitation.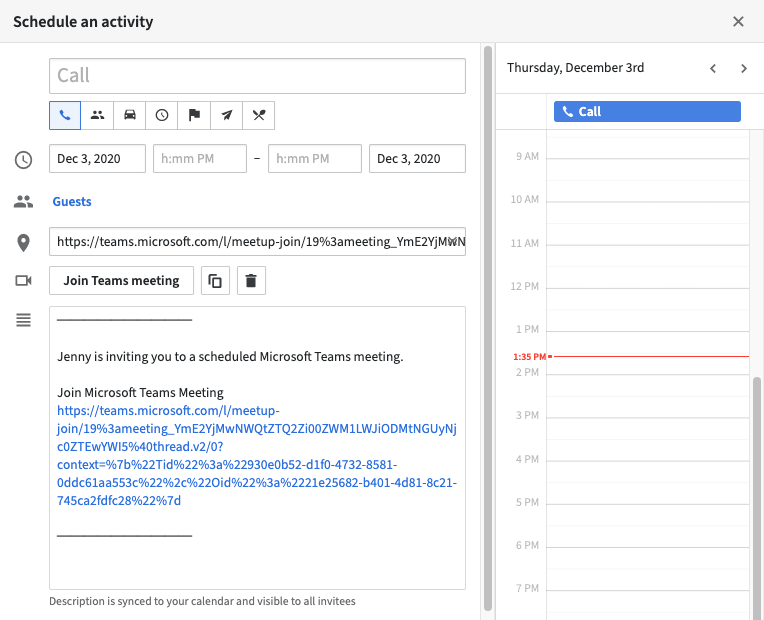 Note:
If you are using Pipedrive's
Scheduler feature
, you can use the Microsoft Teams integration to schedule video calls through Scheduler. You can read more about how to do this
here
.
---
Uninstalling the integration
There are three steps you must take in order to uninstall the Microsoft Teams integration. You will first need to uninstall the app from Microsoft Teams. In the sidebar, right-click on the app and select "Uninstall".
From the pop-up, click Uninstall.
You will then need to command unlink from the Pipedrive bot in Teams. Type "@Pipedrive unlink" to stop receiving updates in the chosen team or channel.
Lastly, you will need to uninstall the integration from Pipedrive. Go to Integrations -> Microsoft Teams and select "Uninstall" in the top-right hand corner to finish uninstalling the integration.
Note:
If you are experiencing errors or connection trouble with your Microsoft Teams integration, please uninstall the integration, then
clear browser cache
and reinstall. If errors persist, please
contact our support team
.
Was this article helpful?