Note:
The
Workflow Automation
feature is one of the useful features of Pipedrive's
Advanced,
Professional, and Enterprise
plans.
If you are just getting started with Pipedrive, you can check out our
Automate manual work and save time
Pipedrive Academy course
.

If you find yourself repeating the same administrative tasks in Pipedrive — scheduling the same activity after a deal has been moved to a specific stage in your pipeline — then it might be in your company's interest to automate those tasks, so you can concentrate on the important things that make your business thrive.

If you are considering using the Workflow Automation feature to send emails to your contacts, we suggest reading more here about how to do so.
To access the Workflow Automation feature, click on the "..." (more) tab > Workflow Automation.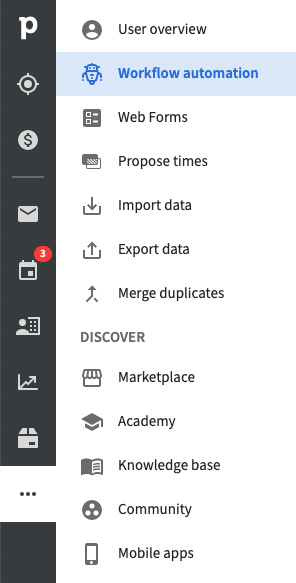 Note:
Only Admin Users in Pipedrive may create workflows, unless that permission has been enabled for other users' permission set in the company Pipedrive account. To learn more about permission sets in Pipedrive, click
here
.

To begin creating a workflow, click the New workflow button, found to the upper-right of the Workflow Automation page in the Pipedrive app.
Once clicked, provide a name (and description, if helpful) for your intended workflow — don't worry, this name can be edited later — and click Start.
Note: The automation name can be up to 120 characters long.

Once begun, you will see a page for your automation, mapped vertically to display the programmed steps of your automation.
An automation in Pipedrive is made up of two parts — a trigger event and an action event.
The trigger event is the "if" portion of an if-then equation: before the automation occurs, this programmed action needs to occur.
This can be the creation, updating, or deletion of a person, organization, activity, or deal in Pipedrive.
The action event is the "then" part of an if-then equation: once the trigger event has occurred, this is the action you wish to take place.
This can be the creation, updating, or deletion of a person, organization, activity, or deal in Pipedrive, or the sending of an email from the email address synced to your Pipedrive account.
How you design your workflow is up to your company's needs, of course, but the Workflow Automation feature can be used to the following things:
When a deal is created in the first stage of your pipeline, send a templated introductory email to the email address of the person associated with the deal.
When a new person contact is added to Pipedrive, create a deal and associate it with that person, so make sure every person is monitored in your pipeline.
When an activity is marked as done, automatically schedule the next activity for that deal and person.
When a new person contact is created in Pipedrive, create an activity to call that person, assigned to the owner of that new person contact.

To begin designing your automation, click the Configure button.
When configuring your trigger, you can choose between four options — Person, Organization, Lead, Deal, and Activity — with three options of what event relating to that item will trigger the automation — creation, updating, or deletion.

Once you've chosen the trigger type and the trigger event, click the Apply button.




With the trigger event in place, you will need to define the action event.
When defining your action event, you can choose between five options — Person, Organization, Lead, Deal, Activity, and Email — and are able to choose action types that are specific to each option.
Note: When choosing to send an email as an action event in your automation, the action event will only be able to use the email address synced to Pipedrive via the Email Sync feature. No other email address or account can be used for the purposes of automation.
Note:
To learn how to automate Slack notifications with the Workflow Automation feature, click
here
.

If you wish to provide any extra steps — either in the middle or at the end of your workflow — click the + icon in either spot to add that information.
Note: If you set a trigger to create an activity and do not set a date for that activity action, it will be set for the same day as the activity action. To schedule an activity to be due in the future, choose options like 'In one day' or 'next Tuesday' for due dates that are relative to when the action was triggered.

Adding extra information in the middle of the workflow will provide further trigger conditions prior to activating the event action. Adding further actions at the end of the workflow will add further actions that result when the trigger event occurs.

Depending on the nature of your workflow, you may wish for it to be triggered only by yourself, or you may wish for it to be triggered by any user in the Pipedrive account.
To specify which is allowed to trigger this automation, check the option in the bottom left of the workflow, and specify which option you would prefer.




Once you have made all of your choices and designed your workflow, click the Save button to finalize your automation.




Once you have saved your workflow, all of your workflows will be listed on the Workflow Automation page within the Pipedrive app.
You may also view all of your created workflows, along with the workflows that have been created for the entire company Pipedrive account.




You may edit, delete, or mark workflows as active or inactive. If a workflow is marked as inactive, the trigger and action functions will not occur.
Inactive workflows are greyed out, to allow you to quickly understand which automations are currently active in your Pipedrive account.
Note: Importing data into your Pipedrive account does not trigger any actions within Workflow Automation, even ones associated with the creation or updating of information in the Pipedrive account.