Remarque : Seuls les utilisateurs de Trello possédant un compte Pipedrive associé peuvent effectuer cette intégration.

Tandis que Pipedrive peut vous aider à comprendre la situation d'un prospect dans votre processus de vente, Trello peut être utile pour suivre les tâches qui peuvent être effectuées dans certaines étapes de ce processus. Trello est un outil de collaboration représentant vos projets sous forme de tableaux, vous indiquant les tâches en cours, les personnes travaillant sur celles-ci et leur situation dans le processus.
With the Pipedrive-Trello integration, you can sync your information between the two systems. Vous pouvez créer automatiquement des cartes en fonction de vos offres Pipedrive et connecter vos offres, organisations et personnes à vos cartes Trello.
---
Configurer l'intégration
Remarque : Pour activer ce Power-Up, vous aurez besoin d'un compte Trello et d'un compte Pipedrive, mais vous devrez également être un utilisateur administrateur du compte Pipedrive.

Pour connecter votre compte Pipedrive à votre compte Trello, rendez-vous sur la page Trello dans le marketplace de Pipedrive, puis sélectionnez Procéder à l'installation.


Vous serez redirigé vers une page Trello sur laquelle vous pouvez ajouter Pipedrive en tant que Power-Up. Cliquez sur Ajouter Power-Up pour continuer.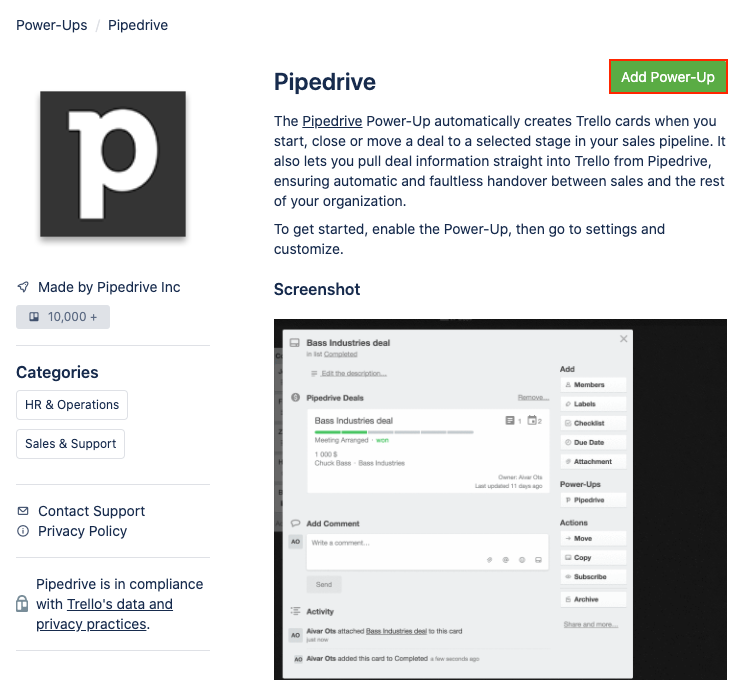 Sélectionnez le tableau que vous souhaitez connecter à Pipedrive dans le menu déroulant, puis cliquez sur Ajouter pour continuer.
Vous pouvez ensuite cliquer sur Aller sur le tableau. Vous serez ainsi redirigé sur votre tableau Trello, dans lequel vous pourrez cliquer sur Pipedrive dans la section Power-Ups du menu. Depuis le menu déroulant, cliquez sur Pipedrive et Autoriser le compte. Cliquez ensuite sur Lier compte Pipedrive.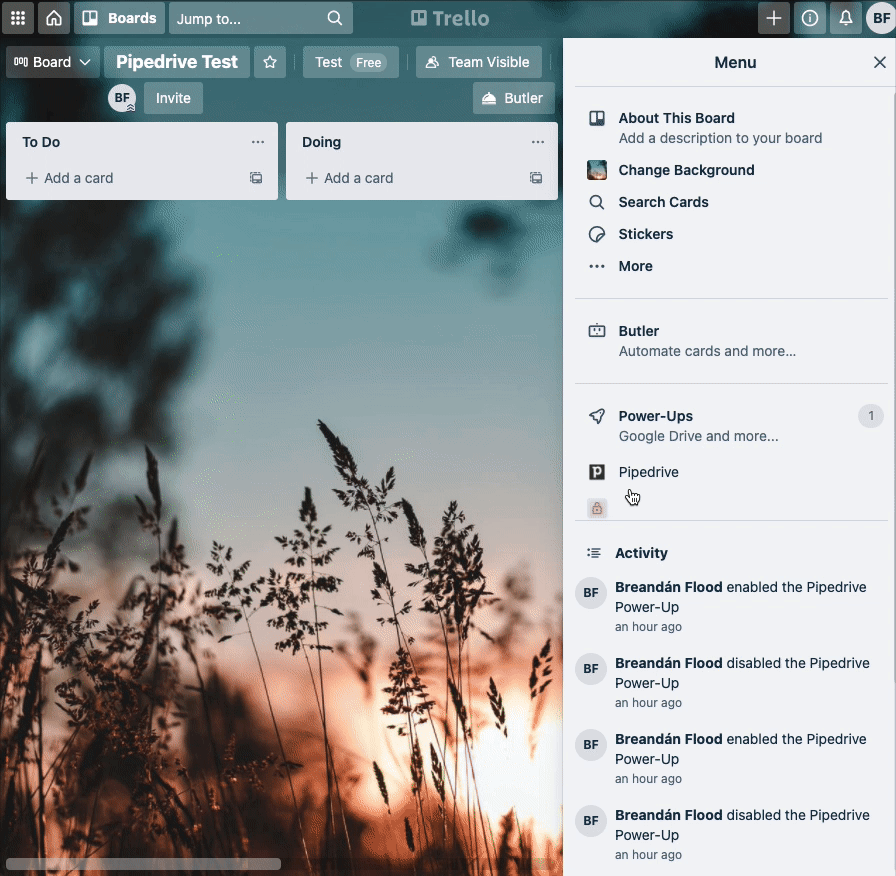 Une nouvelle fenêtre s'ouvrira, dans laquelle vous pourrez accorder à Trello l'autorisation de se connecter à Pipedrive. Pour continuer, cliquez sur Autoriser et installer.
Une fois installé, depuis le menu de tableau de Trello, cliquez sur le Power-Up Pipedrive et vous verrez alors l'option pour Obtenir des autorisations dans Pipedrive. En cliquant dessus, vous serez redirigé vers une page vous permettant d'autoriser Pipedrive à accéder à votre compte Trello.
Cliquez sur Autoriser pour accorder à Pipedrive l'autorisation d'accéder à Trello. Votre compte est alors maintenant connecté et vérifié par Pipedrive et Trello, vous permettant de commencer à exploiter l'intégration.
---
Auto-create & Pipedrive field settings
Setting up auto-create

To set up auto-create, in your Trello board menu, select Pipedrive, and then Edit Power-Up Settings. You can then set up the rules for your board.
Setting up automatic card creation in Trello is based on three types of rules:
Ajout d'une offre dans Pipedrive
Entrée d'une offre dans une étape du pipeline
Marquage d'une offre comme gagnée ou perdue

You can choose any of the above, but only one rule can be set up per Trello board. Otherwise, you may end up with duplicate cards in the same board from similar rules set in the Power-Up.
Pipedrive field settings
By selecting Pipedrive field settings you can select up to twenty fields to show when you link a Pipedrive item.
As the maximum amount of fields is twenty, you will need to untick items if you wish to add more fields when the twenty is reached.
Note: If you select Activities or Notes, the three most recent items will be displayed.


---
Action d'application et panneau d'application
You have a quick way to create Trello items such as boards, lists, and cards from within Pipedrive.
From the App Panel on the left and side of your detail view, you can click the three dots (...) which will open your options to create a card in Trello.
From the deal detail view, click the three dots (...) in the top right-hand corner and select Create in Trello from the dropdown menu.



This will open a new window where you can select the item type you wish to create in Trello.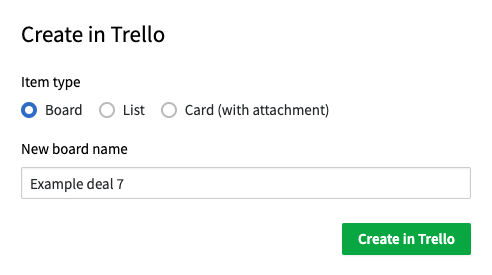 From Trello, you can also connect your cards to Pipedrive. Click on the card you would like to connect, and in the Power-Ups section, you can select Pipedrive and choose a deal to connect the card to.

You will then see the card linked to your Pipedrive deal in your Trello App Panel.

---
Visibilité
Note: Other Trello board members can make the board publicly visible or invite new members who can then view it.

All members of a Trello board can see Pipedrive data on that board even if they do not have a Pipedrive account. The Trello board members without a Pipedrive account will not be able to add, edit, or delete any Pipedrive information.
If you delete the Trello app from Pipedrive, you will no longer see your Pipedrive data on your Trello board. In this case, you will need to re-authorize your account. After Trello has been deleted in Pipedrive, you will have a link in your related Trello cards where you can re-authorize your account.
Note: As different users can add cards to the same Pipedrive deal in Trello, each user will only see the data they have linked to the deal themselves.
---
Trello in WorkFlow Automation
It is also possible to use Pipedrive's Workflow Automation feature. When you are creating an automation, you can choose Trello as one of your actions.
Once you have selected Trekki as your action, you can select one of three possible events, creating a Trello board, list, or card.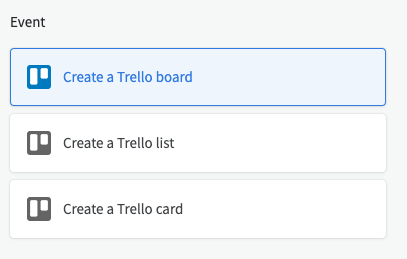 You will then be able to choose what fields should be modified with this action.
Once your workflow automation has been triggered, your chosen event will take place in Trello.
Templates
It is also possible to use Trello with our Workflow Automation Templates. By going to Workflow Automation > Templates > Create in Trello, you will see three pre-made templates that you can use.