Hinweis: Nur Trello-Nutzer, die über einen verknüpften Pipedrive-Account verfügen, können die Integration nutzen.

Während Pipedrive Ihnen helfen wird zu verstehen, wo sich ein Lead in Ihrem Vertriebsprozess befindet, kann Trello nützlich sein, um andere Aufgaben zu verfolgen, die innerhalb bestimmter Phasen dieses Prozesses auftreten können. Trello ist ein Kollaborationswerkzeug, das Ihre Projekte in Foren organisiert und Ihnen sagt, woran gearbeitet wird, wer daran arbeitet und wo sich etwas in Bearbeitung befindet.
With the Pipedrive-Trello integration, you can sync your information between the two systems. Sie können automatisch Karten basierend auf Ihren Pipedrive-Deals erstellen, sowie Ihre Deals, Organisationen und Kontakte mit Ihren Trello-Karten verknüpfen.
---
Einrichten der Integration
Hinweis: Zur Aktivierung dieses Power-Ups benötigen Sie sowohl einen Trello- als auch einen Pipedrive-Account und müssen Admin-Nutzer Ihre Pipedrive-Accounts sein.

Um Ihr Pipedrive-Account mit Ihrem Trello-Account zu verknüpfen, gehen Sie auf die Trello-Seite im Pipedrive Marketplace und wählen Sie Zur Installation.


Sie werden zu einer Trello-Seite weitergeleitet, wo Sie dann Pipedrive als ein Power-Up hinzufügen können. Klicken Sie auf Power-Up hinzufügen, um fortzufahren.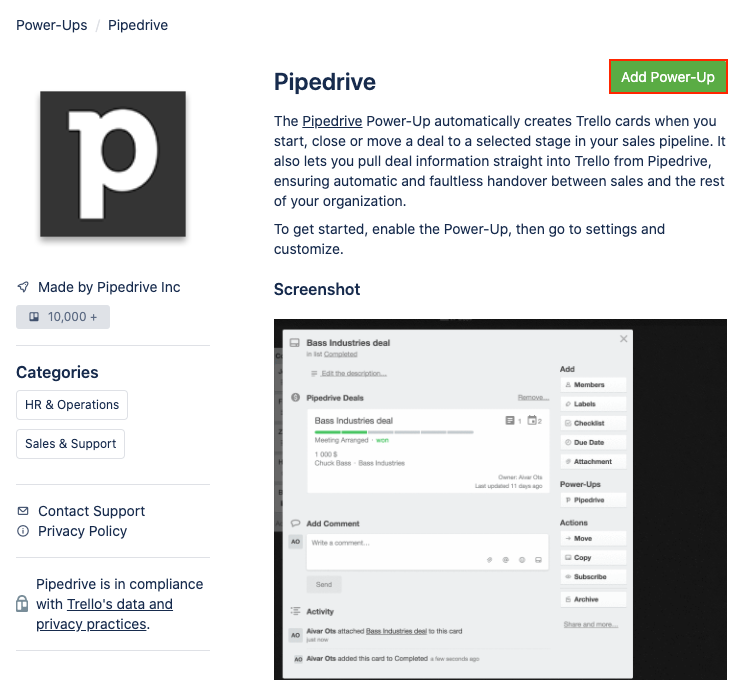 Wählen Sie aus dem Dropdown-Menü das Board aus, das Sie mit Pipedrive verknüpfen möchten und klicken Sie auf Hinzufügen, um fortzufahren.
Klicken Sie dann auf Zum Board gehen. Dadurch werden Sie zu Ihrem Trello-Board weitergeleitet, wo Sie in Ihrem Menü unter Power-Ups auf Pipedrive klicken müssen. Wählen Sie in der Dropdown-Liste Pipedrive und Account autorisieren. Klicken Sie dann auf Pipedrive-Account verknüpfen.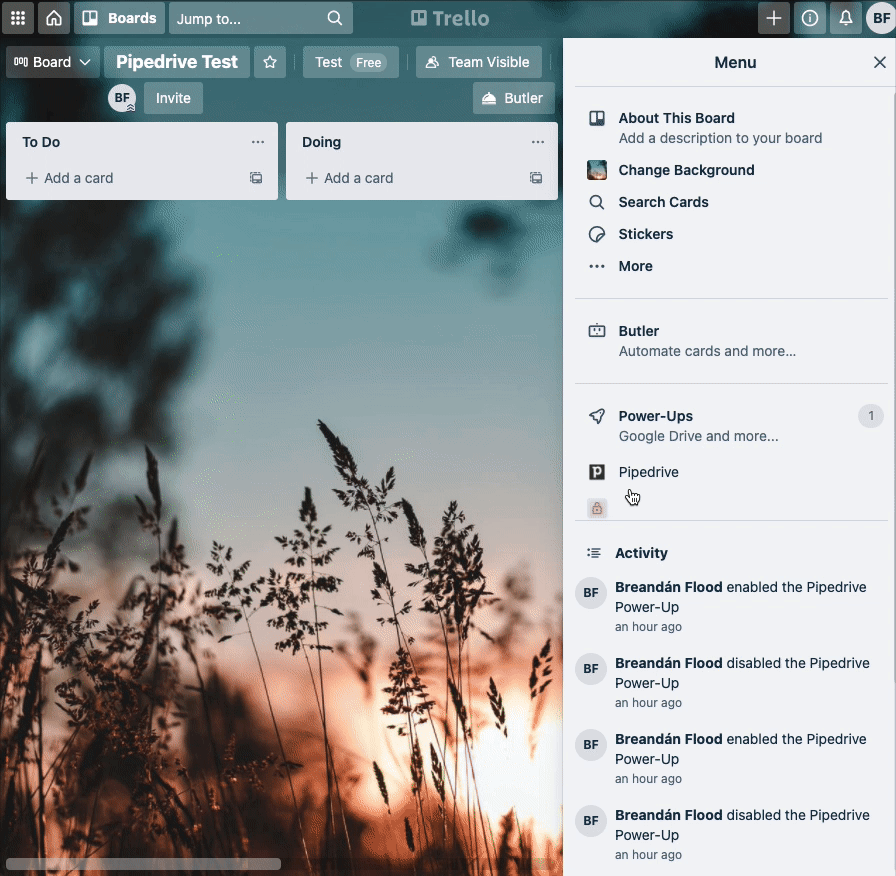 Es wird nun ein neues Fenster geöffnet, in dem Sie Trello die Erlaubnis erteilen können, sich mit Pipedrive zu verbinden. Um fortzufahren, klicken Sie auf Zulassen und installieren.
Nach dieser Installation klicken Sie in Ihrem Trello-Board-Menü auf Pipedrive Power-Up und Sie sollten die Option Berechtigungen abrufen in Pipedrive sehen. Wenn Sie darauf klicken, werden Sie zu einer Seite weitergeleitet, die es Pipedrive ermöglicht, auf Ihren Trello-Account zuzugreifen.
Klicken Sie auf Zulassen , um Pipedrive die Berechtigung zum Zugriff auf Trello zu geben. Ihr Account ist jetzt verbunden und von Pipedrive und Trello verifiziert, sodass Sie mit der Nutzung der Integration beginnen können.
---
Auto-create & Pipedrive field settings
Setting up auto-create

To set up auto-create, in your Trello board menu, select Pipedrive, and then Edit Power-Up Settings. You can then set up the rules for your board.
Setting up automatic card creation in Trello is based on three types of rules:
Wenn ein neuer Deal zu Pipedrive hinzugefügt wurde
Wenn ein Deal in eine Pipeline-Phase eintritt
Wenn ein Deal als gewonnen oder verloren markiert wurde

You can choose any of the above, but only one rule can be set up per Trello board. Otherwise, you may end up with duplicate cards in the same board from similar rules set in the Power-Up.
Pipedrive field settings
By selecting Pipedrive field settings you can select up to twenty fields to show when you link a Pipedrive item.
As the maximum amount of fields is twenty, you will need to untick items if you wish to add more fields when the twenty is reached.
Note: If you select Activities or Notes, the three most recent items will be displayed.


---
App-Aktion und App-Panel
You have a quick way to create Trello items such as boards, lists, and cards from within Pipedrive.
From the App Panel on the left and side of your detail view, you can click the three dots (...) which will open your options to create a card in Trello.
From the deal detail view, click the three dots (...) in the top right-hand corner and select Create in Trello from the dropdown menu.



This will open a new window where you can select the item type you wish to create in Trello.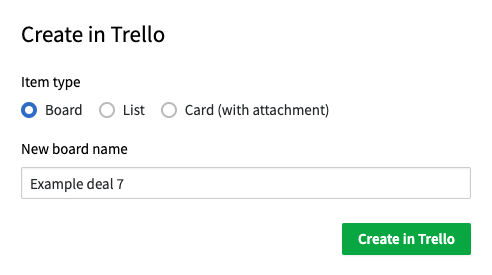 From Trello, you can also connect your cards to Pipedrive. Click on the card you would like to connect, and in the Power-Ups section, you can select Pipedrive and choose a deal to connect the card to.

You will then see the card linked to your Pipedrive deal in your Trello App Panel.

---
Sichtbarkeit
Note: Other Trello board members can make the board publicly visible or invite new members who can then view it.

All members of a Trello board can see Pipedrive data on that board even if they do not have a Pipedrive account. The Trello board members without a Pipedrive account will not be able to add, edit, or delete any Pipedrive information.
If you delete the Trello app from Pipedrive, you will no longer see your Pipedrive data on your Trello board. In this case, you will need to re-authorize your account. After Trello has been deleted in Pipedrive, you will have a link in your related Trello cards where you can re-authorize your account.
Note: As different users can add cards to the same Pipedrive deal in Trello, each user will only see the data they have linked to the deal themselves.
---
Trello in WorkFlow Automation
It is also possible to use Pipedrive's Workflow Automation feature. When you are creating an automation, you can choose Trello as one of your actions.
Once you have selected Trekki as your action, you can select one of three possible events, creating a Trello board, list, or card.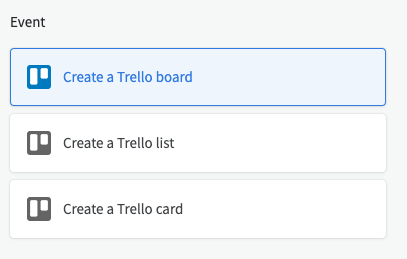 You will then be able to choose what fields should be modified with this action.
Once your workflow automation has been triggered, your chosen event will take place in Trello.
Templates
It is also possible to use Trello with our Workflow Automation Templates. By going to Workflow Automation > Templates > Create in Trello, you will see three pre-made templates that you can use.