Hinweis:
In diesem Artikel wird die aktuellste Version unserer Workflow-Automatisierung vorgestellt, die sich von der Funktion in Ihrem Account unterscheiden kann. Falls Sie nicht über die aktuellste Version verfügen und diese nutzen möchten, wenden Sie sich bitte
an unser Support-Team.
Abschnitte
2: Erstellen einer Automatisierung

3: Duplicate and update your workflow

---
Workflow-Automatisierung
Hinweis:
Nur Admin-Nutzer in Pipedrive können Workflows erstellen, es sei denn, diese Berechtigung wurde für weitere Nutzer im Pipedrive-Unternehmensaccount aktiviert. Mehr zu Berechtigungssets in Pipedrive finden Sie
hier
.

If you find yourself repeating the same administrative tasks in Pipedrive — scheduling the same activity after a deal has been moved to a specific stage in your pipeline — then it might be in your company's interest to automate those tasks, so you can concentrate on the important things that make your business thrive.
Automations speed up your workflow by automating tasks based on a trigger event chosen by you.

Automations in Pipedrive are made up of two parts — a trigger event and an action event.
Das Trigger-Ereignis ist das 'wenn' in der 'wenn-dann'-Regel: Bevor die Automatisierung eintritt, muss diese Aktion eintreten.
Das kann die Erstellung, Aktualisierung oder das Löschen eines Kontaktes, einer Organisation, Aktivität oder eines Deals in Pipedrive sein.
Das Aktionsereignis ist das 'dann' in der 'wenn-dann'-Regel: Sobald das Trigger-Ereignis eingetreten ist, tritt auch die Aktion ein.
Das kann die Erstellung, Aktualisierung oder das Löschen eines Kontaktes, einer Organisation, Aktivität oder eines Deals in Pipedrive sein, sowie das Senden einer E-Mail.
---
Erstellen einer Automatisierung
To access the Workflow Automation feature, click on the "..." (more) tab > Workflow Automation.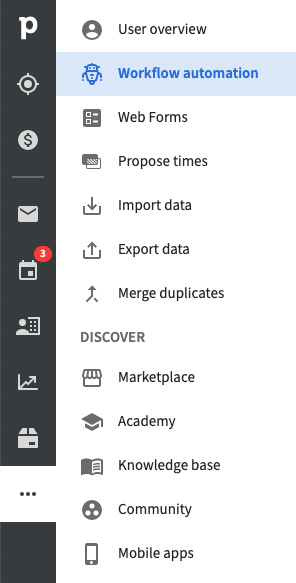 To begin creating a workflow, click the Add custom workflow button, found to the upper-right of the Workflow Automation page in the Pipedrive app.
Once clicked, provide a name (and description, if helpful) for your intended workflow — don't worry, this name can be edited later — and click Save.


Hinweis: Der Name der Automatisierung darf bis zu 120 Zeichen lang sein. Die Beschreibung der Automatisierung kann bis zu 200 Zeichen lang sein.

To begin designing your automation, click the Add trigger button. You will see a sidebar where you can choose the item and event that will trigger your automation.

When configuring your trigger, you can choose between five options — Person, Organization, Lead, Deal, and Activity — with three options of what event relating to that item will trigger the automation — creation, updating, or deletion.

Once you've chosen the trigger type and the trigger event, click the Apply trigger button.


With the trigger event in place, you will then have an option to apply a condition (or conditions) to your trigger. Here you can define under what circumstances your automation will trigger.
After saving your condition, click on the plus sign (+) to choose your next step. This can be another condition or your action event.
When defining your action, you can choose between six default options — Person, Organization, Lead, Deal, Activity, and Email — or two integrations — Slack and Microsoft Teams. You are able to choose action types that are specific to each option.
You can add multiple actions to your workflow automation, and they will always be executed from the top and work down the list. E.g. Step 3 will only be executed after step 2 is done.
Here you can see how you would set up an automation that would move your new deal to a different pipeline depending on the deal owner.
Hinweis: Wenn Sie den Versand einer E-Mail als Aktionsereignis in Ihrer Automatisierung wählen, kann für dieses Aktionsereignis nur die E-Mail-Adresse verwenden, die über die E-Mail-Synchronisierungsfunktion mit Pipedrive synchronisiert wurde. Für die Automatisierung können keine anderen E-Mail-Adressen oder Accounts verwendet werden.
Hinweis: Wenn Sie einen Auslöser zum Erstellen einer Aktivität einrichten und kein Datum für diese Aktivität festlegen, wird sie für denselben Tag wie die Aktivitätsaktion erstellt. Um eine Aktivität für die Zukunft zu planen, wählen Sie Optionen wie "In einem Tag" oder "Am nächsten Dienstag" für Fälligkeitsdaten, die sich auf den Zeitpunkt beziehen, an dem die Aktion ausgelöst wurde.

To specify which users are allowed to trigger this automation, check the option at the top right of the workflow, and select which option you would prefer.

Hinweis:
Sie können eine Automatisierung einrichten, bei der E-Mails von jedem Nutzer in Ihrem Account über die
E-Mail-Synchronierungsfunktion
ausgelöst werden. Die E-Mail wird jedoch immer von dem Nutzer versendet, der die Automatisierung erstellt hat. Wenn Sie eine E-Mail von Ihrer eigenen E-Mail-Adresse auslösen möchten, müssen Sie eine eigene Automatisierung einrichten.

Once you have made all of your choices and designed your workflow, click the Save button to finalize your automation.


Once you have saved your workflow, all of your workflows will be listed on the Workflow Automation page within the Pipedrive app.
You may also view all of your created workflows, along with the workflows that have been created for the entire company's Pipedrive account.


You may edit, delete, or mark workflows as active or inactive. If a workflow is marked as inactive, the trigger and action functions will not occur.
Inactive workflows are greyed out, to allow you to quickly understand which automations are currently active in your Pipedrive account.
Hinweis: Das Importieren von Daten in Ihren Pipedrive-Account löst keine Aktionen innerhalb der Workflow-Automatisierung aus, auch nicht solche, die mit der Erstellung oder Aktualisierung von Informationen im Pipedrive-Account verbunden sind.

---
Duplicate and update your workflow
We have recently upgraded our Workflow Automation feature. Once your account has the newest version enabled, you will notice in your account that you have the possibility to Duplicate and update.

Once you click this option, you will have the opportunity to rename your workflow automation, as well as add a description. (New Version) will be added to your new workflow automation name by default. Once you are finished editing the name and description, click Duplicate.
You will then be brought to our new workflow editor where your old workflow has been duplicated for you to edit the automation.
Note: Your duplicated workflow will not be activated by default. To set your newly updated workflow automation live, click on the Active toggle at the top of the page.