Editing the contact linked to a deal
Breandan Flood
, June 13, 2022
In order for you to change the primary contact person or organization in your deal, you can either add a new contact, change the deal contact person to an existing contact, or rename your contact person.
---
Changing to a new contact
To add a new contact to your deals, you will first need to unlink the contact that is currently linked. You can do this by clicking the "..." button in the detail view and selecting "Unlink this person".

You can then create a new contact person and add them to the deal by clicking "+ Link a person".
You can then add the name of your new contact person who will be linked to the deal.
---
Switching to a different contact
From your deal detail view you can link a new person or organization by clicking on the "..." button in the sidebar, and selecting the "Switch to another" option found there. You also have the option to "Unlink this person" from the dropdown menu.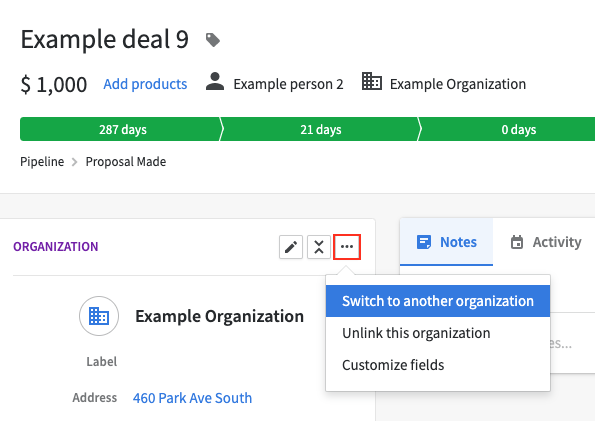 From your deal list view, you can edit or link the deal to another contact by hovering over the contact you would like to edit and clicking the pencil icon.
You will then have the option to create a new contact or select an existing contact to link to the deal from the dropdown list that appears once you start typing.
---
Renaming a contact
To rename the contact associated with a deal, hover your mouse over the contact associated with that deal and click the "Rename" button to edit the contact.
Alternatively, you can click on the pencil icon to edit the name of the contact as well as other fields.
Was this article helpful?