Insights: goals
Jenny Takahara
, July 7, 2023
Goals are a great way of keeping track of your sales objectives, ensuring that you and your team consistently meet the targets that keep your business running.
In Pipedrive, the Goals feature under Insights allows you to keep track of your deal and activity progress, giving you the best possible insight into your sales efforts.
---
Selecting a goal type
To add a goal in Pipedrive, go to "Insights + Goal".
Note:
Admin users can create a company, team and personal goals. Managers (Professional and Enterprise plan) can create team goals for
teams
they are the manager of and user goals for users they are managing if they have the permission enabled. All users can create personal goals for themselves.
You can choose to create a goal from the following types:
Deals added – based on the number or value of new deals added to your account.
Deals progressed – based on the number or value of deals entering a certain pipeline stage. Deals progression goals will also appear in the pipeline view.
Deals won – based on the number or value of total won deals. Deals won by value will appear in the revenue forecast report as well.
Activities added – based on the number of new activities added by type
Activities completed – based on the number of activities marked as done
Revenue forecast – based on the weighted value of open and won deals (Professional plans and up)


---
Filling in goal details
When creating a goal, you will need to provide certain information about that goal.
Assignee – Goals can be assigned to specific users or the entire company. You can also assign goals to teams if you are on the Professional or Enterprise plan.
Pipeline – You can choose one or more pipelines that the goal will apply to or have it apply to all Pipelines.
Activity type (activities) – Select one or more activity types that you want your goal to reflect.
Tracking metric (deals) – You can track your deal goals by deal value or deal count.
Interval – The frequency to set your goal for. Goals can be measured weekly, monthly, quarterly, or yearly.
Goal duration – When you want your goal to start and end. If you have no end date for your goal, you can leave this field blank.
Expected outcome – The target for the type of goal selected. The expected outcome will automatically reflect your selected interval. The value cannot be empty.


Note: You will not be able to create a goal if duplication is detected. Duplication will happen if there is a goal that has all the same attributes except for interval and expected outcome.

Deals added–
Deals progressed–
Deals won–
Activities completed–
Activities added–
Click "Save" to create your goal.
Note: Multiple activity types and pipelines can be selected for activities added, activities completed, deals won, and deals added goal types.
Goals seasonality
Note: Goals seasonality is only available for deal and activity goals.
Goals seasonality allows you to set targets for different time periods per goal, reflecting the difference in expected sales at certain points.
Note: You must select an end date for goal duration to add specific period goals.
Once the checkbox is marked, you'll be able to select specific goal points for different periods. However, to save your changes, each will need to have a value.
To save yourself some time and typing, you can use the Apply to all option, which applies one value to every period.
Once you're done, save your progress and the goal will appear with the specific period targets reflected:
Note: You can add seasonal targets to pre-existing goals by clicking the pencil icon to edit those goals.
---
Tracking and updating your goal
Your new goal will appear under the Goals section of your Insights navigation. On the top, you will see the details of your goal and, if you hover over the chart, you can see how the goal is progressing. These reports will be updated in live time, so you will always see the latest data.

Click on a data point in your graph to open it up in list format and export.
To edit your goal details, click on the pencil icon in your Goal details section.
You can rename or delete your goal by clicking on the "..." button in the top-right corner.
---
Adding goals to your dashboard
You can add a goal to your dashboard by clicking on "Add to dashboard" and selecting a dashboard.
You can also drag a goal directly to your dashboard.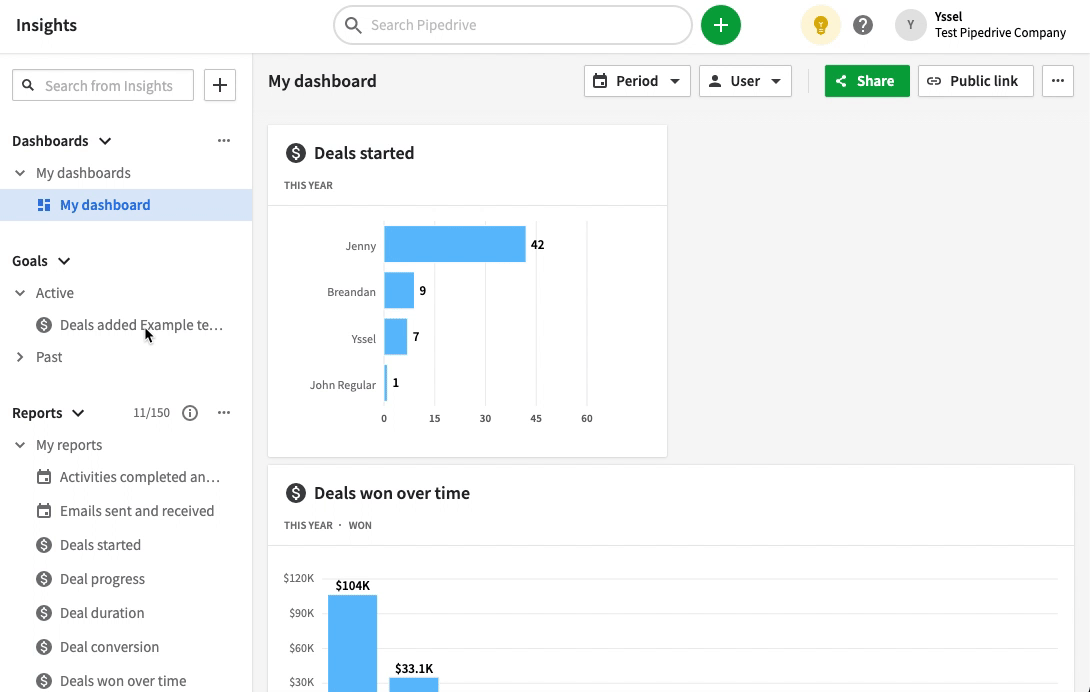 ---
Permission sets
The ability for users to view goals depends on their role and the permission settings: See company's statistics and See other users' statistics.
Regular users can view the company, other users and team goals if both permissions are on. They can always view their own team's goals.
Team managers can view the company, other users and team goals if both permissions are on. They can always view their team's goals.
Admin users can always view the company, user and team goals.

However, even with these permission sets enabled, regular users will not be able to add, edit, or delete other user's goals. Team managers can add, edit, or delete other user's goals only if they are in that manager's team and if they have both permissions enabled.

| | | | |
| --- | --- | --- | --- |
| | Admin user | Team manager | Regular user |
| User goal | ✔️ | ✔️ | ✔️ |
| Team goal (Professional plan) | ✔️ | ✔️ | |
| Company goal | ✔️ | | |
Was this article helpful?