Insights feature
Jenny Takahara
, January 20, 2022
Note:
The number of Insights reports you can have depends on which plan you are on. You can learn more about usage limits in
this article
.
Keeping track of your progress is one of the most important parts of sales. The Pipedrive Insights feature will allow you to create custom reports so you know exactly what you have accomplished so far, and what you will need to improve on in order to hit your targets.
There are two sections to the Insights feature:
The Reports section will allow you to create a visual representation of your sales performance in Pipedrive.
You can then add these Reports to your Dashboards section, a collection of Reports, customizable by each user to show exactly what you need to focus on.
If you are just getting started with Pipedrive, you can check out our
Track and improve your performance
Pipedrive Academy course
.

To access your Insights feature, go to the Insights tab on your primary navigation.
Note:
Regular users will only be able to see their own data by default in the
Insights
feature. To allow regular users to see the company's/other users' data, you can go to
Settings > Manage users > Permission sets > Regular user
, and enable the permissions 'See other users', 'See company's statistics', and 'See other users' statistics'.
---
Reports
Note:
Only Professional and Enterprise plan users will be able to create reports based on
deal
custom fields
. The possible deal custom field types for filtering are: user, person, organization, date, single option, monetary (including weighted value), numeric, text. For tables, the field types available are the ones included in the filtering list plus: autocomplete, time, date, time range, date range, address, phone. Learn more about custom field types
in this article
.
To create a report, go to Insights, click on the '+' symbol next to the search bar, choose Report and select the type of Report that you want to create. You will be able to further customize the fields you want to measure, group, and filter your data by in each report.
You can create the following report types:
Deal Performance
How many deals were won, lost, and started
Deal Conversion
The conversion rate of when a deal moves from stage to stage or from open to closed
Deal Duration
The average time of your sales cycle
Deal Progress
How well your deals are progressing through your sales cycle
Revenue Forecast
Enables you to estimate your future revenue, understand what deals have been closed, and what deals need to be closed

Subscription Revenue
Gives you the total amount of revenue generated by recurring, one-time, or payment schedule type revenues, according to the time frame selected.
Activities Performance
Track you and your teams' activities progress
Emails Performance
Track your email performance of all emails sent or received using our Email Sync or Smart Email BCC features
Once you have created and customized your Report, you can click on Save in the top right corner to name your Report and add it to any Dashboards. You can also create a new Dashboard from this window.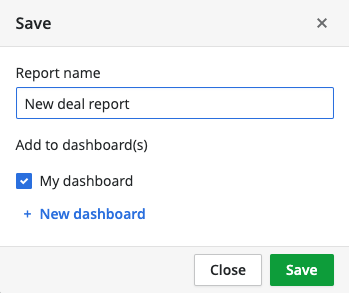 Updating existing Reports
If you want to update an existing Report, you can do so by clicking on the Report you want to update in your Insights sidebar, making the relevant adjustments, and hitting Save in the top right corner.
To save as a new Report rather than updating the existing one, hit Save as new rather than the normal 'save' button in the top right corner. This will allow you to retain your existing Report, and save your edited Report as a new Report.
To add an existing Report to a Dashboard, open up the Report page and click on the Add to dashboard button in the top right corner.
To rename your existing report hover over the report title, it will turn yellow; then, click on the title and edit the name.

To delete your existing report, click on the '...' button and select Delete.
Each Report can be displayed on multiple Dashboards, just one Dashboard, or no Dashboards.
Companies with multiple teams may not wish to track the same information for each team. If this is the case, we suggest creating multiple Dashboards, customized for each team's needs.
---
Dashboards
Note: Only Professional plan users can create additional Dashboards. If you want to add another Dashboard, you can click on the '+' icon next to the search bar.
Your Dashboard is where you will see the customized Reports you have added from your Reports section. The reports can be added to your dashboard by dragging the report from the reports panel directly into your dashboard.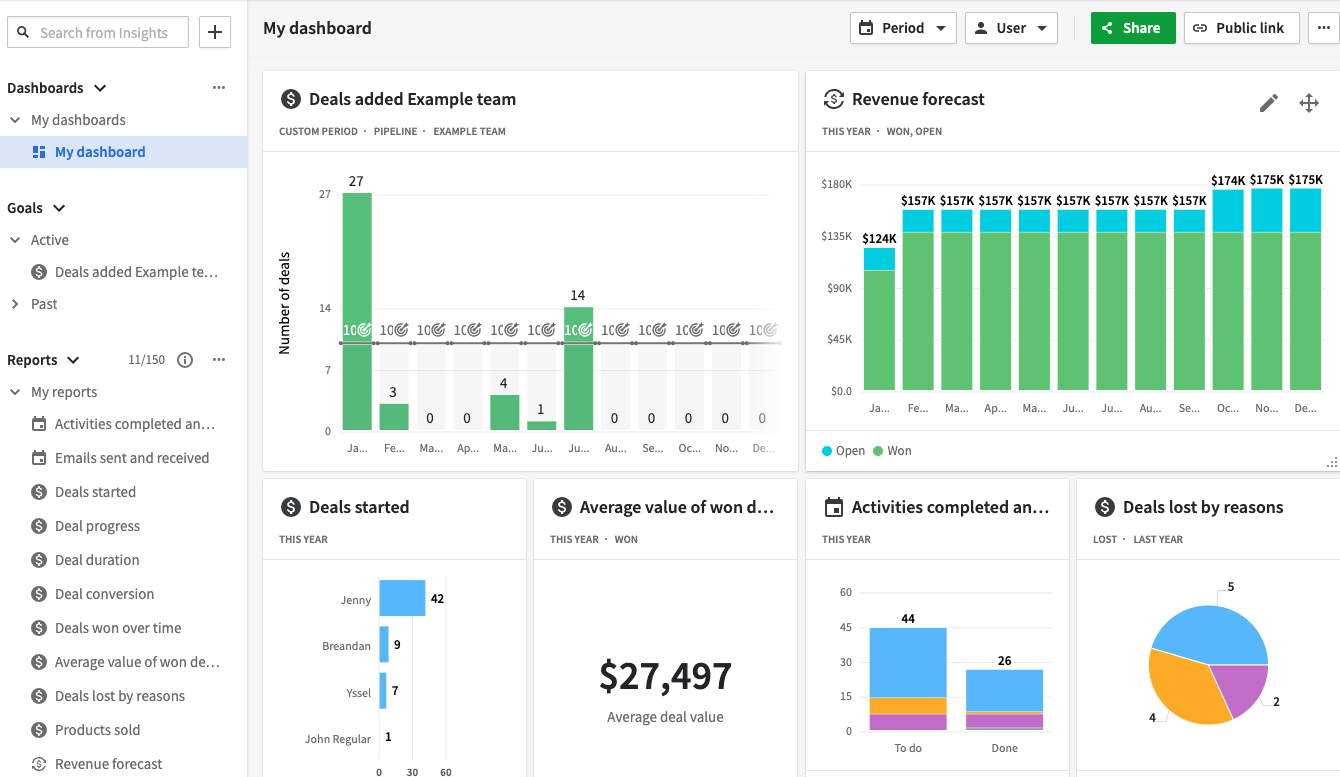 If you want to see more information or make adjustments on a specific Report in your Dashboard, you can click on the Report name directly to be brought to the Report page.

You can learn more about creating and customizing your dashboards in this article. To share your Dashboard with someone outside of Pipedrive, you can send them a public shareable link that will grant them view-only access to your dashboard.
Was this article helpful?