Insights reports: emails performance
Breandan Flood
, June 13, 2022
Note:
The number of Insights reports you can have depends on which plan you are on. You can learn more about usage limits in
this article
.
Emails are one of the most important activities that any salesperson carries out during their sales process. Whether sending an introductory email, following up with a customer, or closing a deal it is essential that you can review how your emails are performing. To track this, you can create an Insights emails performance report. Any emails sent or received using our email sync or Smart Bcc will be tracked in this report.
---
Creating your emails performance report
To create an emails performance report, click on the plus "+" sign next to the search bar, then Report > Activity > Emails performance.
---
Viewing your emails performance report
By default, your emails Performance report will apply the "sent/received time is" condition to your filter. This condition is mandatory and can not be changed. The timeframe chosen by default is monthly but this can be changed to the timeframe you would like by clicking on the dropdown option.
You can add more conditions to your filter to generate more specific reports.
Below the filter, you will see your chart.
At the bottom of the page, you will also see a table containing a list of all of your sent and received email details or a summary of your email activity.
---
Customizing your emails performance report
Customizing your emails performance report allows you to track questions such:
How many emails were sent?
How many emails were received?
How many emails were opened?

The emails you see in your reports can be adjusted in the filtering section at the top of the report. You can edit the existing filter, or select "Add condition" to add more criteria.

View by (x-axis)
In your report's x-axis, the View by option allows you to view your emails by email direction, user, or a range of other email fields. For example, by selecting "View by Email direction", you can see how many emails were sent and received and how many were opened.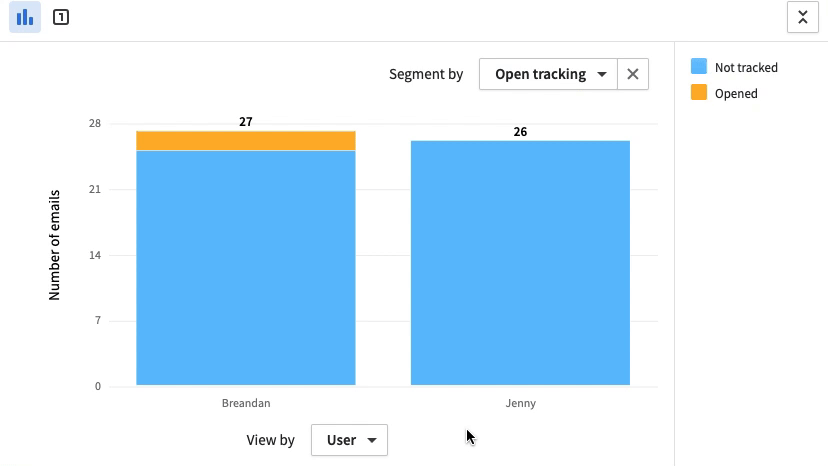 Measure by (y-axis)
Your email performance report will default to measured by number of emails. This is the only available field for your emails report to be measured by.

Segment by
You can further break down your column chart by segmenting your emails in the top right corner. When hovering over your data, you will see the breakdown of what you chose to view or segment your data by.
Once you've finished creating your emails performance report, you can add it to your dashboard or share it with your team.
Was this article helpful?