Nota:Solo los usuarios de Trello que tienen una cuenta de Pipedrive asociada pueden usar la integración.

Pipedrive te ayuda a entender en qué momento del proceso de ventas está un prospecto, y Trello puede ser útil para vigilar otras tareas que podrían ocurrir durante las etapas específicas del proceso. Trello es una herramienta colaborativa que organiza proyectos en paneles, y te muestra en qué estás trabajando, quién lo está haciendo y en qué momento del proceso de realización está.
With the Pipedrive-Trello integration, you can sync your information between the two systems. Puedes crear tarjetas automáticas basadas en los tratos de Pipedrive, así como conectar tus tratos, empresas y personas a tus tarjetas de Trello.
---
Configuración de la integración
Nota: Para activar este Power-Up, necesitarás tener una cuenta tanto en Trello como en Pipedrive, y ser un Usuario administrador en esa cuenta de Pipedrive.

Para iniciar la conexión de Pipedrive con tu cuenta de Trello, ve a la página de Trello en el Marketplace de Pipedrive y selecciona Instalar.


Serás dirigido a la página de Trello en la que puedes agregar a Pipedrive como Power-Up. Haz clic en Añadir Power-Up para continuar.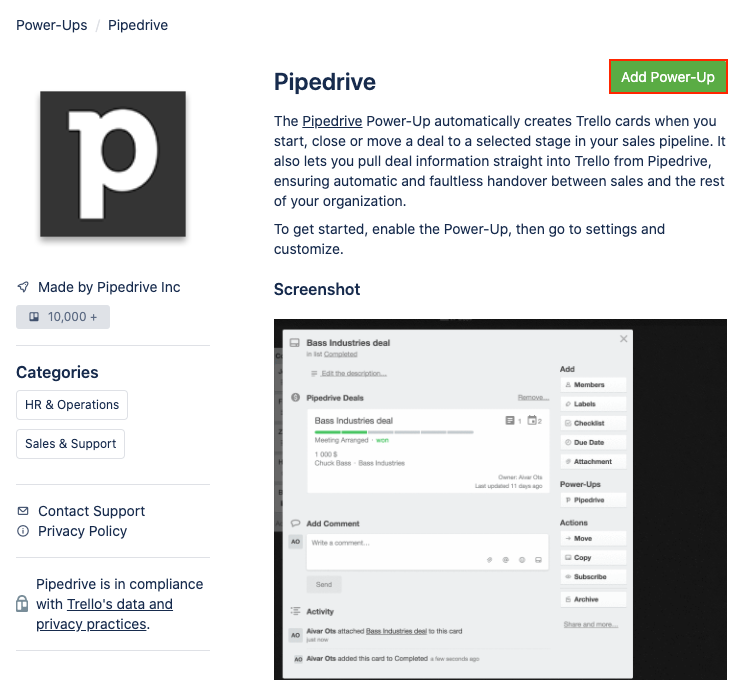 Desde el menú desplegable, selecciona el panel que quieres conectar a Pipedrive y haz clic en Añadir para continuar.
Después puedes hacer clic en Ir al panel. Esto te dirige al tablero de Trello donde deberías hacer clic en Pipedrive en tu menú dePower-Ups. Desde el menú desplegable, haz clic en Pipedrive y Autorizar la cuenta. Después haz clic en Vincular la cuenta de Pipedrive.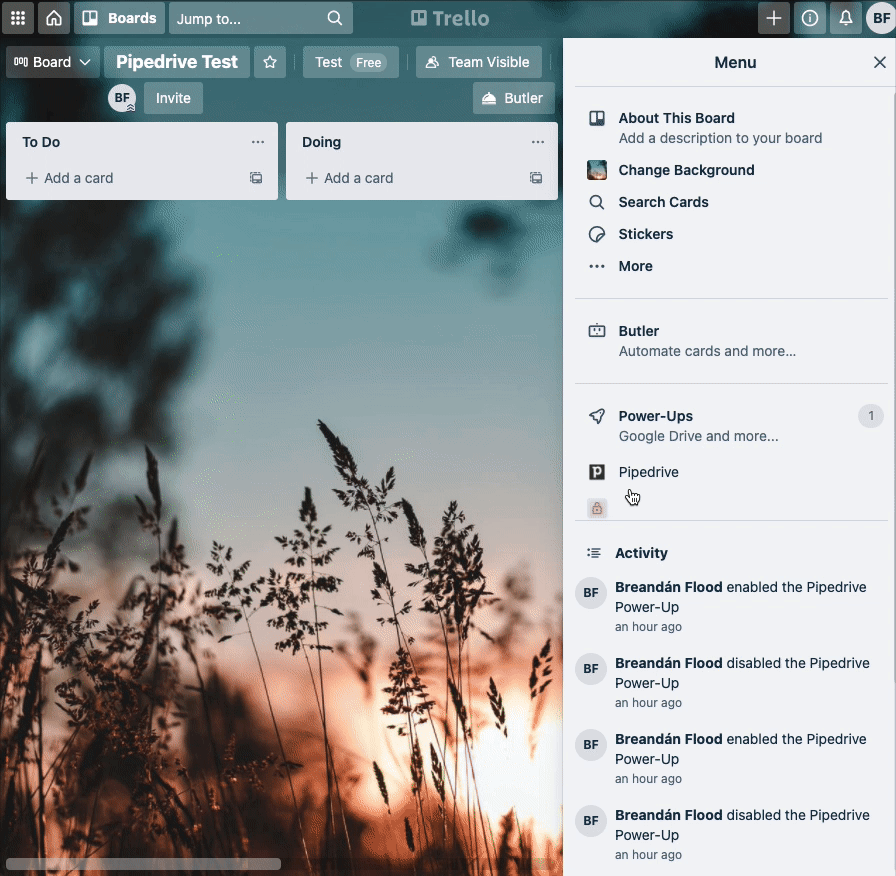 Se abre una nueva ventana en la que puedes dar permiso a Trello para conectarse con Pipedrive. Para continuar, haz clic en Permitir e instalar.
Ahora que está instalado, desde tu menú de tablero de Trello, haz clic en Pipedrive Power-Up y deberías ver la opción Obtener permisos en Pipedrive. Al hacer clic, serás dirigido a la página que le permitirá a Pipedrive acceder a tu cuenta de Trello.
Haz clic en Permitir para dar permiso a Pipedrive a acceder a Trello. Tu cuenta está ahora conectada y verificada por Pipedrive y Trello, lo que te permite empezar a usar la integración.
---
Auto-create & Pipedrive field settings
Setting up auto-create

To set up auto-create, in your Trello board menu, select Pipedrive, and then Edit Power-Up Settings. You can then set up the rules for your board.
Setting up automatic card creation in Trello is based on three types of rules:
Cuando se añade un nuevo trato en Pipedrive
Cuando un trato entra a una etapa del embudo
Cuando un trato está marcado como ganado y perdido

You can choose any of the above, but only one rule can be set up per Trello board. Otherwise, you may end up with duplicate cards in the same board from similar rules set in the Power-Up.
Pipedrive field settings
By selecting Pipedrive field settings you can select up to twenty fields to show when you link a Pipedrive item.
As the maximum amount of fields is twenty, you will need to untick items if you wish to add more fields when the twenty is reached.
Note: If you select Activities or Notes, the three most recent items will be displayed.


---
Acciones y Panel de la aplicación
You have a quick way to create Trello items such as boards, lists, and cards from within Pipedrive.
From the App Panel on the left and side of your detail view, you can click the three dots (...) which will open your options to create a card in Trello.
From the deal detail view, click the three dots (...) in the top right-hand corner and select Create in Trello from the dropdown menu.



This will open a new window where you can select the item type you wish to create in Trello.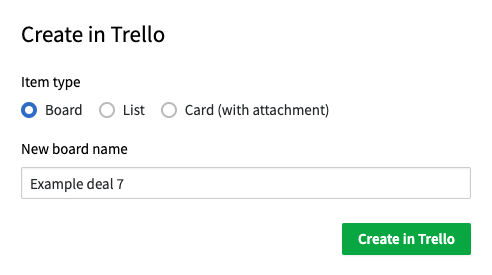 From Trello, you can also connect your cards to Pipedrive. Click on the card you would like to connect, and in the Power-Ups section, you can select Pipedrive and choose a deal to connect the card to.

You will then see the card linked to your Pipedrive deal in your Trello App Panel.

---
Visibilidad
Note: Other Trello board members can make the board publicly visible or invite new members who can then view it.

All members of a Trello board can see Pipedrive data on that board even if they do not have a Pipedrive account. The Trello board members without a Pipedrive account will not be able to add, edit, or delete any Pipedrive information.
If you delete the Trello app from Pipedrive, you will no longer see your Pipedrive data on your Trello board. In this case, you will need to re-authorize your account. After Trello has been deleted in Pipedrive, you will have a link in your related Trello cards where you can re-authorize your account.
Note: As different users can add cards to the same Pipedrive deal in Trello, each user will only see the data they have linked to the deal themselves.
---
Trello in WorkFlow Automation
It is also possible to use Pipedrive's Workflow Automation feature. When you are creating an automation, you can choose Trello as one of your actions.
Once you have selected Trekki as your action, you can select one of three possible events, creating a Trello board, list, or card.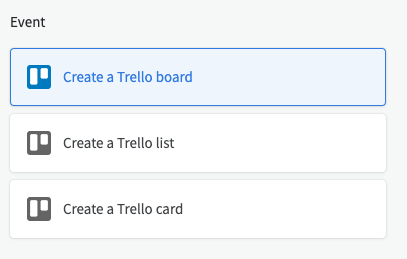 You will then be able to choose what fields should be modified with this action.
Once your workflow automation has been triggered, your chosen event will take place in Trello.
Templates
It is also possible to use Trello with our Workflow Automation Templates. By going to Workflow Automation > Templates > Create in Trello, you will see three pre-made templates that you can use.