Projects by Pipedrive (BETA)
Yssel Salas
, August 2, 2022
Note:
Project management is currently free to test in beta to a closed group of users and will be released to more users at a later date. After the beta period ends it will require an additional subscription. You won't be charged automatically. Stay updated with the latest news in our
community
.
The project management functionality built natively in Pipedrive will allow you to easily transition to the project and delivery phase of your workflow after a deal is won, without needing workarounds in Pipedrive or third-party tools.
You can also create projects linked to open deals if this suits your workflow better. If you would like to run your internal projects in Pipedrive you can decide not to link your project to deals, people and organizations at all.
---
Adding a project
To help with a smooth transition from sales into after-sales, you can mark a deal as won and create a project directly from the won deal dropdown.
If you would like to connect or create projects from a deal that should remain open or is already won, you can also use the side panel for projects on your deal detail page.
To create a project from the deal pipeline, drag a deal downwards in your pipeline to Move/convert and select "Save to... Projects". You will see the option to create a project and mark the deal as won or create a project and keep the deal open.
You can also add a project from the main Projects page by clicking on the "+ Project" green button or by clicking on the "Quick add" button at the top of the page, next to the search bar.
In the Add project dialog, you will see the following options:
Title – The title of your project
Start and end date – The start and end dates of your project
Owner – The Pipedrive user who owns the project
Deal, person, organization – The deal, person and organization linked to the project
Description – A short description of your project
Duplicate activities from... – The option to duplicate your activities list from a pre-existing project. In the image below, a project called [Template – Delivery type] has been previously created to act as a project activity template.
---
Project board view
If you navigate over to your Projects tab, by default you will see all of your projects in the Board view. Similar to what you used to follow up on your deals, you can also create pipelines and phases.
Customizing the board cards
If you need to see specific information on your board cards, it is possible to select the fields to be displayed. Click on "..." > Customize project cards.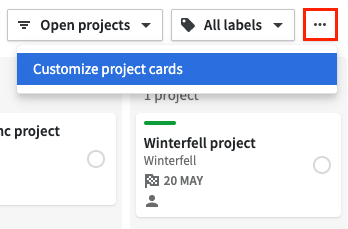 Here, you will see the list of fields and will be able to select the ones that you want to keep visible. The changes will be applied to all cards.
Customizing the board view
Same as the pipeline view for your deals, click the pencil icon to the right of the pipeline name.

From here, you can edit any phase attributes as well as add, delete, or reorder phases.
You can create as many pipelines as you need. Learn more about customizing your pipelines in this article.
---
Project list view

From the board view, you can change views to see all of your projects in the list view along with their details. Click on a row to get to the detail page of that project.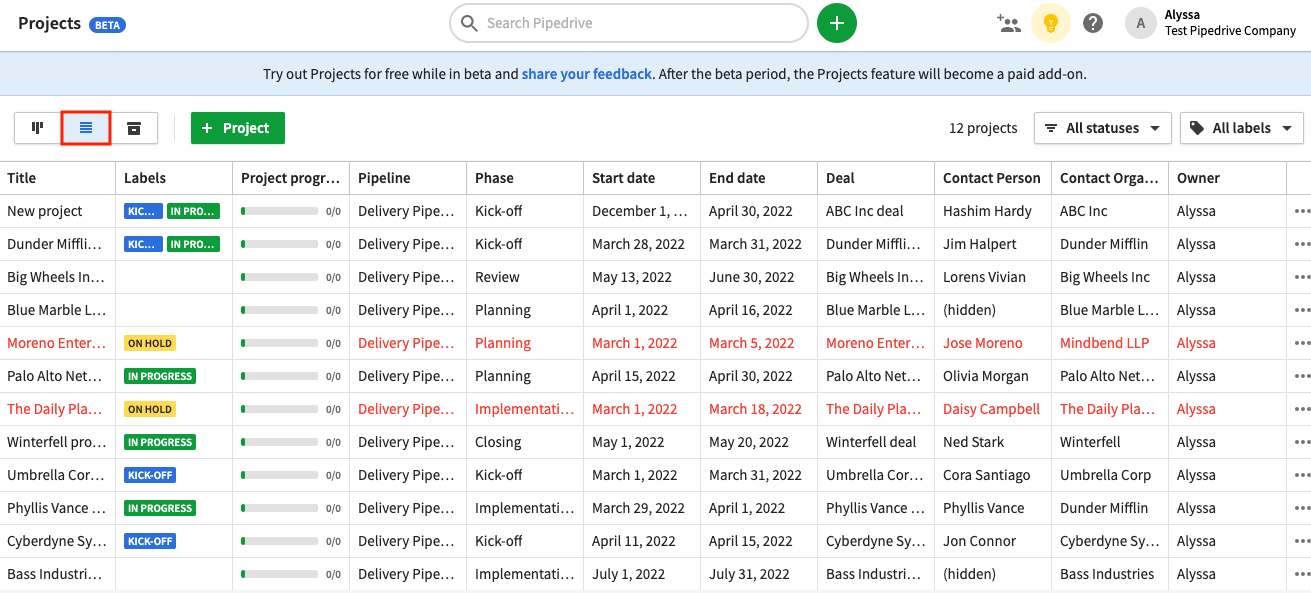 In the top right corner, you can filter for projects under a certain status and/or label.
A project can be archived or deleted by clicking on the "..." button at the end of each row.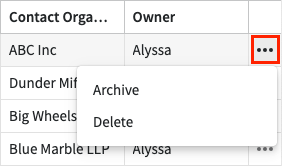 Note: Labels can be added to projects on the project detail page.
---
Project detail view
The project detail view is where you can see and update the project information such as progress, labels, start and end date, linked items, planned activity and uploaded files.
You can add project information such as the description within the Details section. Here, you will also be able to view and add project-specific custom fields. Click on "..." > Customize fields.
You will be redirected to the main data fields page, where you can add project custom fields, which will be viewable in the details section upon creation. Learn more about custom fields in this article.
Under Plan, you can create and manage activities created for your project. Activities created will default to task, but can be changed to any default or custom activity type in your account. The progress bar will reflect your activity completion as you mark them as done.
To help you organize your plan, you can group your activities based on what activity needs to happen in each phase of the project.
Click on the ">" icon to expand the phase and see the activities scheduled. Here you can also add, delete and mark as Done your activities. Or drag-and-drop them to different phases.
As you mark the activities in each phase as done, the project progress will also reflect this completion.
Each phase has its own progress bar, which is on the right-hand side of every phase group. The progress bar on the left-hand side of the detail view will show the number of activities scheduled for the whole project and will display the ones that were already completed.
For to-dos that you are not sure of yet where they will belong, there is a phase unassigned group from which you can later drag-and-drop them to the phases they belong to.

You can also upload files to your project under the Files tab.
To add a note on a project, click on the notes icon in the tabs section. Here, you can create a text-type note and format or unformat as needed. You can also use mentions to notify your colleagues and collaborate.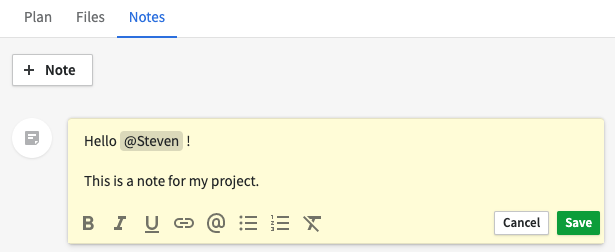 Once the note is saved, you will be able to see all the notes within the Notes tab from the most recent to the oldest.
---
Viewing linked Deal details
When a Project and Deal are linked, the Deal detail view can be accessed directly from the Project view.
From within your Project, you will see all of the linked Deals in your sidebar, and clicking on one will open the contextual detail view of the deal:
You can also edit which custom fields are visible in your Project's linked deals, right from your Project:
And once you have made the changes, you will see that field in your Project view under each Deal:
Note:
You can also make custom fields visible in Project deals by going to Settings >
Data Fields
, then going to Lead/Deal and selecting a field to edit via the
"..."
menu.
---
Activities
When adding activities to your projects, you will need to select which project you want to link it to using the project phase dropdown menu in the contextual view:
Your project activities will show up in the Activities tab in your Pipedrive account, where you can also choose to show your activity-related projects in a column. You can choose to sync your Pipedrive calendar to your provider calendar through our calendar sync feature.
If your plan allows it, you can also add project activities through workflow automation.

Note that, when creating automated activities, the workflow will need an extra step to have the activity linked to a project.
---
Project templates

One of the main goals of Pipedrive is to help you save time in your sales processes, so you can focus on things that require more attention.
To create new projects easier, you can base the activities on any previous projects you have run, or you can create a template with specific activities.
To create a template, simply add a new project, edit the name to specify that the project in question is a template and add the activities with the subject, type and notes that you wish to have in your new projects.
When adding a new project, select the "Duplicate activities from…" field and search for an existing project.
This will duplicate the activities of the project selected, including the original owner, activity subject, type and activity notes.
Additionally, it will also look at the time cadence between activities in the previous project and copy that same time cadence in your newly created project.

---
Project status
Project statuses indicate the overall progress of a project. In Pipedrive, the following statuses are available:
Open – This is the default status when you first add a project to your project's pipeline.

Completed – The project has successfully been concluded.

Canceled – The project did not move forward.

Archived – Archived projects will be removed from the board and default list view. You can archive canceled projects and re-open them later on.

Deleted – The project will be deleted from your board and list view.
The status will always be visible in the detail view.
Was this article helpful?