One of the most crucial steps when closing a deal with your customers is handling the proposal and exchange of invoices.
When getting into the final stages of a deal, you'll want to provide your customers with an invoice to receive payment for your goods or services.

If you use Xero for the invoice-handling aspects of your business, you're in luck: Pipedrive's integration with Xero makes it simple to generate an invoice from your information in Pipedrive, and keep all of your important data in one place.
What is Xero?

Xero is a cloud-based accounting software tool that is popular among companies that wish to streamline their Accounts Payable and Receivable tasks.

When integrating Pipedrive and Xero, you will be able to generate invoices based on the information you already have in your Pipedrive account, and have those invoices tracked within Xero's management software, allowing you to better understand the revenue you have coming into your company when closing your Pipedrive deals.
How can I enable the Xero integration?

Before you may begin to utilize the benefits of this integration, you will need to connect your Xero account to your Pipedrive company account.

To begin, go to the Detail View of any Pipedrive deal, and click the Create invoice tab. Once there, click on the View on Marketplace button, and proceed to the Pipedrive Marketplace.
Alternatively, you may go to Tools and apps > Invoicing and find the Xero integration from the list of apps there.




Once you have found the Xero integration, click Install now, and provide the login credentials to your Xero account.
Once your valid Xero login credentials have been confirmed, you will be directed back to Pipedrive to program your preferences for your Xero integration.




When programming your Xero integration, you will need to choose which Pipedrive fields populate the invoice fields set by Xero, and when your invoices will be marked as due for your customers.
TO
This field is for the recipient (or payer) of the invoice you wish to generate. As invoices are typically paid by the Accounts Payable department of a company, we suggest utilizing Pipedrive's Organization - Name field.
ADDRESS
This field is for the physical address of the invoice's recipient. Since invoices are typically paid by the Accounts Payable department of a company, we suggest utilizing Pipedrive's Organization - Address field.
E-MAIL
This field is the email address of the recipient of the invoice. As the E-mail field in Pipedrive is a Person-type field, we suggest utilizing Pipedrive's Person - Email field.
CUSTOMER TAX ID
Not all invoices require this information, but if you have created this field in Pipedrive as a custom field for your needs, we suggest applying that field here. To learn more about custom fields in Pipedrive, click here.
DUE DATE
Programming the due date information will set the default data for the Due Date in the invoice. For example, if the due date is set for seven days after the issue date, an invoice created on March 13th will, by default, have a due date on March 20th.

Once you are satisfied with your choices for the Pipedrive fields to populate your Xero invoices, click the Save button to save your integration preferences for your company Pipedrive account.
How can I use the Xero integration?

Once you've provided permission for Xero and Pipedrive to interact and have programmed your integration preferences, the Create invoice button in the Detail View of any deal will give you the detailed prompt to generate a Xero invoice for your customers.




The Customer Details will be filled based on the fields chosen when the invoice preferences were defined when the Xero integration was initially set up.

The Invoice Details need to be filled out based on your company's needs. For example, if you would like to adjust the tax functions of this invoice, which currency should be used in this invoice, or any Xero invoice templates you would like to use.

The Invoice Items are the specific line items — like goods or services — that make up the charges in your invoice. These items can be chosen from the dropdown list, which is provided from the 'Products and services' area within your connected Xero account.

When you have finished programming the details of the invoice you would like to generate for this deal, click the Save as Draft button to continue.




When an invoice has been saved as a draft, you will notice the invoice status appear, alerting you that this invoice is currently in DRAFT mode.
Invoices will continue to be a draft, until it is either deleted or approved in Xero.
Note: Once the integration with Xero has been enabled, the invoices generated from Pipedrive will appear in the Detail View of the associated deal. Invoices created prior to the enabling of the integration — and invoices generated outside of Pipedrive — will not appear within Pipedrive.

Depending on the permissions set in the associated Xero account, you may need to submit a drafted invoice for approval. Once submitted, that invoice can be approved from within Xero, by the appropriate users in that Xero account.




Once the invoice has been approved in Xero, the status of the invoice will change in Pipedrive based on the updates made in the associated Xero account. For reference, there are six statuses to consider when looking at a deal's invoice in Pipedrive:
Draft
Awaiting Approval
Awaiting Payment
Paid
Voided
Deleted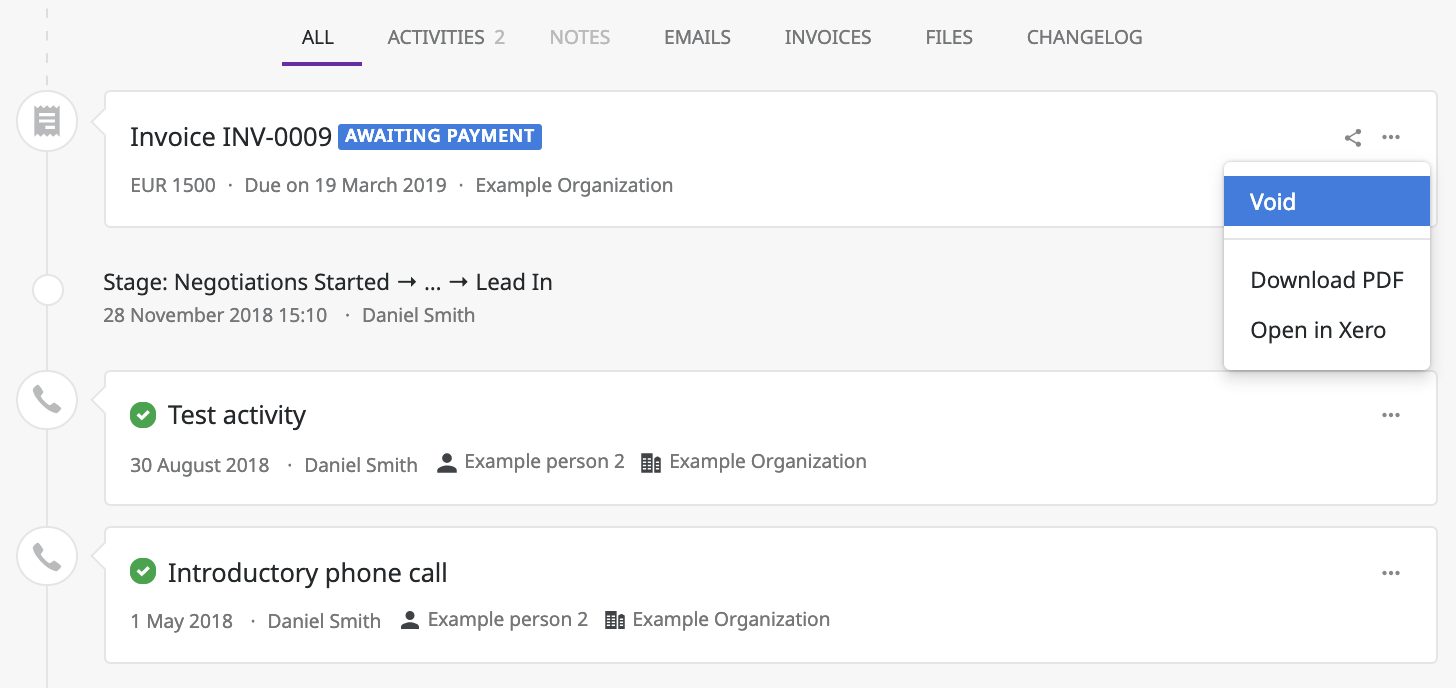 Each invoice can be shared, downloaded to a .pdf file, or opened in Xero via a separate browser tab, all from the Detail View in Pipedrive.
Note: While you may use this integration to generate invoices in Xero through Pipedrive, these invoices will not be automatically sent to your Pipedrive customers. We suggest creating an activity in Pipedrive to remind your users to send those invoices in a timely manner.
What information comes over to Pipedrive?

If you would like to understand better how information flows between Pipedrive (left) and Xero (right), the chart below may provide some insight.